St. Mary Medical Center in Long Beach was originally founded by the Sisters of Charity of the Incarnate Word as St. Mary's Hospital on August 26, 1923. The hospital's goal was to expand the call of Bishop Dubuis to minister to "Our Lord Jesus Christ suffering in the persons of a multitude of sick and infirm of every kind seeks relief at your hands."
"Over the course of time, nearly 150 Sisters from our founding Congregation have served their mission at St. Mary, many providing direct patient care as nurses. In fact, from 1923 until 1991 the position of Hospital President was held by Sisters," said Vice President of Mission Integration, Sister Celeste Trahan, CCVI, who has been serving St. Mary hospital in her current role for three years, and previously served at St. Mary from 1986-1990.
As mission effectiveness coordinator, Sister Celeste educated hospital leadership on the values and belief statements of the organization and worked to integrate them within all policies, procedures and job descriptions. "The Sisters have always played an integral role in patient care at St. Mary and will continue to do so, as we ensure every patient is treated with dignity, respect, and compassion in a healing environment," said Sister Celeste.
In recognition of the hospital's 95th anniversary, Bishop Marc Trudeau, the newly ordained Bishop of the Archdiocese of Los Angeles, San Pedro Pastoral Region, appointed by Pope Francis, joined in a celebratory Mass in the hospital's chapel. St. Mary was the first Catholic hospital in the region the Bishop visited. He spent time learning about the facility, the community it serves, and even visited patients and offered healing prayers.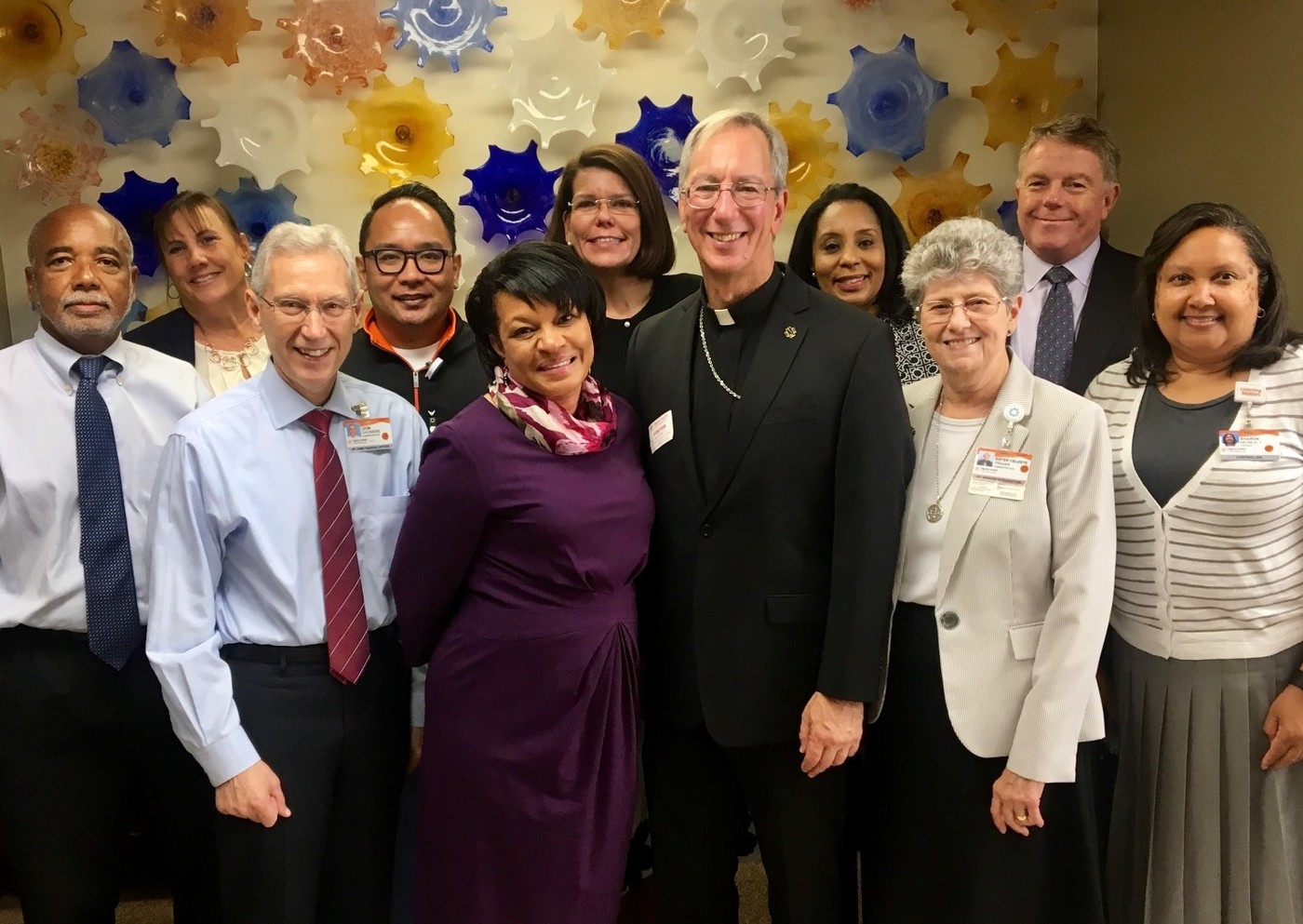 According to the medical center's records, the first hospital was erected at a cost of approximately $300,000, and was able to accommodate 100 patients, with an emergency room, laboratory, pharmacy, and operating room.
In 1933, an earthquake shook Long Beach and destroyed St. Mary's Hospital. The Sisters rebuilt, and expanded to include many of the services that exist today. In 1949, the North Wing was opened, more than doubling hospital capacity. The Bauer Tower opened in 1974, and St. Mary Hospital became St. Mary Medical Center, with all private patient rooms, a larger emergency department, new intensive care unit and heart care unit, as well as maternal child health services.
The Sisters have always provided outreach to vulnerable populations within the community. In 1986, they opened the C.A.R.E. program, a comprehensive center for persons living with HIV and AIDS. At that time, it was the first of its kind formed in response to the AIDS crisis that hit the country hard in the mid-80s. Now it provides care to more than 1,600 clients a year, ensuring social services, food and housing support, and necessary medical treatment.
The next year, the Sisters responded to the Cambodian refugee crisis and helped the burgeoning Cambodian population of Long Beach, which is home to more Cambodians than anywhere else in the United States. The Sisters of St. Mary partnered with the United Cambodian Community to establish the South East Asian Health Project. The program has grown over the years and, although evolving into what is now known as Families in Good Health (FiGH), still provides multicultural, multilingual, and social education services, striving to offer quality outreach and case management services to low income communities in Long Beach. FiGH has helped thousands of residents over the past 30 years.
Today, St. Mary provides a full continuum of care that meets the preventive, curative, supportive, and rehabilitative needs of the city's diverse population and looks to the future with plans to expand the facility once again.
St. Mary Hospital President Carolyn Caldwell recently announced plans to build a new modern, patient tower and expansion of the emergency department. "When I first came to St. Mary, I immediately knew I had made the right decision. I was welcomed into the St. Mary family with open arms. Having previously worked for investor owned organizations, I have developed a special connection with St. Mary, as it has allowed me to marry my interests of health care leadership with service to the community. I look forward to building our future together."
Start your day with Always Forward, our award-winning e-newsletter. Get this smart, handpicked selection of the day's top news, analysis and opinion, delivered to your inbox. Sign up absolutely free today!