Boris Dralyuk, an Angeleno from Odessa, has produced an Oscar-worthy collection of poetry.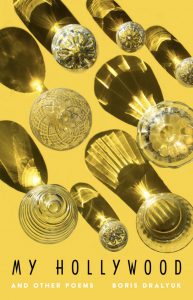 "My Hollywood and Other Poems" (Paul Dry Books, Inc., $16.95) is a nearly cinematic — and gently funny — commentary on time, change, and loss in West Hollywood. In particular, Dralyuk writes about the vestiges of the Golden Era of Hollywood a century ago, and the vestiges of the several waves of Russian Jews who emigrated to West Hollywood in and around the 1980s. (Dralyuk's family was among them.) 
He's a widely published poet and translator, actively immersed in and respected by LA, national, and international literary culture, and chief editor of Los Angeles Review of Books.
Eight years old in 1988 when he emigrated to West Hollywood, Dralyuk liked it and has stayed. These poems describe the Hollywood he lives in and loves, which is also a place that disappeared before he had a chance to experience it. He mourns what he never knew.
With a few exceptions, what is left is memory — and mainly other people's. The memories frequently concern famous or infamous buildings or locations. There's the Garden of Allah, a glamorous hotel frequented by the early stars and razed in 1959. An émigré library, now largely unvisited. "Dingbat" apartment buildings. Hank's Bar at the Stillwell Hotel, closed in 2015 after 60 years.
And a controversial 1930 statue honoring Rudolph Valentino, which is featured in "Aspiration," the first poem in the collection.
"That night I discovered the park at De Longpre and Cherokee. ... Looking at all the small houses, telling myself that these were where Swanson and Pickford and Chaplin and Arbuckle and the others used to live in the good old days. …" — Horace McCoy, 1938
This much is clear: the good old days have passed.
Some giant fig trees, a few pygmy palms
drop broken shade on disenfranchised grass;
dogs lo ping, limping; vagrants begging alms;
and in the center—ludicrously named
Aspiration — face uplifted, framed
by dusty fronds, he stands on tippy-toe,
abstract Adonis, bronze lothario.
Sit here all night, if you can bear the grime —
watch people come and go, but you will see no
women in black shed tears for Valentino.
The Sheik sinks deep into the dunes of time.
A crow clacks in the branches overhead,
like a projector slowly going dead.
So much history, pride, folly, loss, and grief are built into this one rather lighthearted little sonnet. (In many of his sonnets, Dralyuk uses an adaptation of the Onegin stanza and its unusual rhyme scheme and alternating masculine or feminine line endings.)
The buildings and places found in this collection have a humanity. They're stand-ins for the people who built them or once inhabited them. Many of those people came from somewhere else; many of them came from where Dralyuk came from. He honors the people by naming, describing, and immortalizing the places. Here's "The Passing of the Bungalows":
"The bungalow courts extended at least a touch of 'casual California living' even to the poor." — Robert Winter, "The California Bungalow" (1980) 
They held their courts from here to Pasadena,
not in regalia but in plainer clothes,
withholding judgment on our misdemeanors,
warm, down-to-earth, arrayed in close-knit rows—
no hint of hauteur to these Swiss chalets,
these beaming Tudors, Spanish hideaways
that dignified us with lagniappes of style:
crown moulding, copper awning, clinker tile.
Fair bungalows, now your dominion comes
to closure. I watch swaths of you demolished
in favor of the featureless and polished
plutocracy of condominiums.
Your bold agaves, fierce, protective aloes
lay down their spears beside the realtors' gallows.
Dralyuk writes about these little homes as if they were human. Their destruction to make room for people with immense wealth feels like a human injustice and loss — as, of course, it was.
"My Hollywood" isn't only about buildings and places. "The Minor Masters" describes area artisans who can hand-etch a rubber stamp, fix an heirloom lamp, or re-bind a beloved old book. "Venice Beach: A Diptych" depicts the sad later lives of actress Sarah Bernhardt and cinematography pioneer Alexander Drankov. The three short poems in "Russian Trefoil" are dedicated to the poets Innokenty Annesky, Gregory Ivanov, and Yevgeny Kropivnitsky. Here's the poem to Ivanov:
Take a small table on the sidewalk, 
the one that's farthest from the door,
in such a way that no one wonders 
if you were here the day before. 
It is as if you've signed a contract 
to sit here like a statuette. 
How well you know the terms that bind you: 
boredom, and pity, and neglect. 
"Boredom, and pity, and neglect" are slow, sure killers of people and places no longer believed to be valuable. In a stunning act of synecdoche, however, Dralyuk evokes whole eras by memorializing a few random details in poetry. 
The tone throughout is the standard Dralyuk of social media, interviews, and his other works. Standard Dralyuk is wicked smart, humorous, and only mildly ironic. Blunt by not raging. Respectful. One might even say tender.
"My Hollywood" is one of the strongest collections of poetry to come out in recent history. It is seamlessly evocative from front to back — even though its 41 poems have been assigned to four sections, one of which contains Dralyuk translations of Russian poets. (It's easy to see why he's in such demand as a translator.) 
Praising the book, the poet Ilya Kaminsky, himself no slouch with verse, calls Dralyuk a "maestro." He is. "My Hollywood" is a superb collection of fresh, humane poems to several past iterations of Hollywood.