ROME — For Catholics who care about the vitality of Christianity worldwide, recent Pew Research Center findings on the religious landscape of contemporary Europe offer a rather jarring paradox.
Despite rumors to the contrary, it turns out that Christianity is alive and well and living behind the former Iron Curtain. In most cases, levels of religious faith and practice are significantly higher in Eastern Europe than in the West.
To compile its index, the Pew study considered four separate indexes, measured in terms of percentages of the population: those who say religion is very important in their lives; those who say they attend religious services at least monthly; those who say they pray daily; and those who say they believe in God with absolute certainty.
By those standards, Romania, Armenia, Georgia, Greece, and Moldova are the most religious nations in Europe, with the first distinctly Western nation, Portugal, in spot number nine. At the bottom of the list, one finds the UK, Belgium, Denmark, and Sweden, along with the Eastern outlier, Estonia.
Overall, 64 percent of Romanians say they believe in God with absolute certainty, 50 percent say religion is very important in their lives and the same number attend religious services weekly.
Some 44 percent pray daily, and since the vast majority of those Romanians are Orthodox, it seems the very picture of a flourishing Christian church.
Since the churches in places such as Romania, Armenia, and Georgia were among the most heavily oppressed during the Soviet period, one certainly can view their health today as confirmation of the traditional adage that "the blood of the martyrs is the seed of the faith."
The same can be said for Ukraine, which clocks in at 11th place on the Pew survey, and which was home to the largest underground church in the world during the Soviet era in the Greek Catholic Church, which is in full communion with Rome and which has rebounded in the post-Soviet era to be probably the most dynamic Eastern Catholic Church on the planet.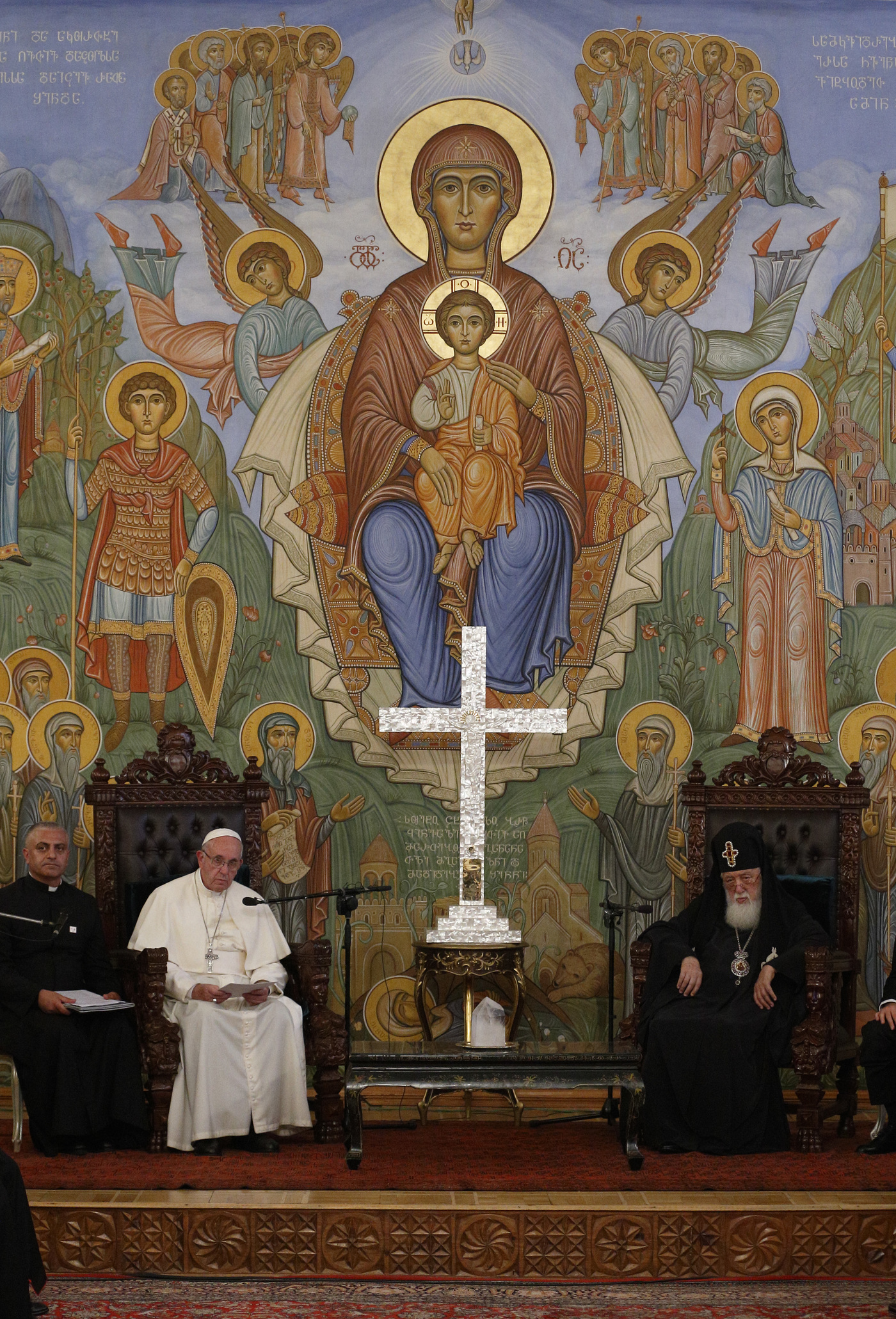 So what's the paradox? Well, the version of Christianity that seems to be flourishing in Eastern Europe right now often doesn't have a great deal to do with the open, dialogic, and inclusive version of the Faith championed by the Old Continent's premier Christian leader, Pope Francis.
The same Pew survey also found:
In nearly every Central and Eastern European country polled, fewer than half of adults say they would be willing to accept Muslims into their family; in nearly every Western European country surveyed, more than half say they would do so.

Essentially the same East/West divide applies when it comes to accepting a Jew into one's family.

Eastern Europeans show reluctance to accepting Muslims or Jews into their neighborhoods at much higher rates than their fellow Europeans in the West.

As a measure of cultural chauvinism, in response to the statement, "Our people are not perfect, but our culture is superior to others," Central and Eastern Europeans are likely to respond in the affirmative at significantly higher rates than in the West. A robust 69 percent of Russians and Bulgarians said "yes," as compared to 23 percent of Belgians and 20 percent of Spaniards.

Majorities favor same-sex marriage in every Western European country surveyed, and nearly all of these countries have legalized the practice. Majorities in nearly all Central and Eastern European countries surveyed oppose allowing gays and lesbians to marry legally, and none allow same-sex marriages.

Strong majorities in Central and Eastern European nations regard being born in the country and being Christian as central to both citizenship and national identity, attitudes that are much weaker in Western European nations.
Much of this contrast, of course, can be explained by the fact that any pope's reach is likely to be stronger in the predominantly Catholic West (though, honestly, that's often questionable) than in the largely Orthodox East.
It's also explained by the fact that Eastern Europe has traveled a very different social, political, and economic path than the West in the post-Soviet years, which also has influenced how people see religion and faith.
It should be noted that there are pockets of these harsher attitudes in the West, too, including the pope's own backyard of Italy, where Foreign Minister Matteo Salvini, the real center of power in the country's coalition government, has achieved wide celebrity and support for his stringent anti-immigrant stances.
One could also perhaps conclude that to withstand the massive pressures of secularism in Europe, whether East or West, it takes a tougher, more muscular form of Christianity than is sometimes on offer from mainline churches prone to cultural accommodation.
These at-times stark cultural differences also have clear implications for Catholic-Orthodox dialogue, which has been a keen priority of each of the last four popes, Francis very much included.
In any event, if Francis does indeed visit Romania in 2019, as he promised the country's prime minister in May that he would do, there'll be the basis for an interesting exchange about what kind of Christianity Europe needs right now — and whether it's the same thing that the East, apparently, seems to want.
SPECIAL OFFER! 44 issues of Angelus for just $9.95! Get the finest in Catholic journalism with first-rate analysis of the events and trends shaping the Church and the world, plus the practical advice from the world's best spiritual writers on prayer and Catholic living, along with great features about Catholic life in Los Angeles. Subscribe now!