McManus & Morgan, established in 1923, is in its 94th year. Owner Gary Wolin has been its brains and heart for around the last 50.
Located at 2506 W. 7th Street, just west of MacArthur Park, this cultural treasure occupies a ground-floor space in a 1924 Spanish Revival building that, until recently, time pretty much forgot.
The store shares customers, physical space and a unique esprit de corps with its neighbor, Aardvark Letterpress.
Back in the day, the Otis College of Art, the Chouinard Art Institute and the original Art Center College of Design were all within shouting distance. The area was heady with artistes who patronized the store — among them reputedly Ansel Adams, June Wayne, Ed Ruscha and designers from every major Hollywood studio.
But eventually the colleges moved, MacArthur Park became a haven for drug addicts and petty criminals, and seedier times followed.
Through it all, McManus & Morgan endured.
Through it all, Wolin, at his labor-of-love watch, has not bowed an inch to modern marketing strategies.
Through it all, the store, its modest one-page website avers, "is still the place to find intriguing and aesthetically pleasing parchments."
Handmade signs in the plate-glass front window read "Comic Books — Only $1 Each" and "Book Sale, $2 and Up."
Inside the store is cozy, warm and quiet. Wolin sits behind the corner folding a stack of envelopes. Without saying a word, he manages to telegraph that I'm welcome; that perusing, sniffing and dreaming are invited; and that, unless I ask for help, he's not going to bother me.
I've been here before several times over the years, and it's gratifying to find that nothing much has changed.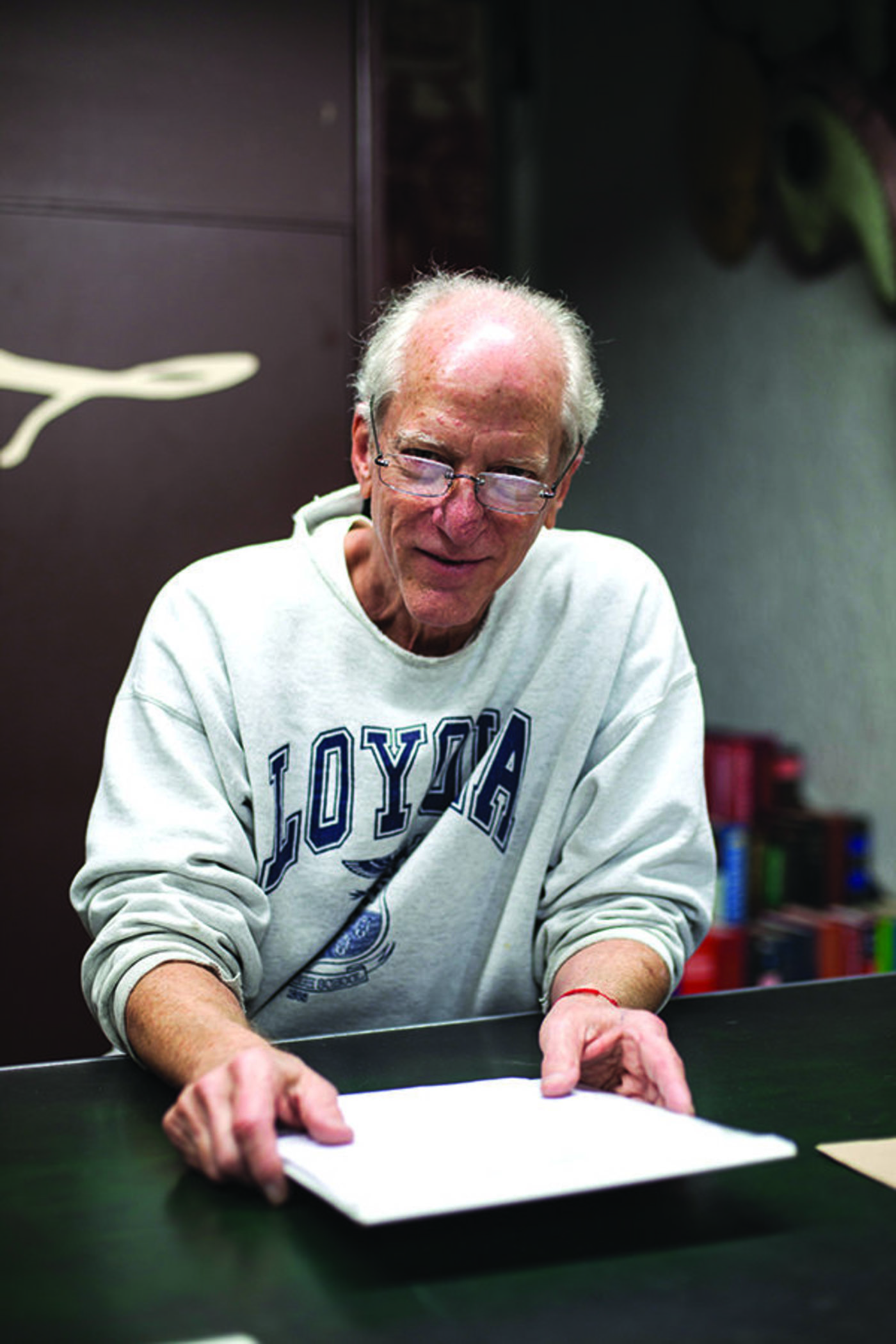 There's an eclectic selection of children's books, art books and nonfiction: "A Woolcott Reader." "The Big Hat." "Obstetric Nursing."
There's a shelf of vintage cigar boxes, a set of nature cards made of eco-friendly banana paper and hemp envelopes in algae, garlic and rice straw. There are rough-cut sheets from Sri Lanka that look like someone pressed them out in the village bathtub.
Stationery, in no particular order or size, comes in chartreuse, sierra, seashell pink. A cardboard tray of A-2 envelopes is cryptically labeled: "From Germany. We have 5 other types." A box of blank business cards in a beautifully textured cream stock is priced $3 per 100.
There are 5-inch by 7-inch sheets of "Gmund Cotton, Gentlemen Blue," for 20 cents a pop, translucent striped vellum for a dime and a single 8-inch by 11-inch sheet imported from Malaysia, pale yellow embossed with tiny silver roses, for 70 cents.
On the wall hang a couple of displays, clearly many years old, of imported papers. One set, from Nepal, comes in saturated colors: peacock blue, saffron yellow. Another is labeled "Amate: Handmade Treebark by the Otomi Indians of Mexico."
Seeing me peer at the signs — I'm the only customer — Wolin finally speaks up. The showroom is only the tip of the iceberg, he tells me. The real treasures are in back.
"This is a retail shop, but it's also a museum. Everything has a history here, because we're so old. All the most important people in art and design have been in here."
The store is also a library. The two huge sample books on the left-hand side of the counter feature papers from 20 different countries.
"Thailand, for example, makes wonderful papers. We don't stock them all, but we have samples of 300 different papers. The ordering info for every one of them is at my fingertips."
Invitations, interior design, letterheads: every project is a fresh challenge. It's all in Wolin's head: what he's low on, what needs to be re-stocked or added to the collection.
"No one, anywhere, has this number of papers." Not on stock; he'd need a warehouse for that. But able to be quickly ordered and quickly delivered.
Recently, existential storm clouds threatened. The building was bought by billionaire investor, philanthropist and art collector Nicolas Berggruen. Would the unthinkable occur?
Last spring, the Los Angeles Times' Christopher Hawthorne wrote an article about the purchase that galvanized the art-loving public. A Facebook campaign was launched: "6 Ways to Save the Oldest Art Store in Los Angeles."
For now, all is well. Berggruen seems to have gotten on board with the crazy one-of-a-kind paper store he's lucky enough to have in his building.
Wolin adds up my order with a pencil and gives me a handwritten sales slip. Then he looks up and adds, "Every day is a new adventure. I never get tired of it. I never know who's going to walk through the door."
Maybe next time I'll take the through-the-looking-glass plunge and ask to enter the fabled back room.
For now, I ferry home my stash of soft-gold metallic envelopes and heavy, midnight-blue stock. I'll address the envelopes first, and affix my Madonna-and-child stamps. Then I'll get out my stencils — the wise men, the lambs, the manger — and design this year's cards.
Finally, with my silver Sharpie I'll write what I write every year, and that every year seems new all over again: "May the morning star rise in your heart."
Heather King is a blogger, speaker and the author of several books.