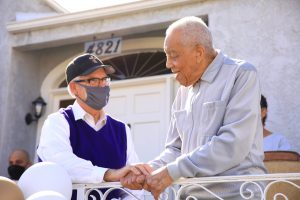 Deacon Emile Adams Jr. died Saturday, November 5, 2022. The country's oldest active deacon, he was a few months shy of his 101st birthday. 
Deacon Adams was "a man of great faith, surprising humor, and enormous energy," according to friends. He was a member of St. Bernadette Church in Baldwin Hills, where he served at weekly and daily Masses, led Stations of the Cross and the Morning Office, and co-chaired the Bereavement Ministry. 
Ordained as a deacon for St. Bernadette in 1979, Adams spent almost 50 years serving his community.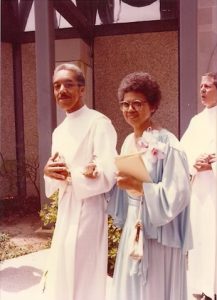 "Emile is one of those people you meet that simply embodies goodness," Deacon Jim Carper, parish life director at St. Bernadette, told Angelus in a 2021 profile about LA's oldest deacon. 
In addition to his work at his home parish, Adams volunteered with the Archdiocese of Los Angeles' Marriage Tribunal, the fingerprinting program, and performed several marriages and baptisms. 
Adams' life of church service began as a child. Born in New Orleans, he grew up participating in the Catholic Youth Organization (CYO), the Junior Holy Name Society, and the Junior Knights of Peter Claver. He was also an altar boy. 
As a senior in high school, Adams enlisted in the Navy. He was discharged at the end of World War II and moved his family to Los Angeles, where he later graduated from Dorsey High School. 
In 1943, Adams married Anona LeBoeuf. They were married for 58 years, and had five children. 
Adams is preceded in death by his parents, Emile Sr., and Lillian, his wife Anona, and daughter Anona, Jr. (a.k.a. Cookie). He is survived by his daughters Jacqueline (Julius), Lillian (Frank), and Michaela, his son Cedric (Cheryl), 16 grandchildren, 19 great-grandchildren and four great-great-grandchildren.
Funeral services for Deacon Adams are as follows:
Saturday, Dec. 10 Mass at St. Bernadette Church, 3825 Don Felipe Dr., Los Angeles, 10 a.m. Interment immediately following Mass at Holy Cross Cemetery, 5835 W. Slauson Ave., Culver City. Priests and deacons wishing to attend are invited to vest in alb and white stole.
Condolences may be sent to Mrs. Lillian Rouzan, 4821 Keniston Ave., Los Angeles, CA 90043.
In charity and kindness, please remember Emile and the Adams family in your Masses and prayers.