Los Angeles Mayor Eric Garcetti met Pope Francis in a private audience at the Vatican Friday, where the two discussed "the priorities of climate change, young people, poverty, and immigration."
"I'm so grateful to Pope Francis for the deep and humbling honor of meeting with me at the Vatican today," Garcetti said in a statement released Friday.
"I was moved by his inspired words about matters that will shape the future of our world, and to have the chance to speak to him about our mutual work to save this planet and serve our fellow human beings."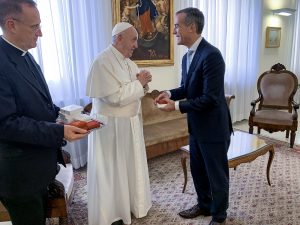 In photos shared by Garcetti's office, the two can be seen smiling and chatting beneath a painting of "Mary, Untier of Knots," a depiction of the Blessed Mother that Francis is known to be especially devoted to. In one of them, Garcetti is seen receiving a gift from the pope.
According to Garcetti, the Holy Father "shared greetings for the people of Los Angeles" during their encounter.
"We are grateful for his grace, his prayers, and a message of faith, love, understanding, and cooperation that brings peace and comfort to people everywhere," Garcetti said of Francis in his statement.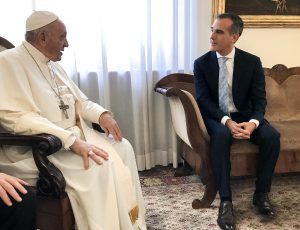 In a 2016 interview, Garcetti described himself as "half Catholic, half Jewish." His mother is of Russian Jewish heritage and his father, former LA district attorney Gil Garcetti, is of Mexican and Italian descent. He reportedly attends services at a Jewish congregation in Los Angeles and upon his election in 2013, became the city's first elected Jewish mayor.