Meet the man who is spending his Lent chained to a fence without food to highlight LA's growing homeless crisis
"Hey, Mr. Deacon!" called out Kaleb Havens. The Catholic Worker was sitting up a little now in his chaise lounge-like reclining chair on skid row's 5th Street, just a block up from Central Avenue in Los Angeles. But he was restricted by the heavy metal chain wrapped around his waist and attached to a wrought-iron fence.
The fence bordered the parking lot of the former Salvation Army's Harbor Light residential facility, which took in the homeless. "Come have a seat. You want some coffee?"
The 71-year-old man in the tan jacket with "New York" across the front stopped and turned. "OK," he said grinning.
"This is my friend Deacon Alexander," Havens pointed out to me on a recent Monday morning. "Deacon and I like to play chess."
"I'm ready for you today," the chess player said, walking over to the sidewalk encampment. He sat down on a banged-up office chair, while Havens spread out a chessboard mat.
"Did you see the flyer about the street cleaning on Wednesday?"
Deacon nodded with some concern. "That would be unusual."
"That's what I'm saying. It's unusual. 'Cause Monday usually is street cleaning on this street."
"Now they want to stop what you're doing."
In a lower voice, Havens said, "That's what I'm wondering. I'm prepared to go to jail if they want to cut me loose and drag me away. You know, if that's how they play it. But I'll be here unless they use the Jaws of Life to cut this chain."
Havens, 30, has been chained to the fence since Ash Wednesday, when he started his water-only fast, supplemented with electrolytes and broth from chicken bones.
The overall goal of his hunger strike is to raise awareness of the horrible homelessness on skid row, which takes in 50 blocks of the City of the Angels. More specifically, the Los Angeles Catholic Worker, Inner City Law Center, CAN (Los Angeles Community Action Network) and other agencies have formed a coalition, Skid Row Now & 2040, to advocate for the rights of the skid row homeless before the City Planning Department.
The department is currently making decisions for the redesign of its new 20-year citywide plan, which will be adopted in 2020, to create a "more prosperous, livable and sustainable Los Angeles," according to its promotional literature.
The coalition's "fixes" include that new housing developments be affordable for minimum-wage workers, that skid row have representation as a neighborhood council and that jobs of repairing and cleaning up the streets and sidewalks of the community go first to skid row residents.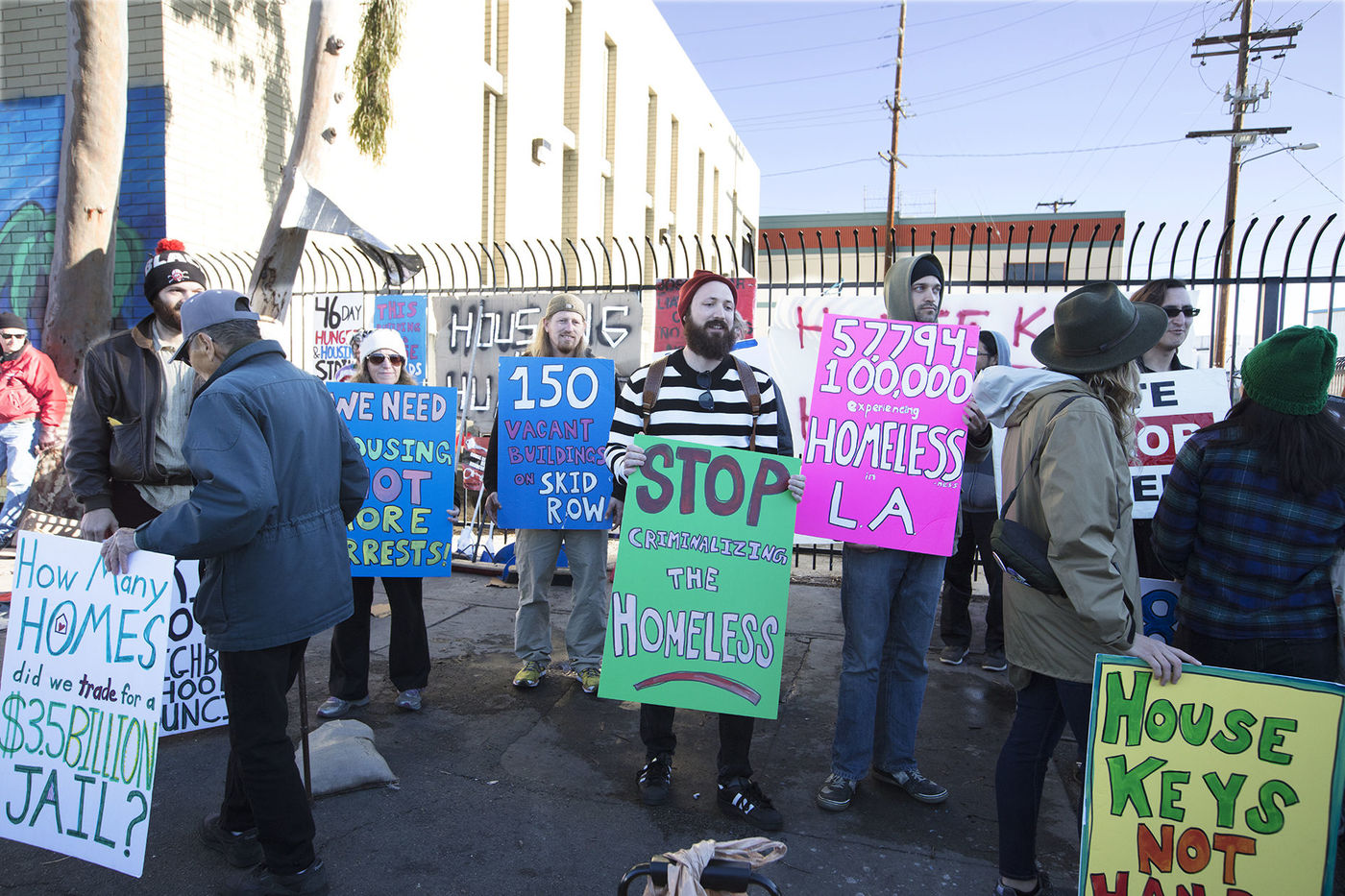 Housing gap
A "Housing Gaps Analysis" by LA's Homeless Services Authority reported last month that the county's homeless count is rising much faster than the supply of new housing.
Then in March of last year, Los Angeles County voters passed Measure H, a quarter-cent sales tax for homeless services and prevention, also for 10 years.
But a "Housing Gaps Analysis" by the Los Angeles Homeless Services Authority reported last month that Los Angeles County's homeless count is rising much faster than the supply of new housing.
This was in spite of the addition of thousands of beds for the homeless and millions of dollars starting to flow from the two ballot measures. In short, city and county officials underestimated how much new affordable housing was really needed to make any dent in LA's burgeoning homeless population.
Havens isn't surprised. As a Catholic Worker, he's seen more destitute men and women coming to the community's so-called "Hippie Kitchen," which serves some 3,000 hot meals a week to skid row residents, who also use the social justice movement's dental and foot-care clinics as well as free walk-in pharmacy.
And that's on top of the always full permanent supportive housing provided at the Catholic Worker residence in Boyle Heights.
But he is amazed more hasn't been done to help the homeless on skid row and across Los Angeles County with the passage of HHH and H.
"Yeah, that's why this is even more astounding, because we have money to fix these things," he told me after putting away the chess set. "We have one of the things that's required to get someone housed. But the other things are locations, which city council members have been trying to get out of because of the NIMBY (Not In My Back Yard) people who don't want any homeless around where they live.
"Every neighborhood has this problem now. ... The city and county haven't really been able to come together. There are 9,000 vacant buildings in Los Angeles. And there's 150 buildings with an essential amount of vacant units in them just in skid row."
Right then, an LAPD black-and-white stopped on 5th Street in front of Haven's makeshift part of the almost block-long encampment.
The passenger-side officer had his elbow out of the rolled-down window, but kept looking straight ahead.
After Havens called out a friendly "Hey!" the cruiser slowly pulled away. The Catholic Worker said he's been visited by a police lieutenant and three or four officers. They all listened to why he was fasting and locked to the fence, but they told him he would eventually have to leave.
"We thump our chest all the time about, you know, being the greatest country in the world," he said, continuing his line of thought.
"That can't be true if we're not taking care of our neighbors. And especially as Christians."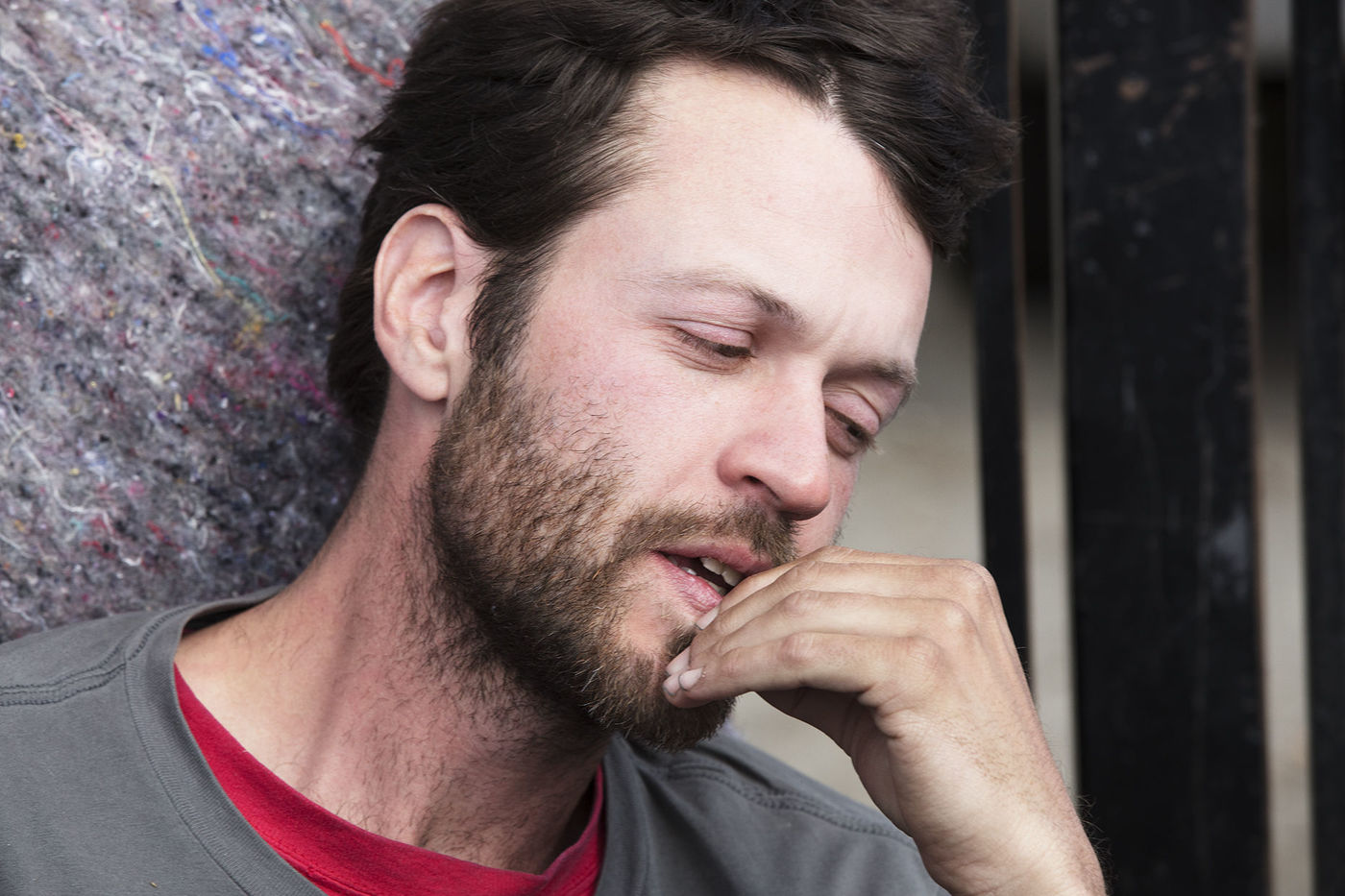 Feeling 'fantastic'
Two Catholic Worker women members from the nearby Hippie Kitchen came by. Havens offered them coffee, warming it up on a single camp burner. "How are you feeling?" Martha asked.
"Fantastic."
"You look great," said Susan.
"Overwhelmed by love and joy from my friends and family," he observed with a growing grin.
After offering to try to help fix his reclining portable chair — it was missing a bolt and sagging — Susan said, "Alright, we're gonna take off. We'll let you do your thing."
Havens' thing, of course, was fasting: for 30 days now, just water with electrolytes he got at Rite Aid and the broth from chicken bones. And he did look great, more like 25 than 30, except for his half-closed eyes, which he explained was from exposure to the sun and wind.
The idea to do a hunger strike to bring awareness to the largest concentration of homeless men, women and children in the nation came to him less than a week before Ash Wednesday. So he raced the research to find out everything he could about fasting so he could do it over Lent.
"The first four days were the hardest. And now I'm just kind of like coasting. I still get cravings when they're cooking fish at Catch 21 and the smell waffles over here. That was a major mistake — being so close to my favorite restaurant down here," he said with a chuckle.
"But my body adjusted. I wrestled with it. And when the hunger pangs go away, that's when your body's like 'It's fine.' But it's bluffing. It's called ketosis. Your body starts actually working through your fat reserves.
"But I've had an immense amount of clarity," he quickly added. "I feel very clear of purpose and, you know, just really peaceful."
Except for the rats. But even with them scampering around at night, in the lounge chair he's above them. Plus, his urine keeps them away, sensing that a bigger mammal is close by. And since he started his liquid fasting, there have been few bowel movements. When he does feel the urge, there are diapers.
Sleeping hasn't been a problem, either, with his earplugs and two sleeping bags. And being from Indiana with its chilly winters, he knows about layering clothes to stay warm.
What has bothered Havens is something he witnessed for the first time on skid row just last week — the forceful arrest of a resident.
It happened to a neighbor just around the corner named Jay. Her pup tent was set up near the sliding gate of the parking lot behind him. Two LAPD officers got there first, but soon there were five, then seven.
"You're not gonna take me! Don't touch me! Save me! Save me!" she screamed as they pulled her from the tent and handcuffed her. Her calls for help only stopped when they loaded her into an ambulance. And he had it all on his iPhone.
"I was told she was a 'baby,' not being on the street long," he explained. "She was not blocking the entrance to the building. I've been randomly sobbing about it all week. She was a neighbor who I saw every day. And now she's in the system — the largest and worse mental health care provider in the country."
After a moment, I asked, "Has being down here on skid row fasting for almost a month affected your faith?"
"It challenges it because I have to believe that the problems I'm seeing here are a result of people kind of failing Christ's teaching," he said quietly.
"These problems are fixable. You know, I have to have faith that the love we bear for one another can overcome all the challenges that we've made for ourselves. Like with urban living. And the things that we do to ourselves that deaden our senses to other people's suffering who live in an environment like this. So it's a really fundamental thing about ourselves as city dwellers we need to change if we really want to solve this," he maintained with a nod.
"But I have faith, I guess, that we can do better tomorrow than we did today."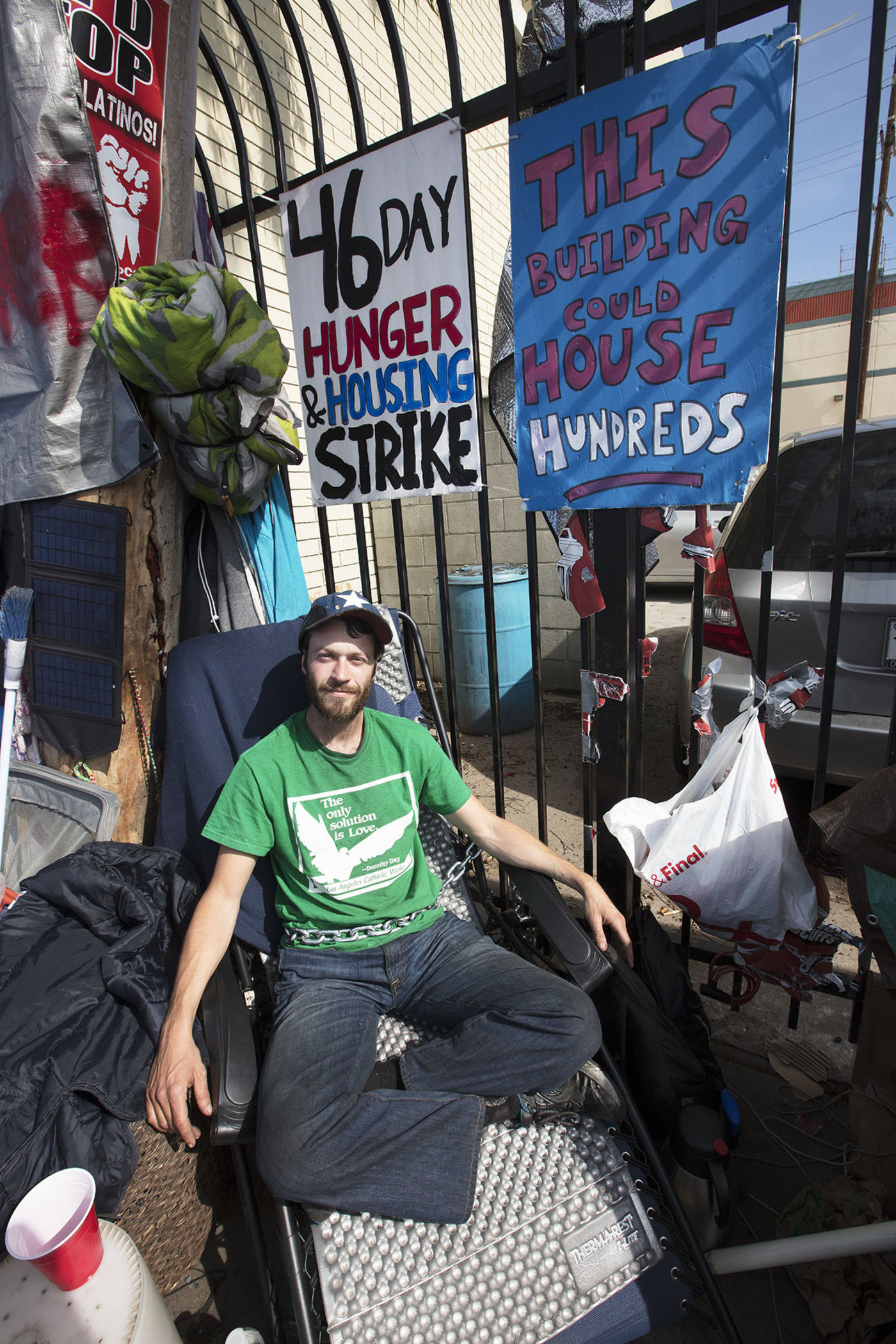 Interested in more? Subscribe to Angelus News to get daily articles sent to your inbox.