For a Catholic high school tennis player (male or female) to win the CIF-Southern Section individual singles title is a rarity. But for it to happen in both sports in the same year?
It happened in 2018-19, when Eryn Cayetano of St. Anthony in Long Beach and Ian Freer of St. Francis in La Canada each won CIF-SS/Ford individual tennis championships held at Seal Beach Tennis Club.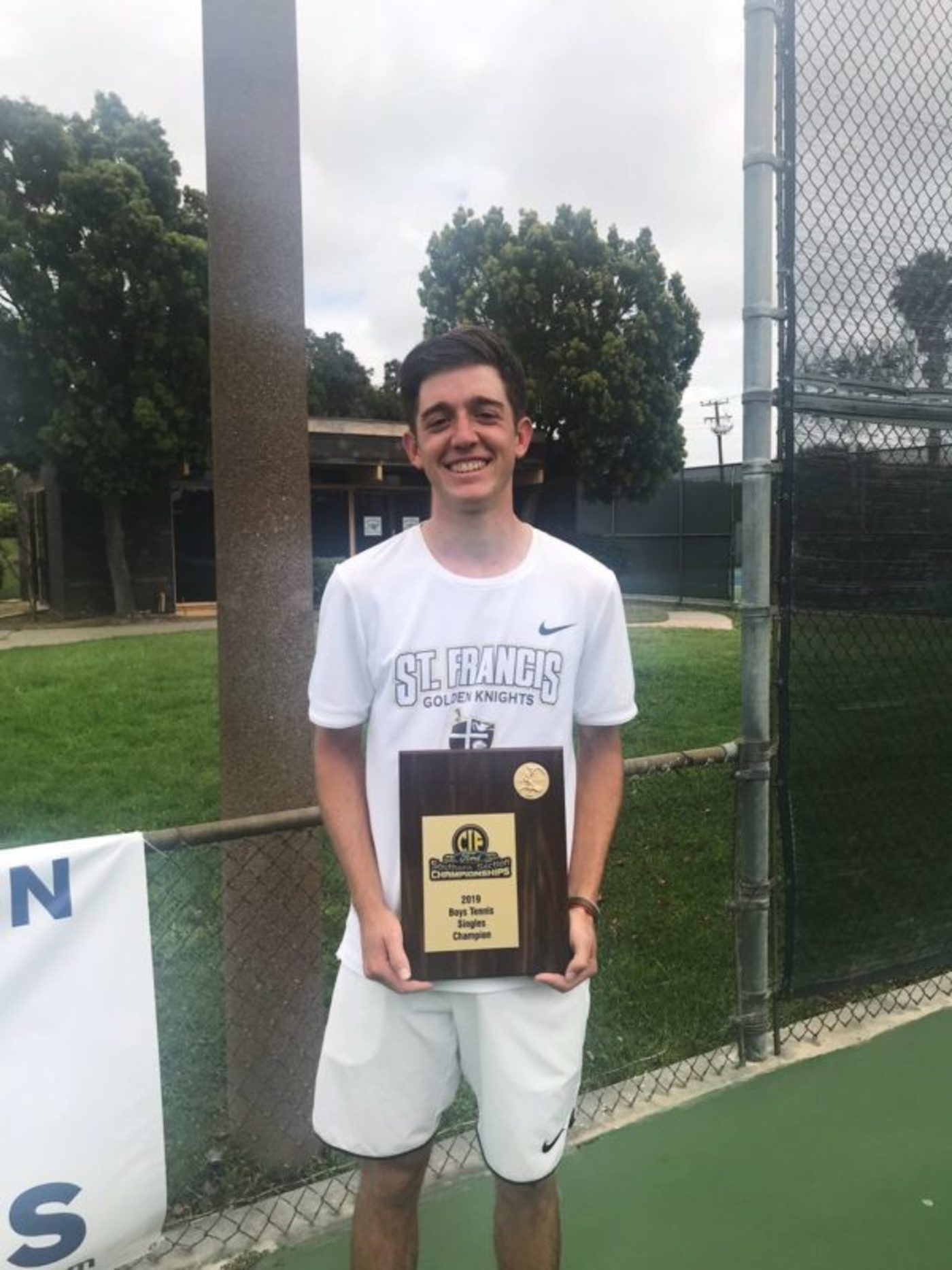 Cayetano's 4-6, 6-1, 6-1 win over Casie Wooten of Chadwick last Nov. 30 marked only the third time a local Catholic high school player had won the CIF girls' individual title. In 1975 and 1976, Bishop Montgomery's Maria Fernandez defeated her twin sister Lucia to win back-to-back titles; not since 1999, in fact, had a Catholic schools player to even made a final, when Mater Dei's Melissa Esmero lost to San Marino's Luana Magnani.
Freer, meanwhile defeated Kyle Pham of Corona Del Mar 6-2, 6-3 on May 23, winning all four of his matches in straight sets during the tournament. Coached by Ron Zambrano, Freer was the first local Catholic schools player in the finals since 2004, when Mater Dei's Kaes Van't Hof won the title, and only the third to win a boys' singles championship (the other: Servite's Ryan Moore, 1997).
The championship came just two days prior to Freer's graduation from St. Francis. Nationally-ranked in his age group, he will attend Claremont Mudd-Scripps, one of the nation's top Division III programs run by Paul Settles.
Cayetano, meanwhile, will continue her tennis career at USC, after compiling an impressive record as one of the nation's top 20 players in her age group. She commuted long-distance from her home in Corona to St. Anthony, where she recorded a 4.0-plus GPA and also co-captained the Saints' golf team.
Mike Nelson is the former editor of The Tidings (predecessor of Angelus News).
Start your day with Always Forward, our award-winning e-newsletter. Get this smart, handpicked selection of the day's top news, analysis, and opinion, delivered to your inbox. Sign up absolutely free today!