More than 30,000 faithful from Santa Barbara, Ventura and Los Angeles counties marched down East Los Angeles streets on Sunday to honor Our Lady of Guadalupe, the patron saint of the Americas, in the 86th annual procession and Mass. This year's event, themed "Our Lady of Guadalupe: Encounter with Jesus," aimed to encourage love and support to others, through whom we encounter Jesus Christ.
"In this procession today, our Mother leads us to this stadium to worship — to the encounter with her Son, Our Lord Jesus Christ," said Archbishop José H. Gomez. "And that is the destination, the purpose of this journey we call life. To find God, to find Jesus! This is the beautiful role that Our Mother plays. She guides us always into the presence of her Son, into the new encounter with Jesus Christ. So, today we profess our love for Our Mother. We thank her for her tender love for us — for our children and our families. We give our hearts to the Virgin of Guadalupe and we ask her to always intercede for us, to hear us and pray for us."
Sunday's celebration leads up to the feast day of Our Lady of Guadalupe on December 12, and marked the first day of Advent, a season of preparation for the celebration of the Nativity of Jesus at Christmas.
The mile-long route of the oldest religious procession in Los Angeles, included colorful floats, equestrian groups, mariachis and indigenous dancers.
Catholic school students escorted La Peregrina, the official Archdiocesan pilgrim image of the Virgin of Guadalupe, which had been blessed and touched to the original image.
Awards were given to three floats that most creatively depicted this year's theme, "Our Lady of Guadalupe: Encounter with Jesus" — St. Bernard Parish in Bellflower (first), St. Isabel Parish in Los Angeles (second) and St. Lucy Parish, Los Angeles (third).
A DACA recipient and a survivor of Las Vegas shooting were among the lectors during the Mass, and Rolando Portillo, a longtime Guadalupano leader at Our Lady of Solitude Church in East L.A. received a special recognition for his support to the local community and an orphanage in Mexico.
"I thank her every day for watching over us, she is the True Mother, a real protector. She brought me back to Jesus Christ when I was an addict running the streets 30 years ago," said Portillo, a resident of East L.A. for more than four decades.
The pilgrimage and procession were possible because of the collaboration and participation of parish communities throughout the entire Archdiocese. Many wore red and green attire to resemble the flag of Mexico, where Our Lady of Guadalupe appeared to St. Juan Diego.
The procession ended at East Los Angeles College Stadium in Monterey Park. Local theatre actors performed a reenactment of the miraculous apparitions of Our Lady of Guadalupe, and white doves were released as La Peregrina entered the stadium, where Archbishop José H. Gomez celebrated a special Mass in her honor.
In preparation for the procession and Mass in East LA, the framed traveling images of Our Lady of Guadalupe and St. Juan Diego visited 20 parishes for veneration in the Archdiocese of Los Angeles, and for the first time, at parishes in the Dioceses of Orange and San Bernardino. The images were also venerated at Santa Clara Cemetery in Oxnard during the celebration of Día de los Muertos (Day of the Dead) in November, and at five detention facilities in the Archdiocese of L.A.
This year marks the 486th anniversary when the Virgin of Guadalupe appeared to Mexican indigenous St. Juan Diego in 1531, and asked him to build a church on a hilltop, miraculously leaving her image on his cloak, or tilma as proof of her request to the bishop at that time. Since then, the image of Our Lady of Guadalupe has been a symbol of unity, peace, compassion and hope for people around the world.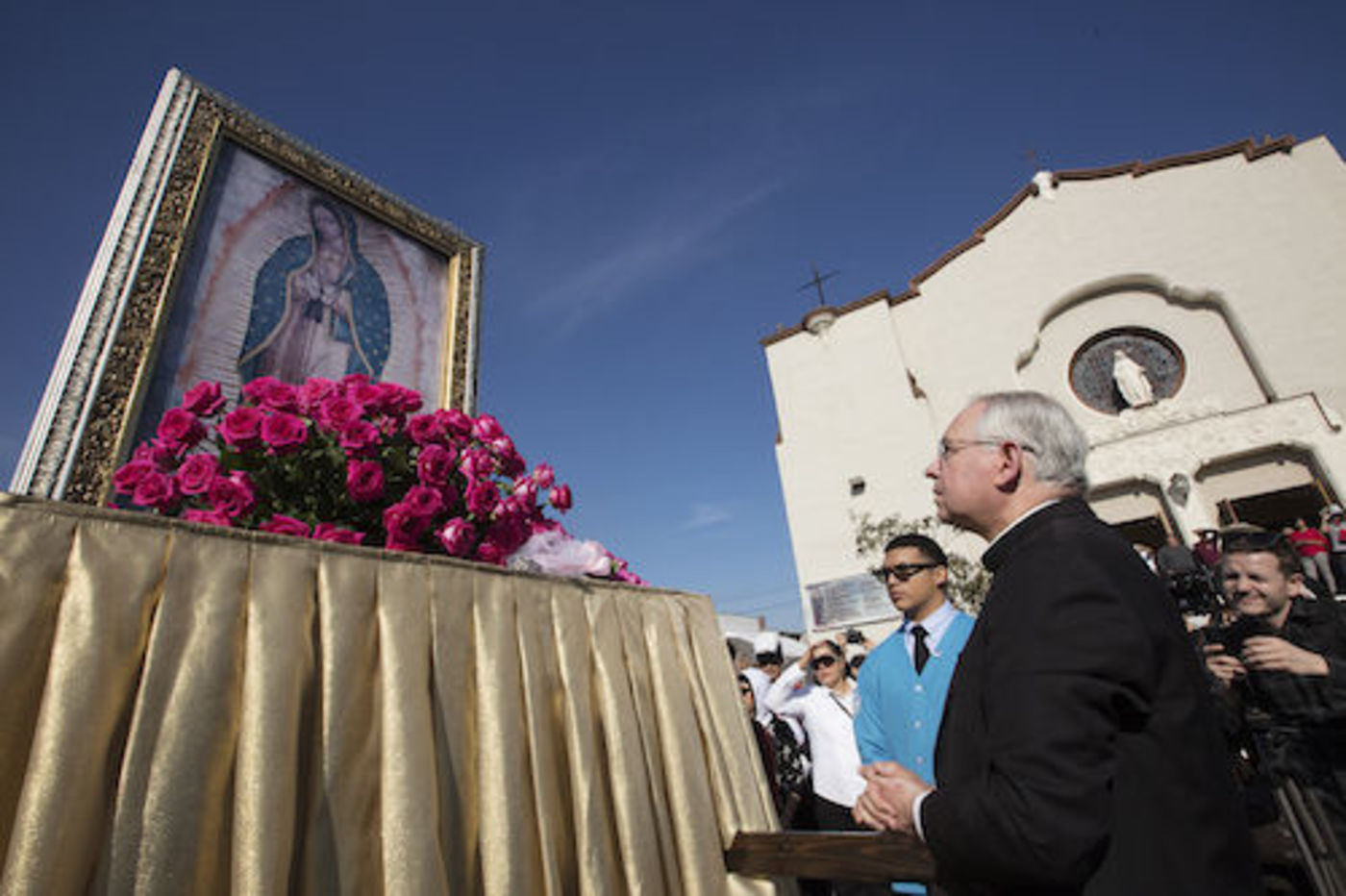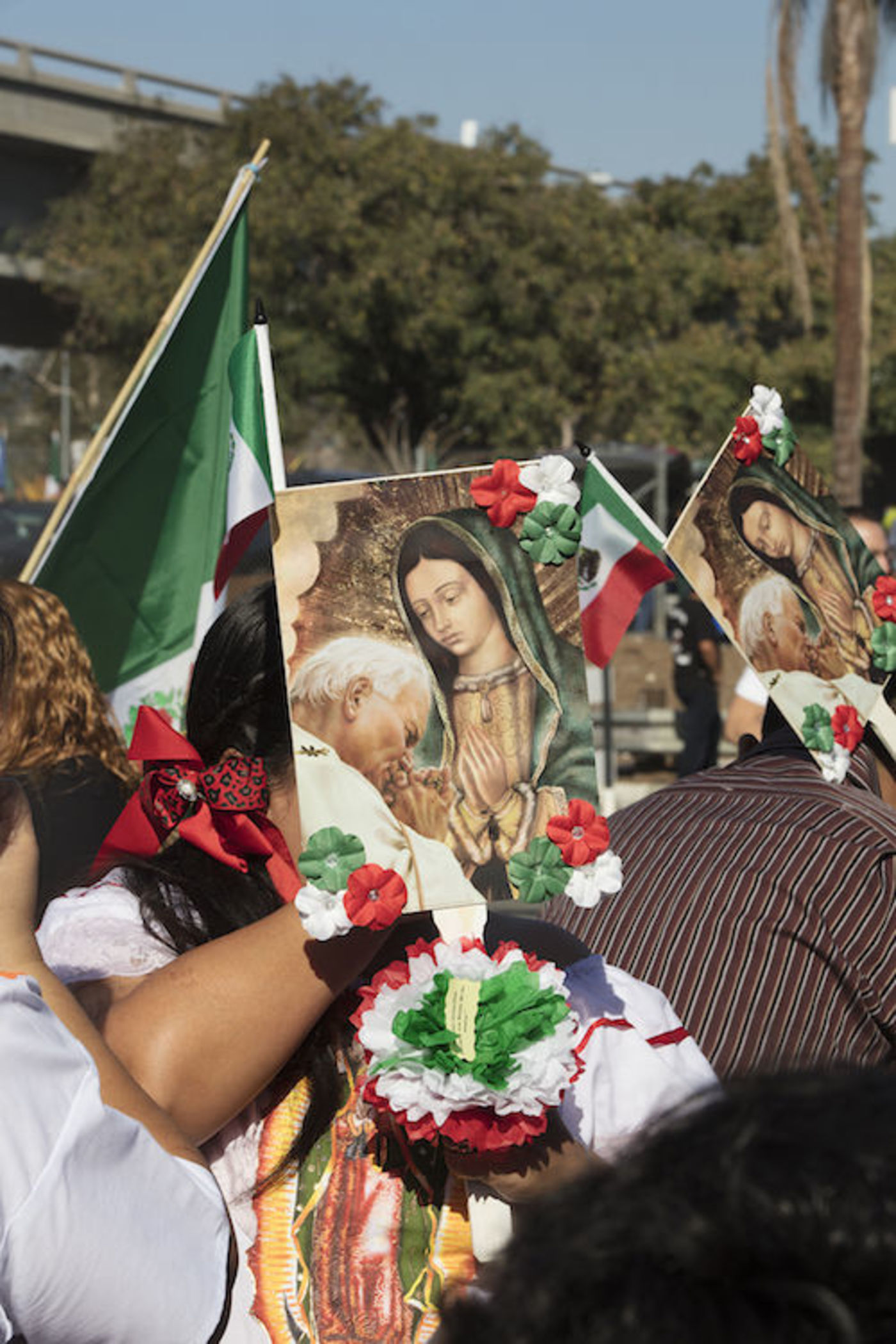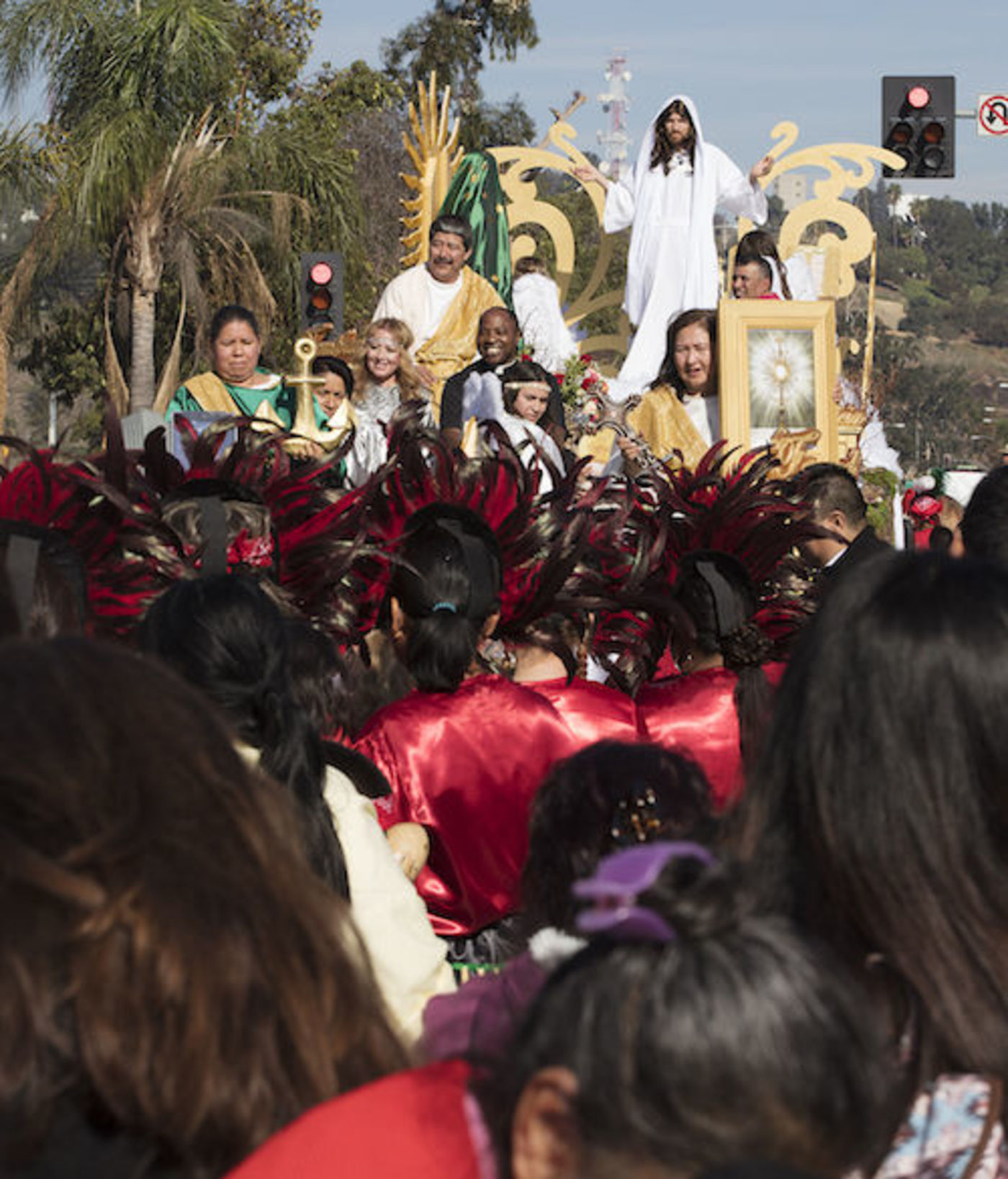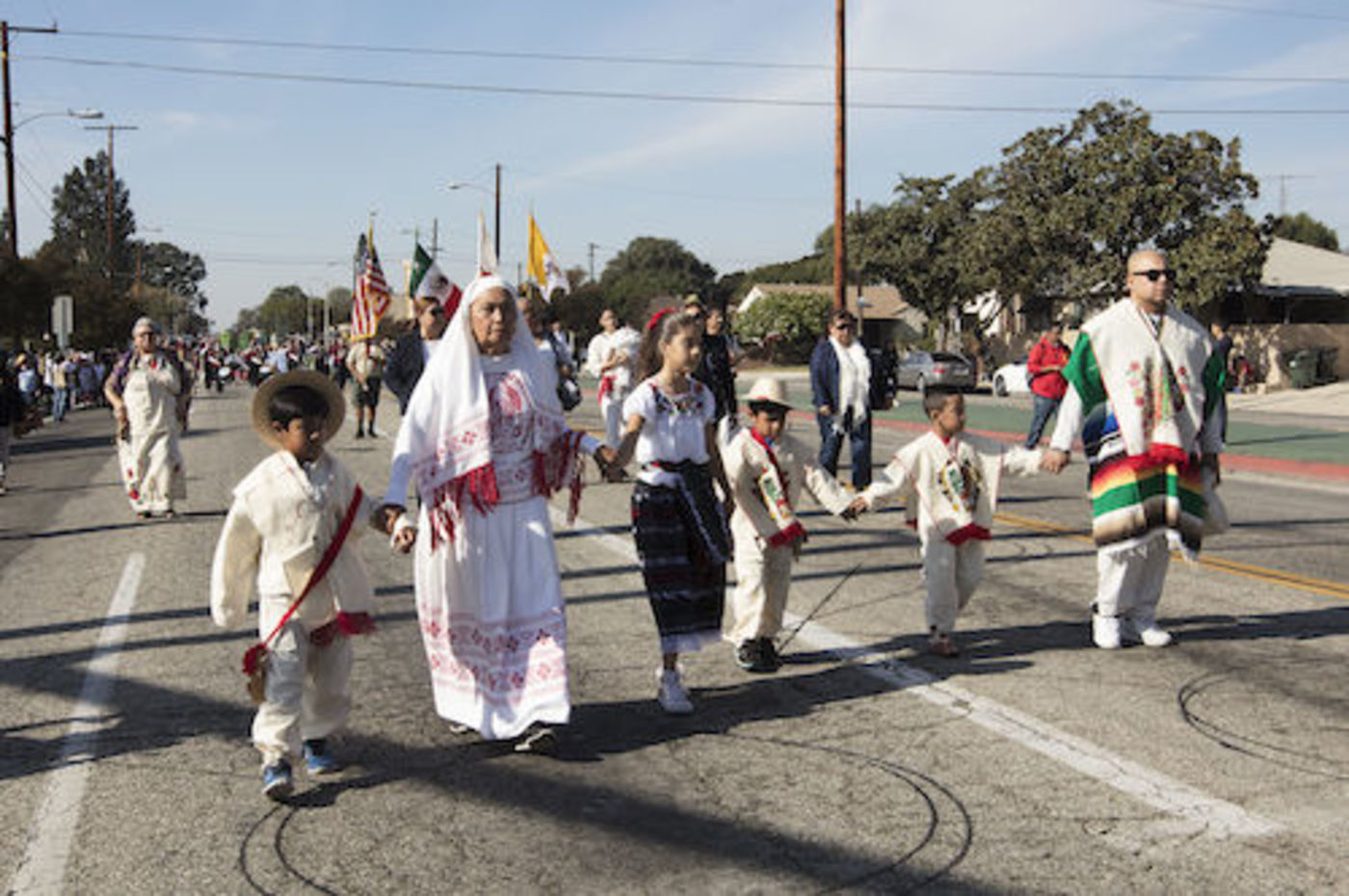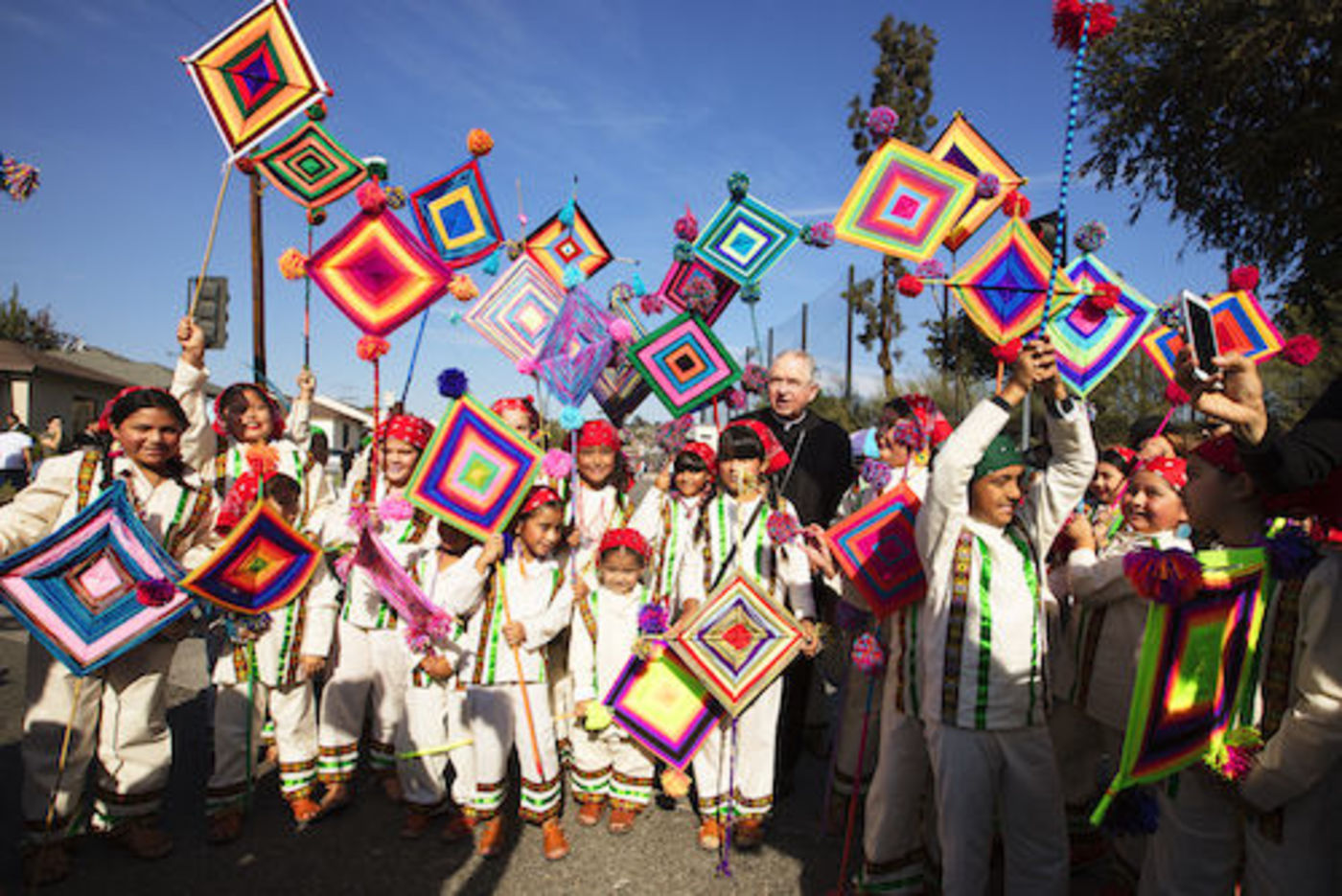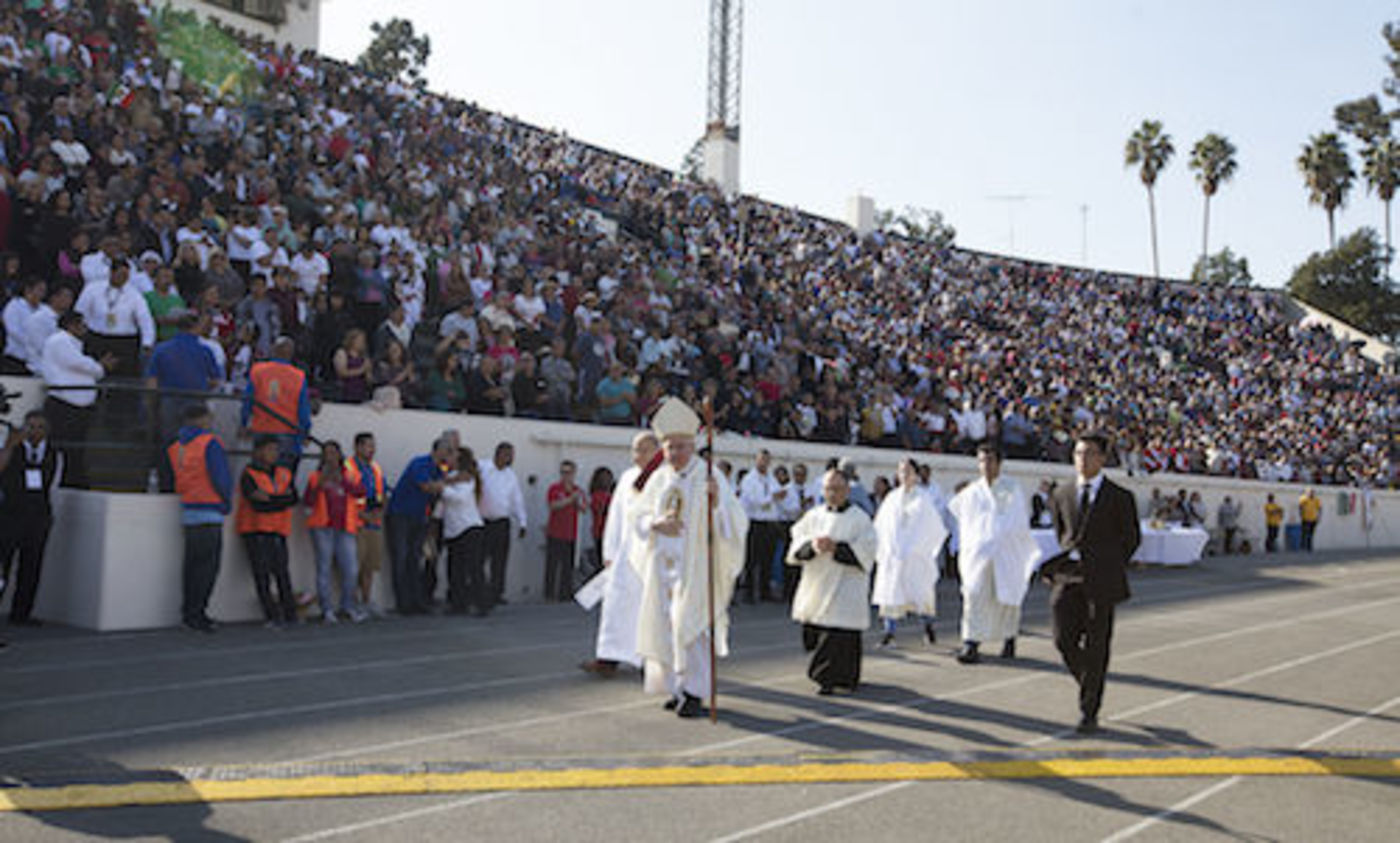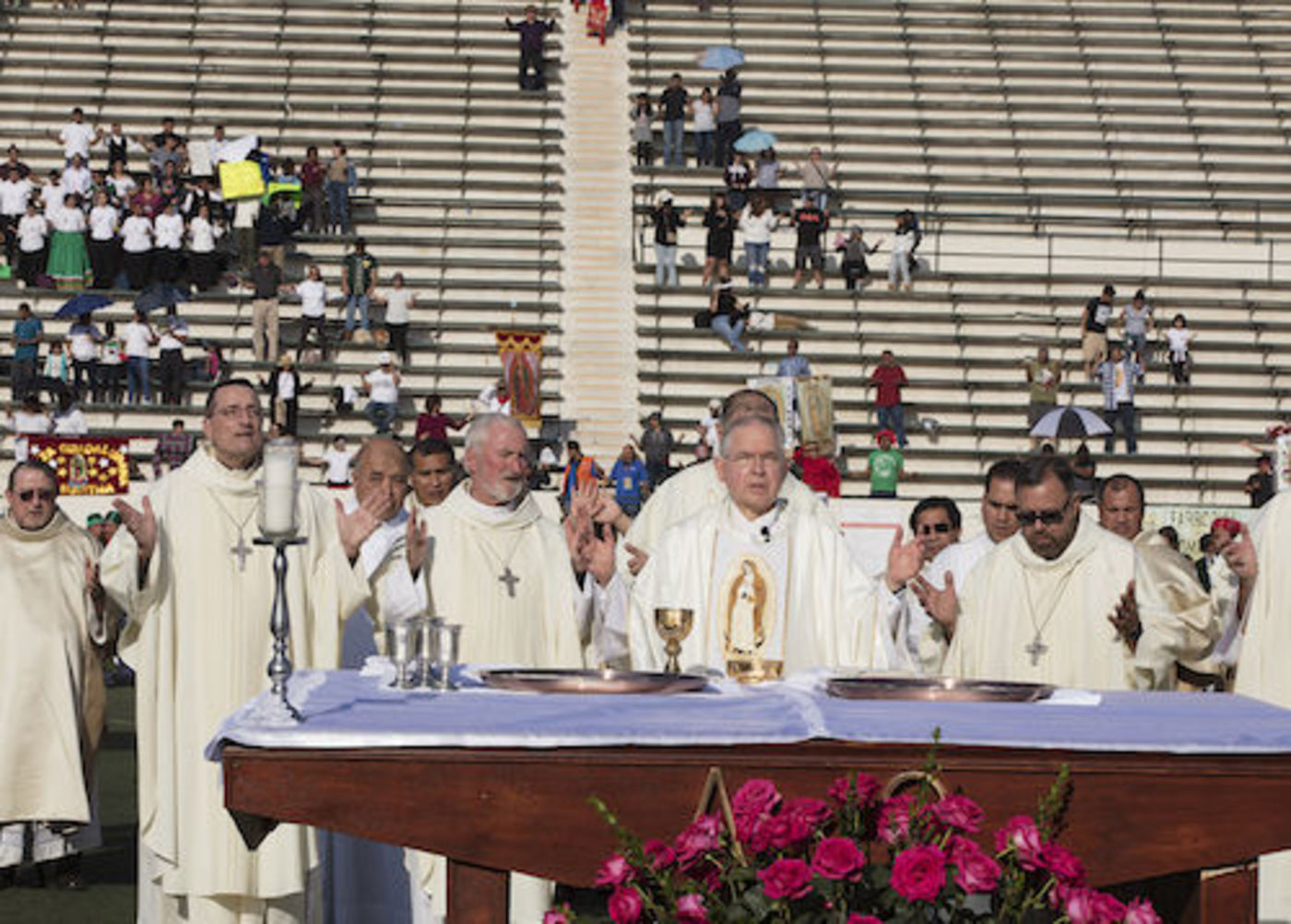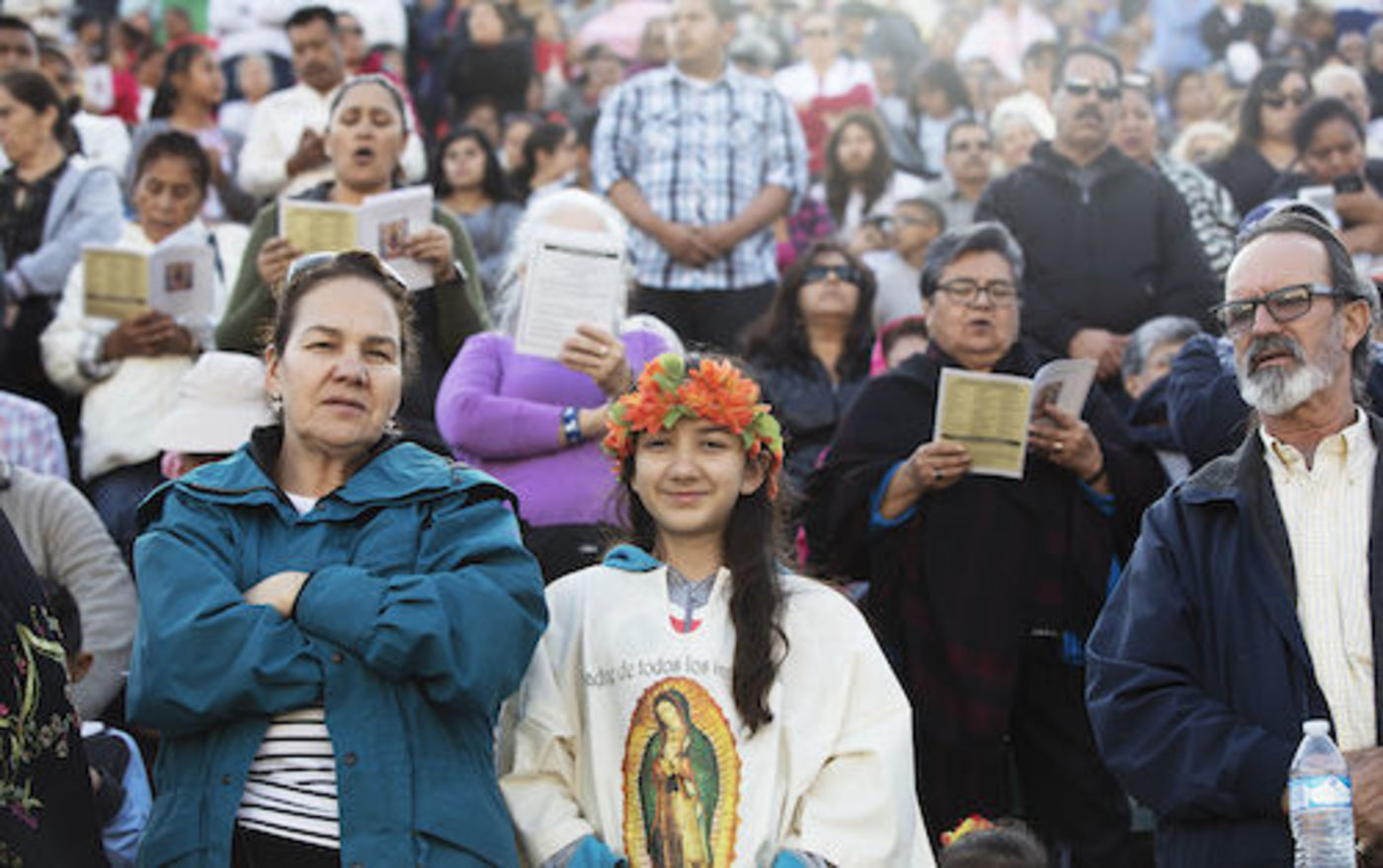 For more information about the procession and Mass, please visit http://archla.org/guadalupe.