A girl named Lisa, maybe 7 or 8, was crying, gasping for breath on the recorded 911 call. The buzz from 150 people sitting around white-clothed banquet tables in the ballroom of the Cathedral of Our Lady of the Angels stopped cold.
"Are you having an emergency?" The woman dispatcher's voice was unhurried, professional.
"My mom and daddy are fighting." And she screamed over the phone.
"Is he hitting her?
After an uneasy moan, Lisa yelled "Stop it!" at her stepfather, before turning back to the dispatcher: "Could you get the police, please? You've got to believe me!"
"OK, but let me know what they're doing. What's going on?"
"They're having a fight because … this has been going on forever and ever. Because he has a club. And he's always drinking there and getting drunk." Then again away from the phone: "Stop it! He is hitting mommy, he's hitting mommy."
With more caring in her voice now, "OK, don't cry," said the dispatcher. "We're sending the police. They're on their way."
But Lisa's screams reached an even higher crescendo. "My little sister. Oh, my God! He has the baby now." And finally, "Let me go! Help me! Where are the police? Where are the police?"
"Lisa, where is —"
"Mommy!"
A click on the phone.
"Hello?" asked the dispatcher. The line went dead.
Learned behavior
The disquieting 911 audio recording was played to parish and school staff, lay ministers, religious studies educators, marriage preparation couples, VIRTUS facilitators, religious and clergy, family therapists and others last month inside the cathedral conference room.
Peace Over Violence — whose mission is to build healthy relationships, families, and communities free from sexual, interpersonal, and domestic violence — presented a wide-ranging, interactive discussion.
Issues examined included physical, sexual, psychological, economic, and legal abuse.
Also, the dynamics of abusive relationships, cycle of violence, barriers to leaving an abusive relationship, traumatic bonding, victim blaming, impact on survivors, male survivors, underserved populations like undocumented immigrants as well as planning safe ways of leaving an abusive relationship were highlighted.
"Why does domestic violence happen?" asked Peace Over Violence presenter Yvette Lozano, chief program officer and emergency services coordinator of the agency established in 1971 in Los Angeles. "Does someone just decide one day to wake up and say, 'I feel like I need to abuse someone today and harm someone,' right?"
A woman in the audience raised her hand. "Mentally, they've been abused themselves," she said.
Lozano agreed, explaining that most abusive situations are a result of learned behavior — but of a choice, too.
Another point stressed was the myth that domestic violence was primarily a lower-class issue. "It's found at every level of society," she said. "It does not discriminate. So, when we define domestic violence, it's pretty much a broad range of abusive behaviors toward an individual. And it can happen in a married situation or be intimate-partner violence.
"Do adolescents go through partner violence?" Lozano asked.
Hushed "yeses" went through the audience like paper airplanes.
"Yes! The jealousy, the controlling and everything else," she agreed. "So, we have to be aware of that so that we can best support young people when they start having relationships with others as well as being a cohabitant with someone. Violence in that relationship can occur as well."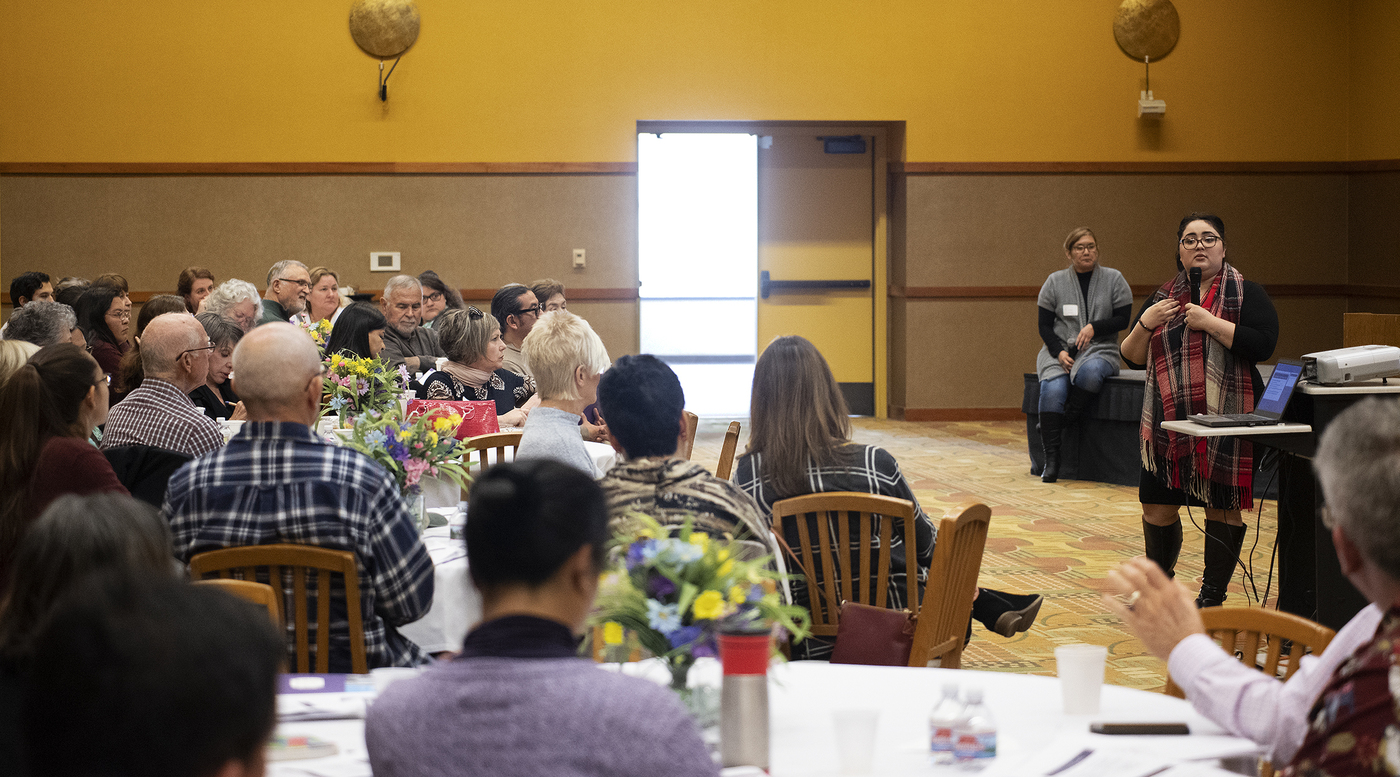 Power and control
Lozano defines domestic violence as a pattern of behaviors used to establish power and exert control by one intimate partner over the other.
According to Penal Code 13700, it's defined as "abuse committed against an adult or a minor who is a spouse, former spouse, cohabitant, former cohabitant, or person with whom the suspect has had a child or is having or has had a dating or engagement relationship."
The longest part of the morning session was taken up going over what domestic violence includes: physical, sexual, verbal/emotional, psychological, economic/financial and legal abuse plus stalking, including cyber stalking, and harassment.
Besides the signs of physical abuse that would be obvious to most, Lozano pointed out that spitting, being locked out of one's home, food and sleep deprivation, and reckless driving also constitute domestic violence under most jurisdictions today.
She noted that sexual abuse and violence covered a lot of behaviors, too, including spousal rape, sex trafficking, being forced to watch pornography and even "sextortion" — meaning the threatened release of sexually embarrassing images or information as a means of coercion.
Also discussed were two abuses that often don't get the attention of police as much as more provable physical abuse — verbal or emotional abuse as well as psychological abuse. Those, Lozano explained, often take the form of intimidation through threats and controlling behavior.
Why do they stay?
The dynamics of domestic violence can seem nonsensical looking from the outside at the relationship, said Lozano. Why would anybody stay in that dysfunctional — and often dangerous — marriage or partnership?
She ticked up many reasons: fear, guilt, culture, social norms, lack of options and support, children, financial dependence, physical isolation, shame and blame, stalking and harassment, immigration status, religion/spiritual, victim blaming, denial, plus simply normalizing the violence.
"The person loves the abuser," Lozano pointed out. "That person's charmed me. If there had been a sign at the beginning — 'I'm going to physically abuse you once we get married or commit to a relationship' — I think most of us would have been like: 'See you!' But that doesn't happen. Manipulation happens. It's once we're in a relationship that abuse happens. Then it's hard to leave."
But leaving in many cases is the best option, although she stressed that's always the individual's decision.
"Domestic violence survivors have low self-esteem, and these victims have already learned trauma," she explained. "But domestic survivors are very resilient … and need us to help them build that confidence back up."
What can a trained person in a parish setting do for these victims?
"We can help them faze out of their abuse. But we don't tell survivors what to do. They are experts on their lives. We provide options and resources, and then they decide on their own."
Lots to learn
Master catechist Anita Robinson, director of religious education at St. John the Evangelist Church in Los Angeles, thought the leadership training "Responding to Domestic Violence" was thorough with lots of detailed information.
In fact, it was almost too much to absorb in one day. What really hit the 30-year public school educator and researcher was the 911 call.
"It's not that I didn't know it happened," she told Angelus News after the conference. "But that phone call was so emotionally draining. It brought it so to life. It made it so graphic. It made the problem so real. A kid who's suffering in a home where there's domestic violence needs to know they're loved.
"And people trust the Catholic Church; I don't care how many scandals you have. So how are we addressing this as a Church? I'm seeing the need in the parishes for people to be able to have someone identifiable that they can go to and say, 'Look, this is happening to me,' or even if I suspect it might be happening to my neighbor. We need a trained person, like a religious education minister."
Robinson also pointed out that parish priests must hear about domestic and intimate violence in the confessional and outside as spiritual counselors. "They don't have to identify the person," she said. "They could, though, tell the person 'We have someone who can help you in our parish. Go and talk to them.' "
Angelus News caught up with a couple of priests leaving the conference, too: Father John-Paul Gonzalez, administrator of St. Victor Church in West Hollywood, and Father Ever Quintero, pastor of St. Columbkille Church in Los Angeles.
Both stressed the sacred seal of the confessional, and both said they had never actually discussed it during the sacrament of reconciliation.
What brought Gonzalez to the conference, who had worked in the archdiocese's marriage tribunal, was Catholic women experiencing domestic violence asking him as their parish priest what they should do.
Also, as a seminarian, he remembered the words of older women, survivors of domestic violence, who had sought out other priests for help. More often than not, the older clerics would tell them the marital bond was of a higher value than the woman's personal safety and psychological well-being.
"These women never left their abusers and endured the abuse because of that," he said. "But now we look at, you know, the personal safety and well-being of the individual. Now I would never tell someone to stay with their abuser. I would counsel separation. Church law says that's permissible."
Quintero agreed, pointing out that he had heard stories from women who were counseled by priests to stay together for the sake of their children or their marriage.
"But if there's domestic violence, it's not good for the children, even if they are just witnessing," he said.
Joan Vienna, director of the Office of Family Life, thinks the Church was in an especially good place to help victims and survivors of domestic and intimate-partner violence.
Why? Again, because of trust — probably more so than in any other institution of our society. And that trust can lead spouses or partners coming confidentially — and feeling safe — to share their personal stories of being abused.
"It's especially important for people to get help at the parish and school levels," she told Angelus News after the conference. "The goal of today was helping our clergy, parish ministers, as well as principals and teachers first know how to recognize abuse and just listen to victims and survivors."
"People want to help, but they don't know how sometimes."
Vienna believes that the fear that comes with the undocumented status of so many domestic abuse victims today shows the need for "avenues and resources that can help them."
She also sees the impact of violence on TV, video games, and the internet as a call to further awareness and education. "We're becoming almost numb to violence."
So what can the people at the conference accomplish back in their home parishes?
"The Church community is where people share and often feel safe and supported," Vienna explained.
"So even though you may not have the expertise — and I wanted it to be very careful today — most of us are not experts in this field. What our role is to listen, support, and get the expertise help for victims and survivors who come to us."
SPECIAL OFFER! 44 issues of Angelus for just $9.95! Get the finest in Catholic journalism with first-rate analysis of the events and trends shaping the Church and the world, plus the practical advice from the world's best spiritual writers on prayer and Catholic living, along with great features about Catholic life in Los Angeles. Subscribe now!