Before the Archdiocese of Los Angeles' high school graduation class of 2019 races forward, Angelus News collected some personal stories from some who've come down from the pomp and circumstance of the June celebration and reflected on their journeys to this point.
Bishop Mora Salesian High School, Boyle Heights
Jose Chanchavac became his class salutatorian and a Questbridge Scholar, receiving a four-year scholarship to Columbia University. He continues a "Dreamer" journey that started when he arrived in the United States with his family when he was 5, following his brother, who just finished his freshman year at Dartmouth.
"My parents made it clear to me and my brother that all the sacrifices they did were for us so we can live better lives than they did," Chanchavac wrote to Angelus News. "I know that by furthering my education, especially without having to give my parents another financial burden, is one of the best ways to start paying them back for everything they have done for me.
"There have been times when money problems have been very serious. However, I have been a firsthand witness to my parents' perseverance. I am fortunate to have attended Salesian, more than just a school but a community with a real brotherhood. You can just feel that when you step on campus, and this is really my favorite memory of my school."
Paraclete High School, Lancaster
In the summer of 2018, Mackenzie Atkerson was one of about 1,000 picked from across the nation to attend a prestigious Summers Leaders Experience (SLE) at the U.S. Military Academy at West Point, New York. At the same time, Luke Schatz was one of 850 picked for the Summer Seminar at the U.S. Naval Academy in Annapolis, Maryland.
Last May, when Atkerson announced she would attend Army as a shortstop for the softball team, and Schantz declared Navy as his choice to join as kicker for the football team, it was not a huge surprise on the Lancaster campus.
"My family, church leaders, educators, coaches, teammates, and community leaders have all played a key role in shaping who I am today," wrote Atkerson, who wants to study kinesiology. "My participation in the SLE confirmed my decision."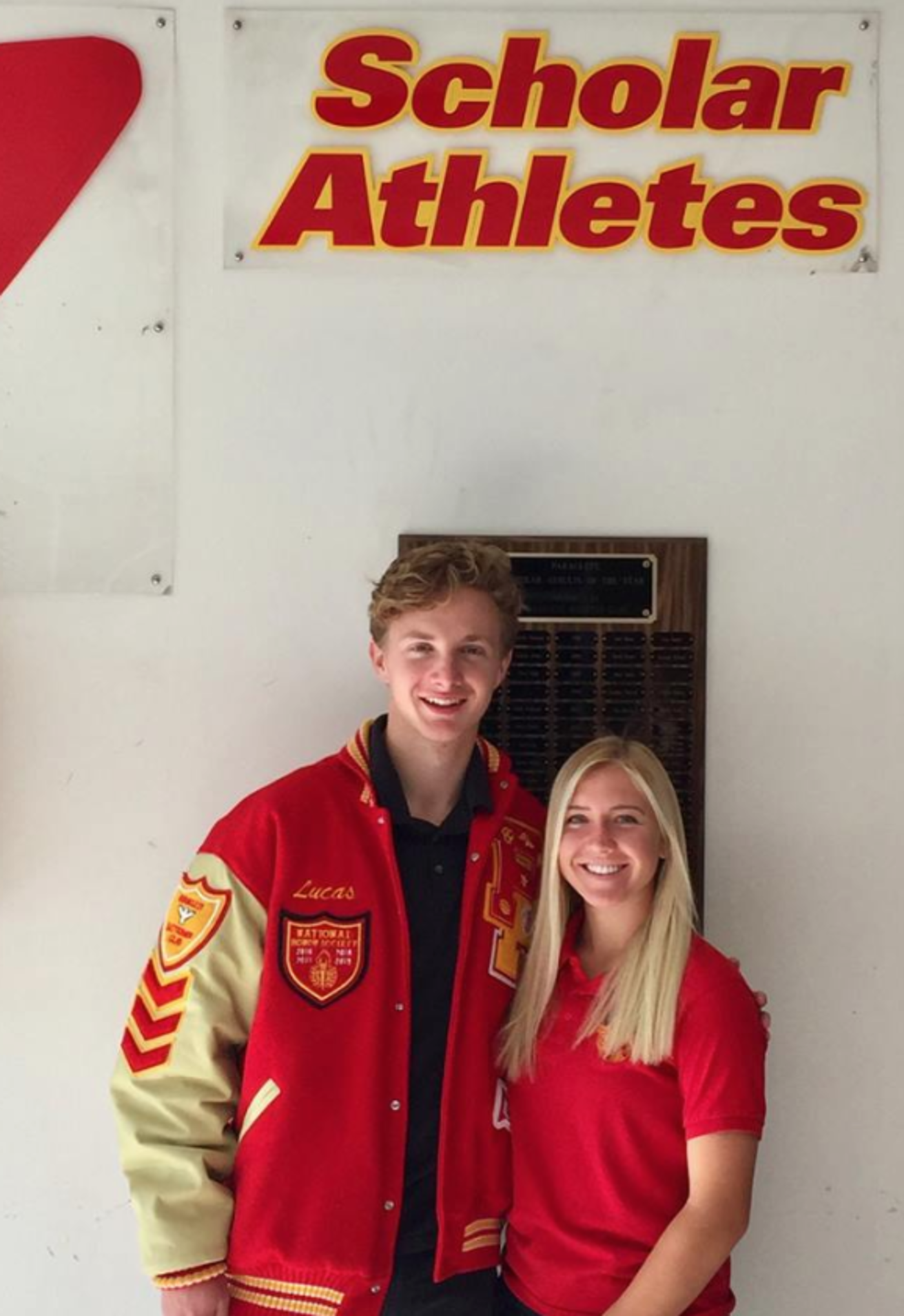 Schatz wrote how the competition and inspiration he had from his older brother, Tyler, now on Navy's rowing team, "provided me with a constant reminder of what hard work achieves." So did his elementary school education at Sacred Heart School, where his father was the principal.
"As I looked to further my Catholic education (after Sacred Heart), I chose to attend Paraclete and I blossomed into a student who led in the classroom and on the sports field with the work ethic instilled by my father's example. My time at Paraclete and Sacred Heart gave me the confidence to know that I had the work ethic to succeed at the Naval Academy. I am grateful for my faith, foundation, and family for helping me reach this point."
St. Genevieve High School, Panorama City
Amanda Rodas heads to UCLA with a little more confidence than when she started high school life on the Panorama City campus. The class salutatorian took a small leap of faith to join the school's spring musical during her senior year.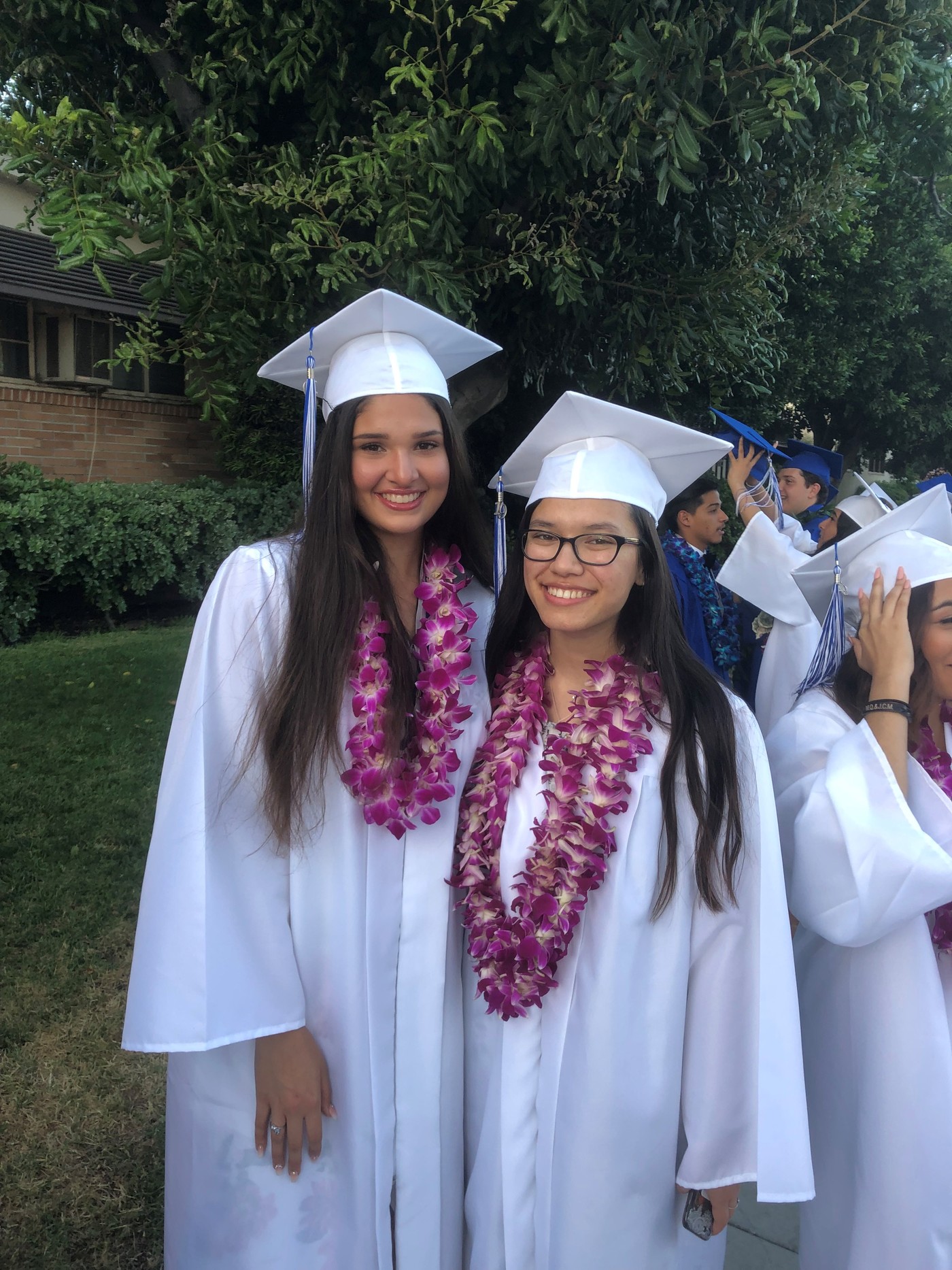 "The experience did push me out of my comfort zone, and I was able to discover a newfound love for entertaining," Rodas told Angelus News. "The smiles I saw throughout the audience were so fulfilling. It was also a lovely way to share the stage with my fellow underclassmen one last time before I graduated for good."
More smiles, Rodas explained, always came from the school Mass during the sign of peace.
"Regardless of how well everyone knew you, you would always get bombarded with loads of hugs and smiles from students of all different grade levels, regardless of how far away people sat from you," she wrote. "Regardless of how bad my day was going, this part of Mass always left me feeling loved and welcome.
"All throughout my life, I have been in a very small Catholic school environment, with similar beliefs and mindset. I know college will open me up to new cultures and ethnic backgrounds on a more international level. I am very excited for this."
San Gabriel Mission High School, San Gabriel
On May 3, the school announced Melissa Estrada and Juliana Lopez signed soccer scholarships to play at Bethany College, a small liberal arts school in Lindsborg, Kansas, just north of Wichita.
LunaSolee' Holloway decided she would do the same about three weeks later.
"I knew it was a dream of theirs to not only play soccer in college, but to do it together," said athletic director Alma Stone of the trio, who led the team to four straight Horizon League titles and also played together on the LA Premier Futbol Club.
Holloway, a defensive standout from Montebello who intends to major in marketing and minor in elementary education at Bethany, wrote:
"I have been going to Catholic school since I was in kindergarten, and all those years have built the foundations of my education, faith, and personality. I have met all my closest friends through participating in class and extracurricular activities.
"Catholic school has opened my eyes to the world through my studies in the classroom learning about the different types of Native American cultures in seventh grade social studies, and the beauty of literature on a field trip to the Huntington Library during my junior year. It has also shown me the power of giving back through various volunteer opportunities, helping me find a passion for teaching children."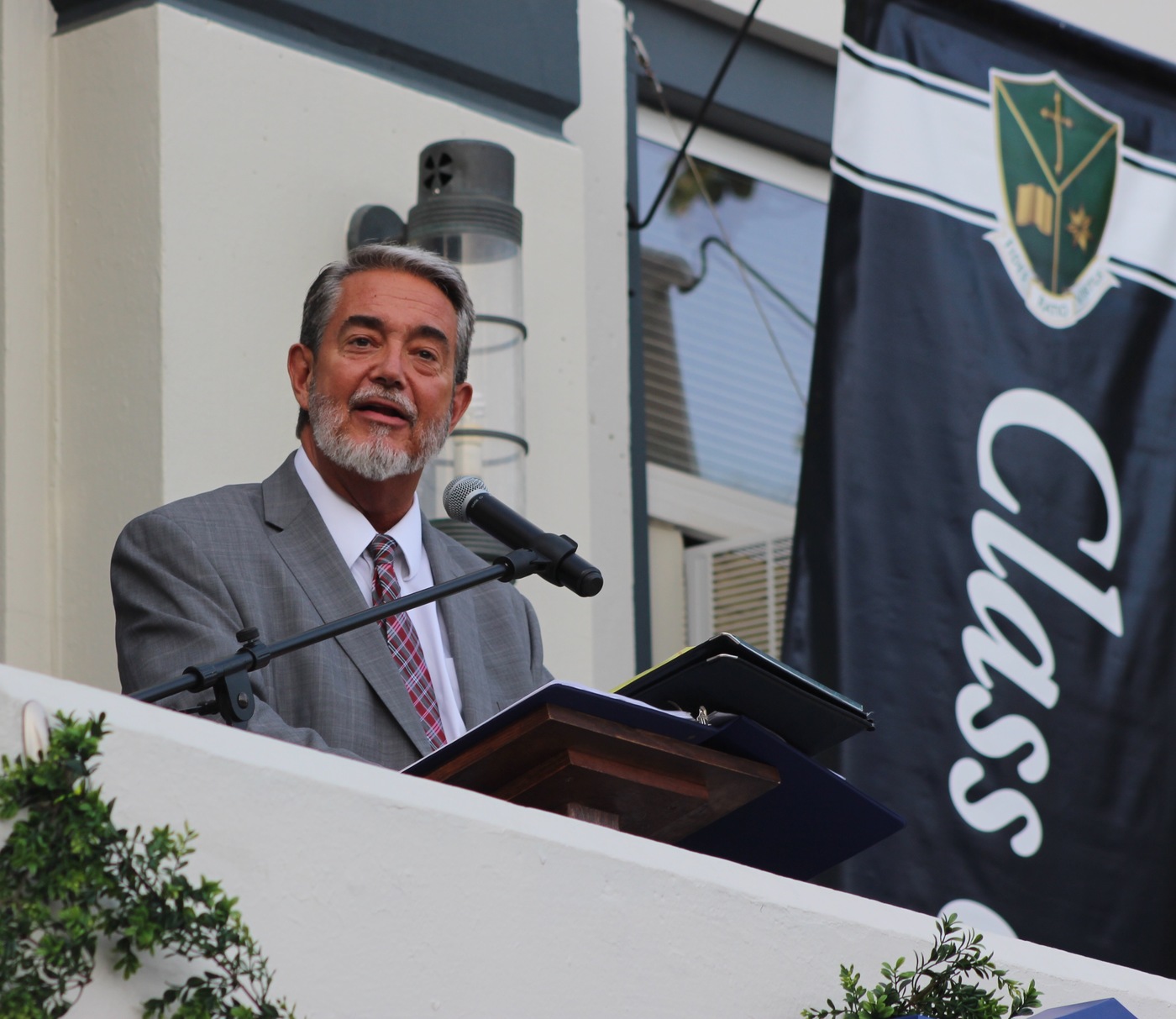 Verbum Dei High School, Watts
The South LA school in the shadow of the Watts Towers continues to have success stories from its well-known Corporate Work Study Program.
Alex Hawkins called his experience "interesting and enlightening," as he was embedded in the AIDS Project Los Angeles for two years, another year at Herbalife, and then doing clerical work at the Girardi/Keese law firm near Staples Center.
"I realized how much Verbum Dei was a life-changing experience as I was finishing my final year," said Hawkins, already on campus at Morehouse College in Atlanta, where he plans to study computer engineering. "When my teachers were saying they would miss me, I realized I would miss them, too, because we really had become friends."
Hector Arrieta said his four years at Manatt, Phelps & Phillips, LLP in West LA, "helped me develop skills in an office setting that I believe I can take to other work environments."
Heading to UC San Diego to study communications, the Lynwood-raised Arrieta said he carries with him the religious education at Verbum Dei in how "the ethics classes really challenged you on your own morality and what you believe in. I believe it helped me grow closer to God."
St. John Bosco High School, Bellflower
Trevor Peitzman, captain of the school's Robotics Team and a varsity swimmer, was informed a knee injury he suffered in seventh grade while at St. Lawrence Martyrs Catholic School in Redondo Beach medically disqualified him from admittance to the U.S. Naval Academy. But he did not give up hope.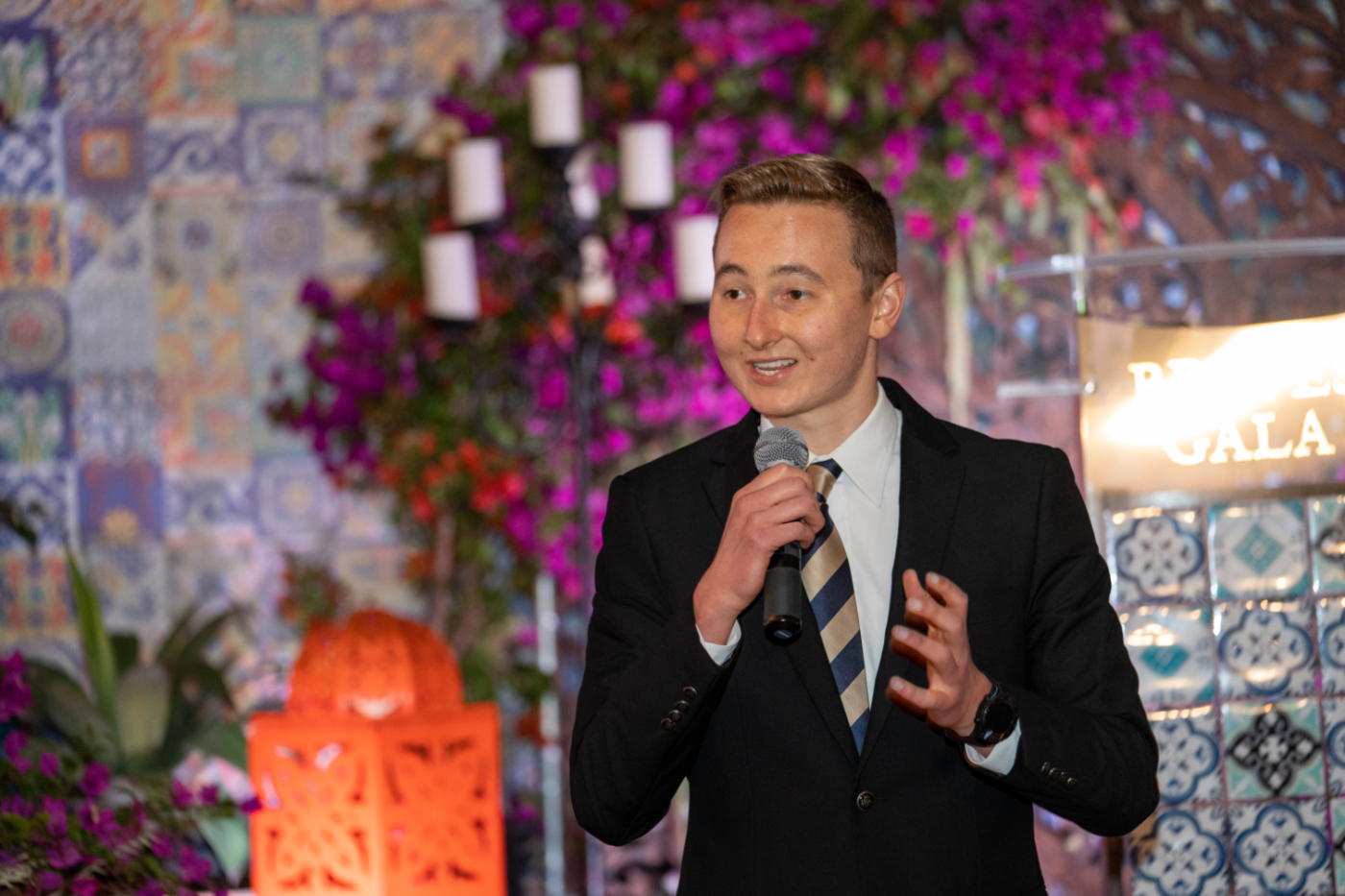 "My parents and friends encouraged me firmly to appeal the disqualification, praying hard for a favorable outcome," the Torrance native wrote to Angelus. "After a month I was beginning to feel my luck had run out. Unbeknownst to me, my mom got together with her prayer group one last time to pray for me. At that very same moment I received an email from the Academy saying that I had been conditionally accepted, pending the results of my appeal.
"Long story short, I was accepted and will be reporting on June 27. My experiences in Catholic schools have strengthened my faith, and I know I can achieve whatever I seek to accomplish moving forward."
Then there are twin brothers Isaiah and Myles Dolphin, both heading to Brown University in the fall. They each completed the Bio-Medical Pathway program that focuses on the intensified study of math and science, while they captained the school's lacrosse team.
Isaiah explained how the school also impacted him on a larger level when it concerned their mother, Michele Dolphin, a science instructor at the school: "Bosco also taught me to lean on my faith in God whenever times got tough. When my mom had to undergo dangerous brain surgery, the Bosco community responded by surrounding me with prayer and spiritual advice. Now that I am journeying to the next part of my life in the Ivy League, I am looking forward to gaining experience in genetics research and meeting new people."
Tom Hoffarth is an award-winning journalist based in Los Angeles.
SPECIAL OFFER! 44 issues of Angelus for just $9.95! Get the finest in Catholic journalism with first-rate analysis of the events and trends shaping the Church and the world, plus practical advice from the world's best spiritual writers on prayer and Catholic living, along with great features about Catholic life in Los Angeles. Subscribe now!