On June 5, Archbishop José H. Gomez will ordain eight new priests for the Archdiocese of Los Angeles at the Cathedral of Our Lady of the Angels.
The Class of 2021 will begin their first assignments as parish life gradually resumes around the archdiocese following a year of closures, outdoor sacraments, and social distancing. 
In the days leading up to their ordination, we'll be introducing a new soon-to-be Father. Los Angeles, meet your new priests!
Age: 46
Hometown: Puerto Barrios, Guatemala
Home parish: Divine Saviour, Los Ángeles
Parish assignment: Santa Rosa de Lima, San Fernando
It's not unusual for those about to be ordained to be asked if they have any advice for those considering the priesthood. When Sergio Hidalgo gets that question his answer is fairly simple and straightforward: Don't be afraid.
"Pray about it, ponder about it, be involved, know your faith," he said. "Look in your heart and pay attention to all the signs. But don't be afraid."
And if you think those signs are going to necessarily come in dramatic, miraculous moments, Hidalgo said it's important to understand that "God likes to work through people."
Indeed, it is not at all unusual for those about to enter the priesthood to talk about the influence of someone who seemingly shows up at random in their lives, but who nonetheless sees something special in them. Whether you choose to acknowledge that gift, Hidalgo said, requires "courage."
"Your faith gives you the courage," he said. "The courage comes from many sources. Obviously, the main one is God, but God likes to work through people. In my experience, that's the key. God is very gentle and never is going to force you to do something. But yes, he gave you the tools, he gave you what you need to progress in the vocation."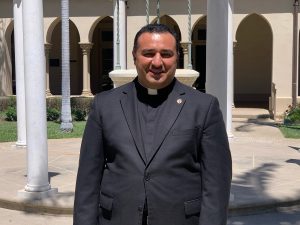 No matter the circumstances or roads traveled, Hidalgo believes what unites all those who choose to follow a vocation is "the desire to serve." That desire has a long line of people in it stretching all the way back to Christ's days on earth. He said it's that line that keeps you going through difficulties you may encounter on the journey. Therefore, it's not only family and friends that can help you, but "others who are discerning of the priesthood, who give you courage. When you have the examples of the saints, that gives you courage, too." He said he's eager to begin working with people who show their own courage every day, courage that includes going back to church after a global pandemic.
"I think our main mission is to walk with the people, to be companions in this journey back, because many people are away right now, because of fear of the COVID," he said. "I saw a lot of people coming back [to church], they have this desire to be in the church, honestly. Not because of the priest, I honestly believe that they really have an encounter with God. That the people are present at this time right now in the churches is because they really have an experience of God."
And, if that experience leads someone to consider a vocation, Hidalgo wants them to know that God will more than meet them halfway.
"It's a beautiful journey," he said. "I'm a hundred percent sure that God will give you the right time, and, if he sees this is your calling, God will never stop calling you. He will always call you. Just say yes."
Capacity for the ordination is limited due to COVID-19 protocols and attendance is ticket-only. To attend the ordination Mass virtually, visit LACatholics.org/ordination.