On Aug. 8, Archbishop José H. Gomez will ordain eight new priests for the Archdiocese of Los Angeles at the Cathedral of Our Lady of the Angels.
The "Pandemic Class of 2020," as they call themselves, has endured quarantine and a delayed ordination date, which was originally scheduled for May 30. But they all agree that the extra preparation time was providential.
In the days leading up to their ordination, we'll be introducing a new soon-to-be Father. Los Angeles, meet your new priests!
Age: 31
Hometown: Pomona/Diamond Bar
Home parish: St. Denis Church, Diamond Bar
First parish assignment: Holy Family Church, Glendale
Michael Mesa grew up in the Pomona/Diamond Bar area and was raised Catholic, but admittedly was the kind of Catholic who sort of took his faith for granted; the kind who attended Mass every Sunday but did so half asleep.
"We went to the 7:30 a.m. Mass," he said. "So, I didn't really pay attention that much."
Most of his energy was focused on becoming a doctor, a focus that landed him at USC where he majored in biology. It was after graduation, while working in a research lab at USC, that his life changed as he, in his words, "came to God through science."
Employing his training in biology, he began to ponder life's big questions: What is consciousness and what is the purpose of life? Yeah. Big.
"You start to get into the physics of what the universe is made out of and then eventually you hit philosophy where, you know, I had to decide does God exist or not," he said. "And I kind of reached the conclusion, OK, he does exist, so what does that mean for my life?
"I think that initial call to find God through my intellect kind of led me to then look at the faith that was right in front of me."
Fittingly, his search led him to a book, well, the book. He began reading the Bible, from cover to cover, on Jan. 1, 2011. From the beginning, from the first pages of Genesis, he said, "The word of God stirred up something in my heart. There was this truth and beauty reflected in all these questions I had been thinking about and it kind of started me on this journey."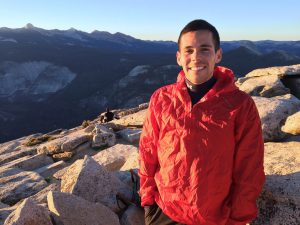 Around the same time, he was led back to his home parish of St. Denis Church in Diamond Bar, where he was given a book on rediscovering one's Catholicism. He read it, loved it, and soon found himself back at Mass, fully awake.
"I noticed in the Mass that there was this joy, this hope that was, you know, in everyone," he said.
And it's that hope and joy he hopes to bring to his new parish, Holy Family Church in Glendale. He said he is "honored and humbled" to be going to a parish in possession of more than 100 years of history, a stunning church and a personal connection to St. Frances Cabrini. He believes the journey that delivered him to Glendale prepared him well.
"Doctors have crazy hours. I think that kind of prepared me for the sacrifice involved in the life of a priest," he said. "I didn't really feel it was a sacrifice, just the next step in following God; kind of an adventure."
It's an adventure he's eager to share with others, even in these historically uncertain times, even when some may question God's role in their lives or God's very existence. He believes he can offer some comfort and perhaps a few answers.
After all, he's done the research.
Watch the livestreamed ordinations on Aug. 8 at lacatholics.org/ordination.