While his cause for sainthood moves ahead, the ministry of Father Patrick Peyton continues in the city where he lived and died
He styled himself as "Mary's Donkey," but was known to the world as "the Rosary Priest." Either nickname defines the life of Father Patrick Peyton, CSC, more completely than any biographer could. He was a man devoted to a mission: to travel the globe promoting the rosary.
Yet, at the end of those travels — to Belgium, Spain, Brazil, Rome, the Philippines and beyond — it was to Los Angeles that Father Peyton always returned, and it is in Los Angeles that his legacy and work live on in a special way.
Patrick Peyton was born Jan. 9, 1909, to John and Mary Peyton in County Mayo, Ireland. His childhood helped form his devotion to Mary, as every night his family prayed the rosary together, a model that he would later implore Catholics everywhere to follow.
But while young Peyton's strong Catholic upbringing helped instill in his heart a deep desire to become a priest, it was not the only or the strongest inspiration for his deep and persistent dedication to the Blessed Mother and to her rosary. Rather, it was Mary herself and her miraculous intercession that directed him toward his ministry.
Peyton was in his third year of theological studies at the University of Notre Dame to become a priest of the Congregation of Holy Cross when he was struck with tuberculosis. At the time, such an illness was often fatal, yet he not only survived, but also made a remarkable and full recovery after having prayed for the intercession of the Blessed Virgin Mary.
He credited Mary with his recovery and, after being ordained a priest alongside his brother, Father Tom Peyton, he dedicated himself to spreading devotion to Mary, to her rosary and to the family.
In 1942, Father Peyton formally began his work promoting Marian devotion. But he did so with a very specific community in mind — the family. The Family Rosary began with Father Peyton writing to bishops, urging them to encourage families to pray the rosary together.
His message was simple and is summarized by the motto he later adopted for Family Rosary: "The family that prays together stays together."
Father Peyton soon moved past pen and paper to distribute this message, taking to the airways on Mother's Day in 1945 and broadcasting a national radio show built around the rosary.
"The Life and Works of Servant of God Father Patrick Peyton, CSC," a biography published by Holy Cross Family Ministries (the modern umbrella organization that oversees all of Father Peyton's ministries), recorded that:
"The Sullivan family, who has lost five boys in a naval battle in the pacific … recited the Rosary. Archbishop (later cardinal) [Francis] Spellman and the popular singer Bing Crosby spoke. Even President Truman used the occasion to thank the mothers of America for their heroic sacrifices during the war."
From the radio waves, Father Peyton moved to the stage, conducting enormous rosary rallies across the globe. But while the world saw only the vast numbers — more than 28 million people over Father Peyton's life — they did not see the expansive work that Father Peyton and his Family Rosary did before the rally began.
In the weeks preceding the rallies, Father Peyton would work with bishops and priests to establish local communities dedicated to praying and promoting the rosary.
The local communities were pointed toward participating in the Rosary Rallies, but even that was not an end — Family Rosary would plan reunions after the Rosary Rally to help ensure that families and communities continued to unite through the rosary even after the crowds dissipated.
For Susan Wallace, director of external relations for Holy Cross Family Ministries, Father Peyton's focus on family prayer encourages her to believe she, too, can achieve great holiness:
"Here's how I look at it: Father Peyton is on his way to being a saint. And when I look at him, I think, 'Well, I could never do that.' " But then, Wallace remembers the story of John and Mary Peyton, who every day when Patrick was growing up, would get on their knees, fold their hands and pray with their son.
"Any parent can be John and Mary," Wallace said. "We need to be John and Mary, and we need to raise our children so they can be Patrick Peyton."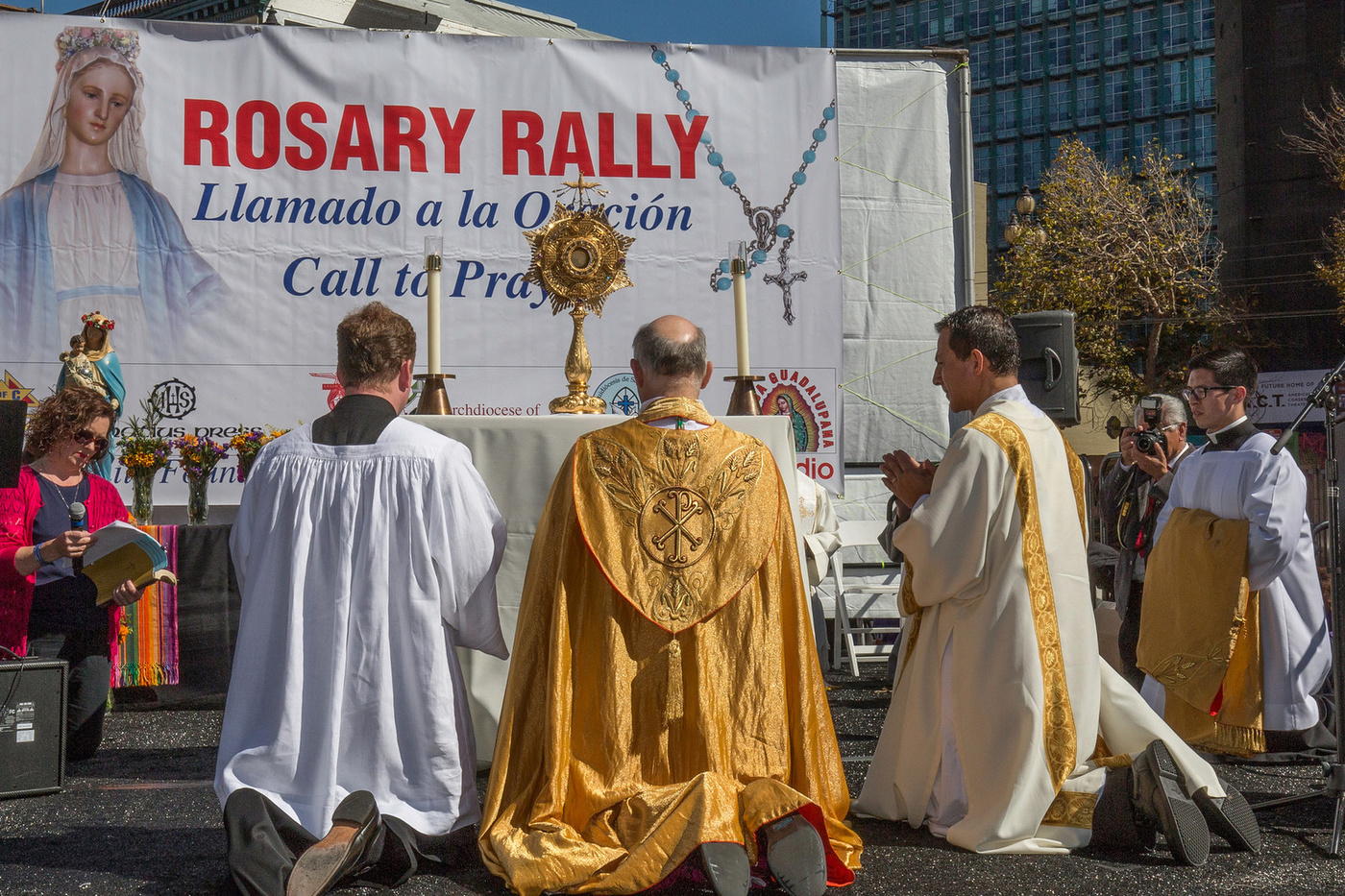 Father Peyton goes Hollywood
In 1947, Father Peyton realized that, to further spread his message of Marian devotion and family unity through prayer, he needed to engage with the media in a more profound way.
His first foray into radio had proved highly successful, and so he looked to Hollywood as the hub for his second ministry: Family Theater Productions.
"Father Peyton believed in the goodness of Hollywood," explained Father David Guffey, CSC, the head of production of Family Theater Productions. "He really believed that people were good, and that if you offered them a chance to do good, they would be excited about that."
Over the years, Father Peyton offered this chance to many of Hollywood's biggest celebrities, with stars like Loretta Young, Bob Hope, Lucille Ball and Bing Crosby offering their talents to further the priest's mission of making wholesome media designed to help strengthen the family.
Father Peyton also reached out to young, upstart actors and actresses. One such actor was the young William Shatner, before his famous role as Captain Kirk on "Star Trek," who appeared in "The Soldier," a short film based on Psalm 42. That same feature also gave George Lucas his first film credit.
A film student at the University of Southern California at the time, Lucas agreed to help as a cameraman in exchange for some time with Family Theater's editing equipment to work on a school project.
Today, as in the time of Father Peyton, Family Theater Productions continues to develop new media programs.
Its recent feature-length documentary "The Dating Project" played in theaters across the nation, and the studio is in various stages of development on several other feature films, including a children's film scheduled for release in 2019 and a documentary about Father Peyton.
Family Theater continues to meet changing technology with work in new mediums, just as Father Peyton did when he oversaw the productions. Rather than moving from radio to video, however, today's Family Theater finds itself adding digital media to its already expansive catalogue of video production.
"Central Catholic" is an online web series starring Kaiser (Kai) Johnson and Libby Slater. The duo takes on the digital screen in short segments designed to teach the Catholic faith in a way that is informative, fun and well-produced.
"I get to bring some fun and creativity to catechesis," explained Mary Ashley Burton, the producer and director of "Central Catholic."
"For the entire time that I have desired to do Catholic media, I have been really sad that there is not all that much out there that is fun. But there's so much that's funny about Catholicism!"
Father Peyton's Little Sisters
Whenever Father Peyton stayed in Los Angeles, whether for Family Theater or Family Rosary, his preferred accommodations were with the local community of the Little Sisters of the Poor, first at its home in Boyle Heights and then at its current home in San Pedro.
Throughout his many visits to the Little Sisters of the Poor, Father Peyton developed a special bond with the order, and was frequently invited to speak to women in formation at the Little Sisters' novitiate in New York. The topic he was asked to speak on was his favorite — his mother Mary.
Though Father Peyton enjoyed his time with the Little Sisters, it was never a vacation. "He didn't come out here for the sunshine," said Wallace. "I'm not sure he ever took a day off."
Sister Anthony, a Little Sister of the Poor, agreed with that sentiment: "He was very dedicated to spreading the rosary, totally focused. Every place he went, it was to spread the rosary. … If you happened to cross his path, you got a job."
She recalled one example of Father Peyton's passion for his mission to spread the rosary: "At the fall of the Iron Curtain, when the Russians had religious freedom, we found out about it in the evening. … I happened to be in the same room [Father Peyton] was in when he was making this phone call. He was telling whoever he was speaking to: 'Now you can send those rosaries.' "
Father Peyton also shared his time with the volunteers and staff who helped the Little Sisters, several of whom now live as residents in the Little Sisters' assisted living home.
One of these residents is Lupe, who, when she was young, would go on walks with her uncle and Father Peyton. She remembered that, above all, he loved to hear stories about how her family was doing.
Father Peyton and his devotion to the rosary continue to inspire Lupe to this day: "Through his inspiration, I make rosaries. I make rosaries, and I give them out, so everybody could pray the rosary."
It was in the presence of the Little Sisters that Father Peyton died on June 3, 1992. During his final night, the sisters took shifts watching over the priest, praying his beloved rosary over him when he was no longer able to.
As the night grew long, it appeared as though Father Peyton's suffering was increasing, and his face looked stricken with pain. The sisters left the room and a priest entered to pray over Father Peyton and to offer last rites.
Mother Marguerite, then Sister Marguerite, remembered that, after this period of blessing, Father Peyton looked "calm and different, like he was OK, whatever blessing Father gave him."
"It was the experience of a lifetime, to be with a saint as he was dying," said Mother Marguerite. What struck her most was how Father Peyton was "just like anyone else in the last moments. Just like somebody that was unknown to anyone, except was totally known by God himself and was waiting for him."
At the end of the sisters' vigil, Father Peyton spoke his last works: "Mary, my Queen, my Mother."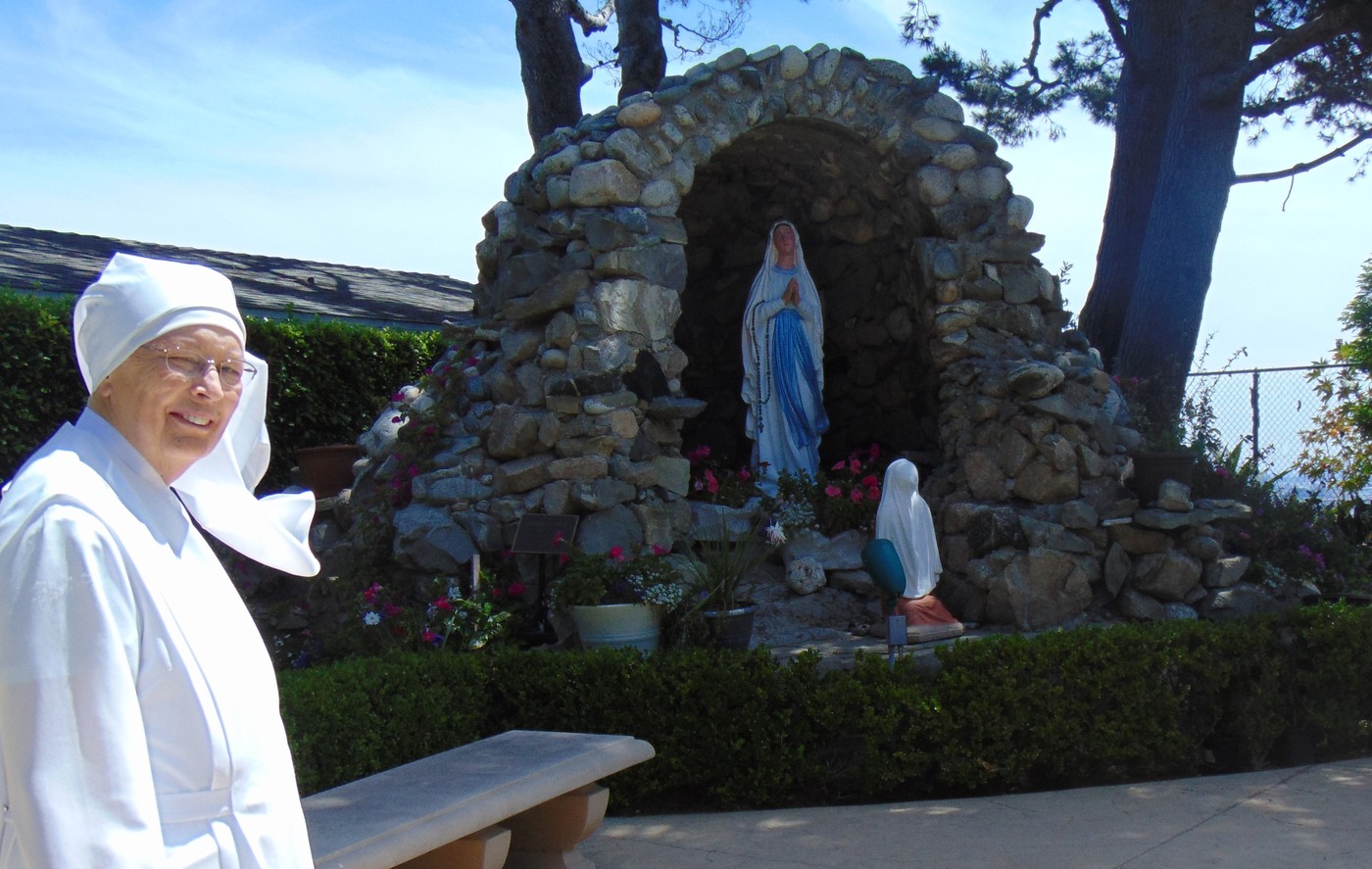 On the road to sainthood?
On Dec. 18, 2017, Pope Francis recognized the life and work of Father Peyton, declaring him venerable and moving him forward on the path toward sainthood. For those who knew Father Peyton, this step toward sainthood was simply inevitable.
"We knew, we feel, that someday he will be a saint," said Mother Marguerite.
"When I was a seminarian, my fellow seminarian gave Father Peyton a haircut and decided to collect and save all the clippings from the haircut because we already knew back in 1966 that Peyton was going to be recognized as a saint one day," recalled president of Holy Cross Family Ministries Father Wilfred Raymond, CSC.
The sentiment was shared by the Little Sisters, who have and continue to preserve the room where Father Peyton died.
All his effects — books, photos, videos, old 8-tracks, even his chalice and paten — remain undisturbed, awaiting the canonization of the Rosary Priest.
Evan H. Harrington is a recent graduate of the University of Notre Dame. Originally from Santa Clarita, he now lives in New Haven, Connecticut. His work has been featured on Aleteia.com and Ultramontane: A Catholic News Podcast.
SPECIAL OFFER! 44 issues of Angelus for just $25! For less than 50 cents a week, get the finest in Catholic journalism with first-rate analysis of the events and trends shaping the Church and the world, plus the practical advice from the world's best spiritual writers on prayer and Catholic living, along with great features about Catholic life in Los Angeles. Subscribe now!