When David Rosario became homeless 12 years ago, following a car accident that left him unable to work, he spent the night at several shelters around Los Angeles.
Most of them, he said, were "nightmares" — the facilities weren't clean, the food was inedible, or the staff was unkind. But at one shelter, he noticed something different.
The winter shelter, a program that brings hundreds of homeless people from Los Angeles each night to sleep at several churches in the San Gabriel Valley during the three coldest months of the year, made him feel welcome.
It did this through small details such as having volunteers greet him at the door when he arrived, and through a wide range of on-site services including showers, toiletry kits, haircuts, and medical and dental care.
"They helped me to smile, to feel like it's not the end of the world," said Rosario, 54.
The shelter, which opened nearly three decades ago, is one of the oldest programs of its kind in Los Angeles, and the only wintertime shelter that places the homeless in rotating churches. This season, it has served an estimated 1,000 unique visitors since Dec. 1.
Bob McKennon, director of the winter shelter and a parishioner at St. John Vianney Church in Hacienda Heights, said it's the churches' duty to become a refuge for the homeless.
"If the churches don't do it, who will?" he said. "We've always professed to be the people who work in Jesus' footsteps and take up his mantle. So, of course, if that's what we're claiming to do, then we should be the first ones stepping up and saying, 'These people are our brothers and sisters who are far less fortunate and they need our help.' "
The winter shelter program was founded in 1990 after several churches in the San Gabriel Valley noticed a growing number of homeless people sleeping outside — including on church property — during the winter months, McKennon said.
These churches came together, and as an organization called the East San Gabriel Valley Coalition for the Homeless, organized parishes to take turns providing shelter to the homeless.
This season, between Dec. 1 and March 3, six churches in the area are taking turns hosting the shelter for two weeks each, while other parishes and community groups pitch in to provide volunteers, meals, in-kind donations and other on-site services.
In its early years, the program averaged about 12 guests per night, McKennon said. Now, the winter shelter, which is funded by the Los Angeles Homeless Services Authority, serves up to 200 people per night, a reflection of Southern California's growing homeless population over the last three decades.
According to LAHSA's annual point-in-time count, the county's homeless population reached more than 52,000 last year.
One of those is Melvyn Weaver, who has been going to the winter shelter since 2005 after he was laid off from work and had nowhere else to go.
"It means a lot to me, otherwise I'd be out on the street," he said.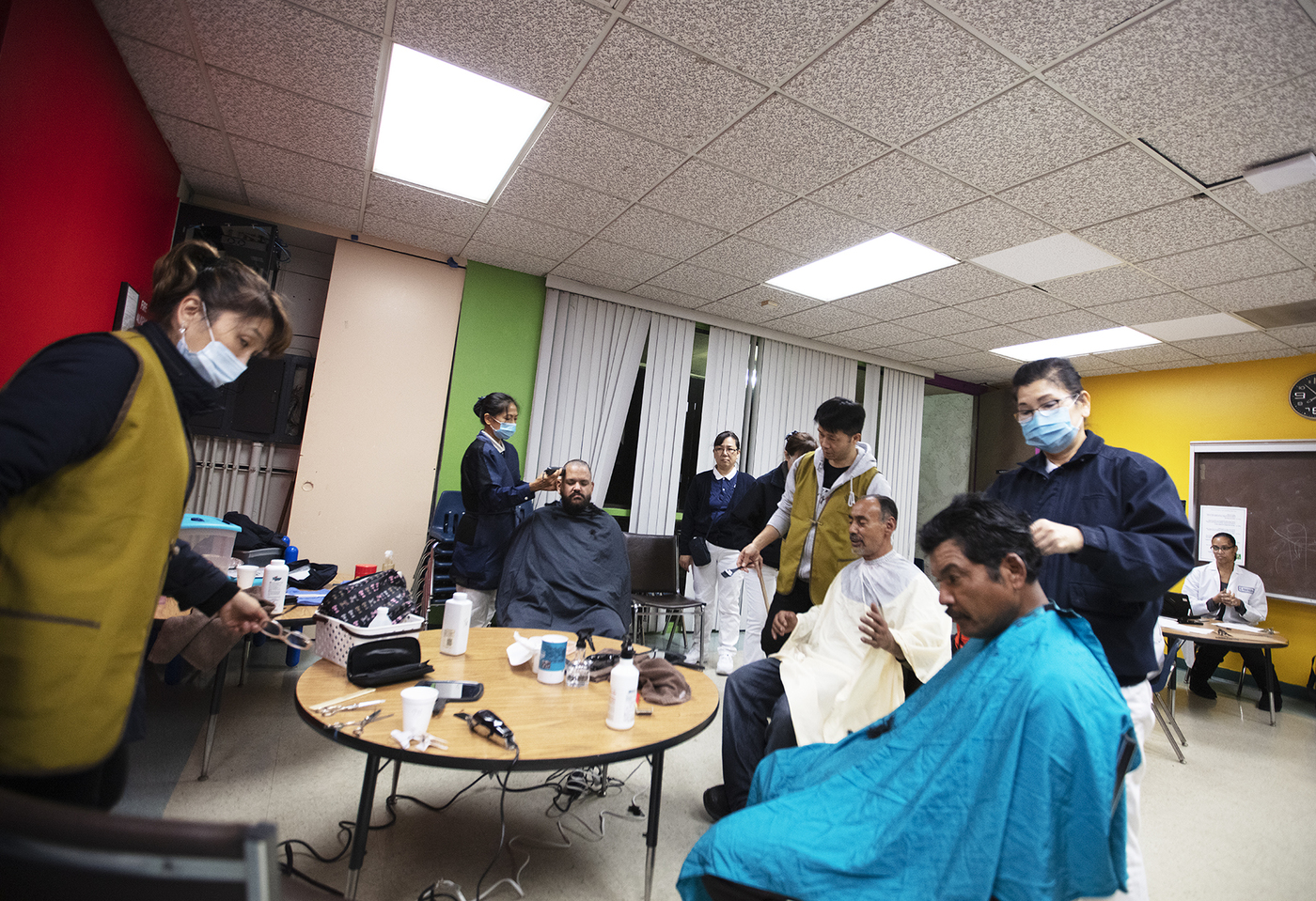 Licensed hair stylists through the Buddhist Tzu Chi Foundation providing free hair cuts every once a week during the program. (VICTOR ALEMÁN/ANGELUS)
But creating the shelter is a complicated endeavor.
Charter buses pick up guests from several spots in Los Angeles each night and bring them — and their belongings — to the churches. When guests check in to the shelter, they receive a photo identification card and can sign up for appointments for services.
One night at St. John Vianney — which has been involved in the program since its inception and has hosted the shelter since 1993 — volunteers from St. Joseph Church in La Puente prepared a meal of ham, mixed vegetables, rice, rolls, and cake.
As they waited for dinner, guests lined up to receive towels and toiletry kits; to take a shower in a trailer that had been outfitted with eight stalls; and to select items from a boutique stocked with shirts, pants, jackets, shoes, underwear, and accessories donated by parishioners.
Guests also made appointments to receive professional haircuts and dental exams provided by the Buddhist Tzu Chi Foundation, or for a check-up with one of the two dozen nurses and nursing students from Azusa Pacific University, who offer prescription and over-the-counter medications, vaccinations, screenings, and referrals to specialists.
After dinner, volunteers set up about 200 cots for guests to sleep on. In the morning, they served a continental breakfast and a sack lunch for guests to take with them.
In addition to St. John Vianney, this season's hosts included four other Catholic parishes, Sacred Heart Church in Covina, St. Dorothy's Church in Glendora, Holy Name of Mary Church in San Dimas, and St. Elizabeth Ann Seton Church in Rowland Heights, as well as Glenkirk Presbyterian in Glendora.
Despite the difficulty of the operation, Msgr. Tim Nichols, the pastor of St. John Vianney, said that every year it brings the community together.
"The parish takes a lot of pride in having it," he said.
Daniel Rodriguez, a parishioner at St. Martha's Church in La Puente and a member of the Knights of Columbus, has been volunteering at the winter shelter for seven years. He said that one of the most rewarding parts is seeing the impact it has on people's lives.
"You see in some cases the fruits of your labor," he said. "There have been families that come back and say, 'You helped us a year ago and if it wasn't for this program, we don't know what we would have done. But now I have a good job, I'm working, God has been good, how can I help?' So we put a tray in their hands and they're out there serving."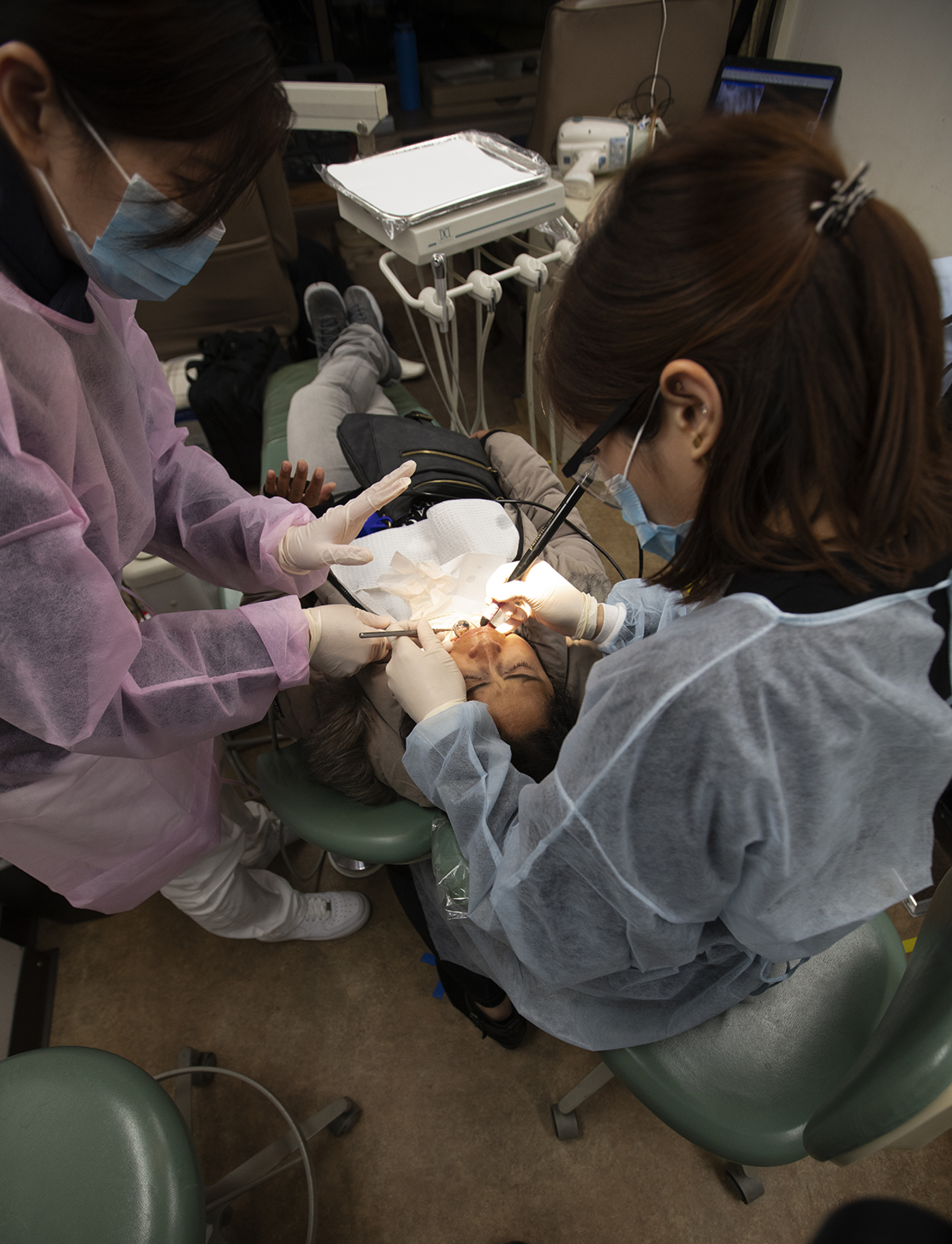 A patient receives treatment inside Buddhist Tzu Chi Foundation's mobile dental van, which is equipped with two dental chairs that provide free teeth cleanings to homeless guests once a week. (VICTOR ALEMÁN/ANGELUS)
But these success stories are rare, said Gabrielle Johnson, director of Azusa Pacific University's homeless outreach program, who also runs the medical clinic for the shelter. She now sees more chronic homelessness than in previous years, and estimated that only about five to 10 percent of her patients eventually get back on their feet.
"Some of the people I talk to have been on the streets longer than I've been alive," she said. "I talked to a gentleman who had been on the streets for 33 years. That's a lifetime."
Despite the growing need for homeless services, McKennon said it's often difficult to get new churches to participate. Last year, LAHSA increased its funding so that the winter shelter could be extended for an extra month. But McKennon couldn't find two churches willing — and able — to host for two weeks each, and the plans were scrapped.
"You would think that churches, if they have the capacity, would want to do it," he said.
"We have a mandate to reach out to these people," McKennon went on. "By the grace of God go I, go you, goes anybody. We're fortunate to have what we have, so we should be expressing that gratitude to the good Lord by doing what he would want us to do."
Rosario agreed. His experience there was so moving, he said, that more than a decade after he got back on his feet and into his own apartment, he still goes back to the winter shelter every year — but this time, to help out with the guests. (The shelter gives him a stipend for his work.)
He performs tasks such as setting up cots, but more importantly, he is someone the guests can talk to, since his own past makes it easier to relate to — and help — them, he said.
"It means a lot to the people that you talk to them, not down to them," he said. "I don't care what you look like or what you smell like, I'm still going to shake your hand."
Rosario can't imagine doing anything else.
"I can't take without giving back," he said. "It's just not my way."