"That was a little crazy."
Msgr. Marc V. Trudeau could finally take a deep breath once the last of the television news crews left the Cathedral of Our Lady of the Angels, where Archbishop José H. Gomez had just formally announced Pope Francis' pick to assist him as the newest of the Los Angeles Archdiocese's six auxiliary bishops.
The son of a Canadian U.S. Air Force veteran, Msgr. Trudeau has survived tougher trials than LA's media glare: years of dental school at the University of Southern California, long nights cleaning the meat department at a Vons groceryrnstore and a battle with leukemia that dropped his weight to 120 pounds.
Perhaps the harder challenge will be giving up the idea he had of his life as a priest: serving in a parish and attending to the faithful every Sunday.
"I considered myself a parish priest," Msgr. Trudeau said in an interview with Angelus News at St. John's Seminary in Camarillo. "All I wanted to do was be a pastor, but they kept pulling me out."
A few days later, Archbishop Gomez borrowed a phrase from Pope Francis to describe the new bishop-elect as "a shepherd who knows the smell of his sheep" in his remarks at the April 5 introductory press conference.
So when the bishop-elect stepped to the podium to face the cameras, he did so wearing a replica of the pope's pectoral cross given to him by Archbishop Gomez. The cross is adorned with an image of Jesus Christ as the Good Shepherd, a clear reminder that this time it was the Holy Father himself who'd given him his latest assignment. 
•  •  •
Marc V. Trudeau was born in 1957 in Hollywood but raised a few miles up the 101 Freeway in Burbank. His father, Paul, was a Canadian-born naturalized U.S. citizen who had served in the Air Force during the Korean War before getting into the printing business in Southern California.
His mother, Belva, was from rural Illinois, and the two had met there while Paul was stationed at a nearby base. They had five children.
His family described Marc as a hard-working, straight-A student during his time at St. Finbar Parish School and John Burroughs High School, both in Burbank. He and his fraternal twin brother Michael (the older of the two by five minutes) were both altar boys at St. Finbar.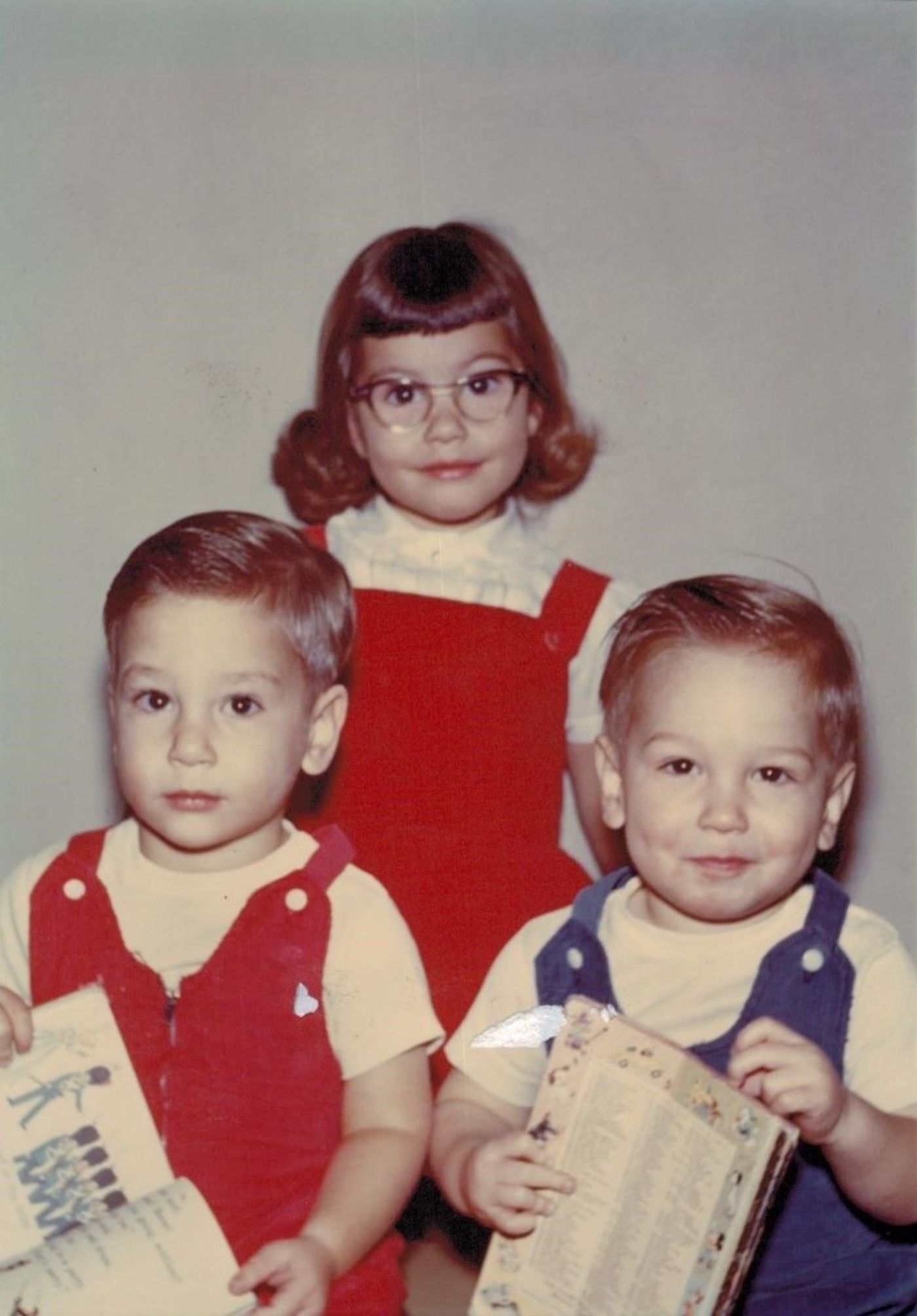 But when it came to telling the two apart, Michael said that he was more athletic while Marc was known for being a better student and more active in church.
"I always teased him for being a 'professional student,' " Michael recalled. "He was in school for 15 years, so that fits him pretty well."
What started as a high school job at the Vons on Alameda Ave. continued throughout college, until his graduation from dental school 13 years later, a milestone that Marc jokingly described as his "retirement" from the grocery store.
The job helped him cover his expenses at USC and meant doing everything from cleaning the store's different departments to working the cash register.
"If you look back, that was really his only job, until God called him," Michael said.
•  •  •
Deeply involved in St. Finbar's young adult group, Marc began to think seriously about the call to the priesthood during his last year of dental school at USC. He spoke to a priest, who brought him to St. John's Seminary in Camarillo to sit in on classes.
"I knew the minute I was up here that this was what God was calling me to," he recalled.
The experience was decisive enough for Marc to skip the state dental board exams and enter the seminary the following year.
He was ordained at the age of 34 by then-Archbishop Roger Mahony in St. Vibiana's Cathedral on June 8, 1991. His first assignment as associate pastor at St. James the Less Church came with an ironic twist: the La Crescenta parish's school was St. Finbar's athletic rival.
"They used to always beat us in sports," he said, "so I had bad memories of St. James."
It was also where the young priest served alongside one of his biggest influences, Msgr. Tom Doyle, for four years before his next assignment at St. Philip the Apostle Church in Pasadena. In 2001, he was named pastor of St. Pius X Church in Santa Fe Springs.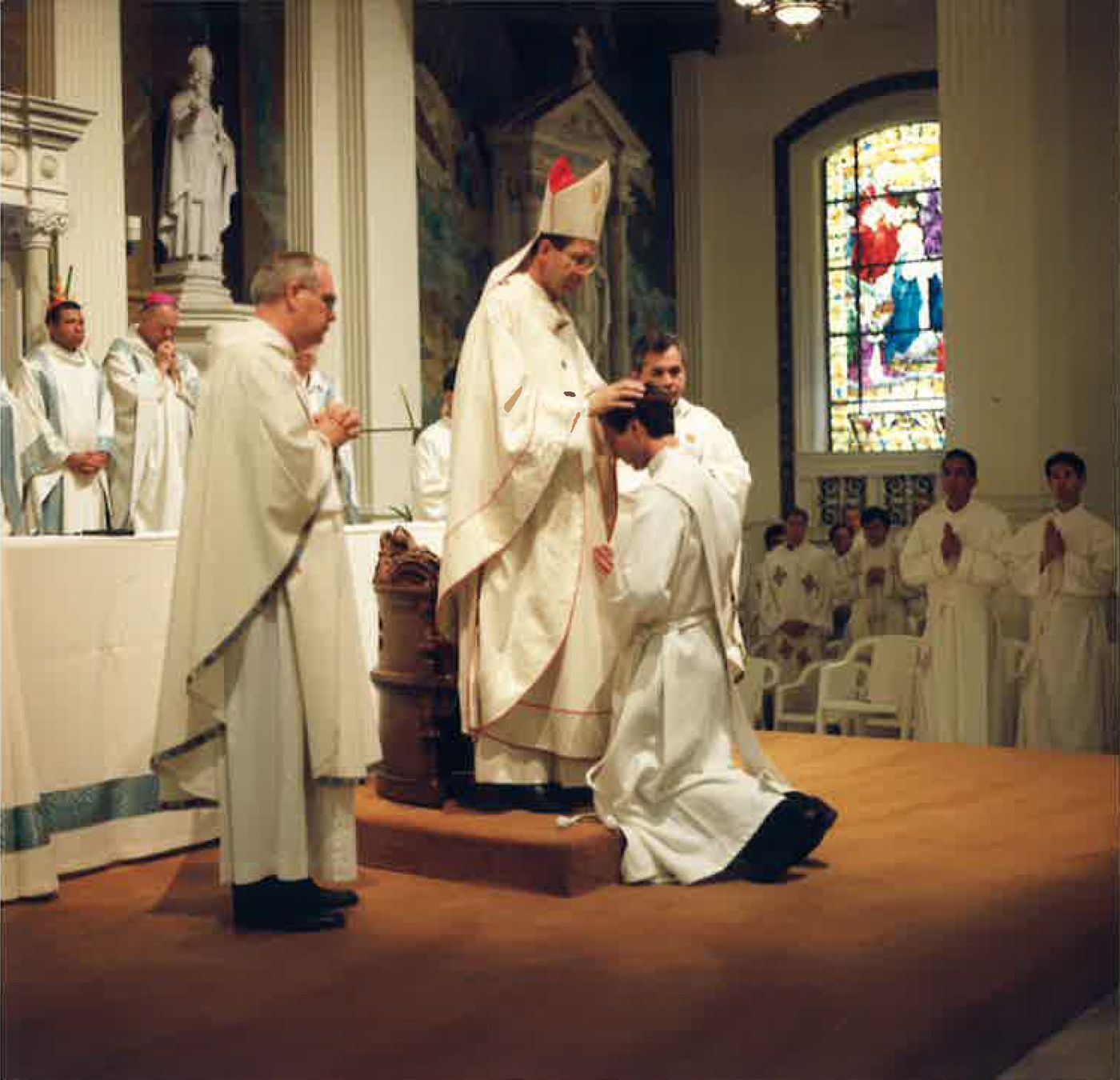 Those who knew him as a parish priest described "Father Marc" as a funny, down-to-earth person who could be counted for support during serious times.
Longtime St. Philip Church parishioner Carrie Alston fought back tears recalling how she leaned on her then-associate pastor for help following the death of her uncle, who had been living alone with her.
"He drove me to the veterans' cemetery and helped with the burial and prayed over my uncle" after his death, Alston told Angelus.
When it came to confession, Alston said that Father Trudeau's line "was much longer than anyone else's." When asked why, she offered her own experience: "He didn't just help you with confessions, he helped you to understand what you're doing and why."
Father Trudeau's first experience of being "pulled" out of parish service came in the form of a phone call from Cardinal Roger Mahony in 2004 asking him to be his priest secretary.
"He kept saying I want to be under the radar, be the parish priest," recalled Michael. "But he can't keep under the radar. He's good at something and people seem to gravitate towards him."
After only three years as pastor at St. Pius X Church, Father Trudeau moved downtown to the cardinal's residence at the newly built Cathedral of Our Lady of the Angels.
As his closest aide, Father Trudeau drove the then-archbishop around, assisted him in liturgies and helped organize his busy calendar.
"His pastoral experience and his great love for people endeared him to everyone who had contact with the archbishop's office," the retired cardinal wrote in an April 5 blog post congratulating the bishop-elect.
"He was a great support during those tumultuous years when the clergy scandal was in its settlement phases."
•  •  •
While those years may have been troubling for the archdiocese as an institution, they also coincided with the most harrowing experience of Msgr. Trudeau's life.
Talking about it, Msgr. Trudeau doesn't dwell much on his battle with lymphoma. In his interview with Angelus, he emphasized his doctor's optimism about his prognosis and how the sickness changed his outlook on life.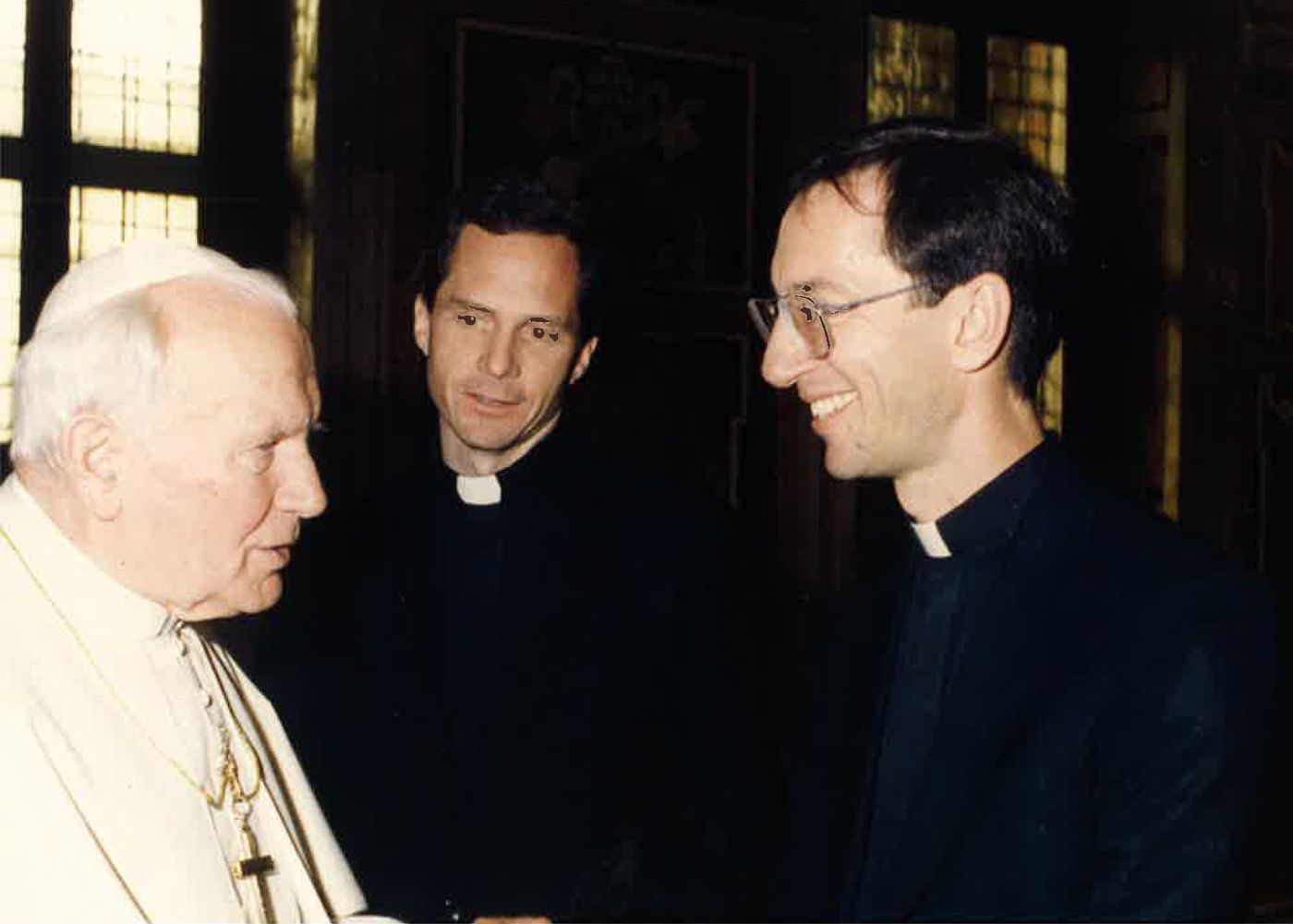 "You come out of that with a different view of life," he said. "I appreciate the things that are important, and I don't sweat the small stuff anymore."
He remembered the day in 2008 he visited his doctor after feeling a pain in his abdomen. The doctor suspected cancer immediately. Within a week he had started chemotherapy.
For six months, Msgr. Trudeau was extremely sick. His already wiry figure shed around 50 pounds during the treatment, which also included radiation therapy. He was hospitalized twice with a low white blood-cell count. He couldn't keep up with the cardinal's intense work schedule like before.
But the agonizing treatment eventually worked its desired result, validating his doctor's positive outlook. He was declared cancer free in 2011.
"I think that life and death all have good reasons," he answered when asked about the higher meaning of the ordeal. "I've thought that every time I've done Mass on Sunday, every time I've done a baptism: It's a grace to be here. I've definitely done some incredible things."
Those who've known Msgr. Trudeau say his sense of humor was a source of relief for himself and the people around him during difficult times.
"He can turn anything into a joke, even when things look bad," observed his father, Paul.
His recovery also coincided with the beginning of his boss's retirement in 2010: "I had to get a real job after that," he joked.
His second stint as a pastor — at St. Margaret Mary Alacoque Church in Lomita in 2010 — didn't last more than three years this time, either. In 2013, Archbishop José H. Gomez asked him to join the staff at St. John's Seminary in Camarillo — first as vice rector, and then as rector the following year.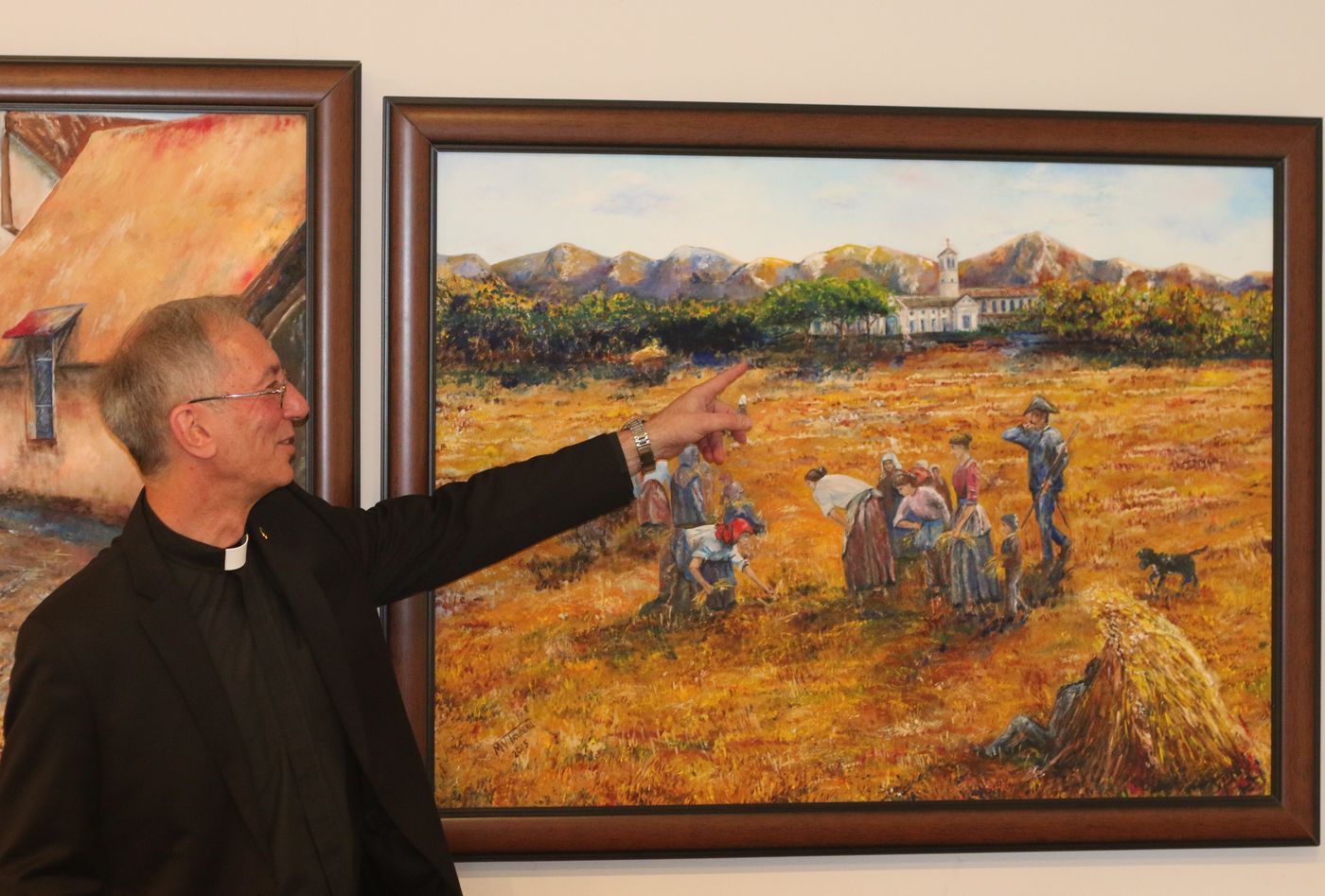 The appointment to go back to school — as a teacher and formator this time — was a bit surprising because apart from his dental degree, Msgr. Trudeau didn't have much of a higher academic background.
"I think that was the tack of the archbishop, because we're forming parish priests here," he said during an interview in his office, decked with Trojan paraphernalia and his own paintings.
"We're not forming scholars, although some of our men are scholars and are very bright. Our mission here is to form parish priests. So my background as a dentist is probably more appropriate here!"
•  •  •
When the phone call came from the pope's apostolic nuncio to the U.S., Archbishop Christophe Pierre, on the day before Palm Sunday, Msgr. Trudeau was leaving a meeting to go to his parents' house. For the nuncio, the delivery of the news of the pope's appointment didn't go as smoothly as hoped.
"While I was driving I got a phone call from Archbishop Gomez," Msgr. Trudeau explained. "I always forget which one of those little buttons you press to answer the phone on your steering wheel while you're driving. So I accidentally cut him off, and it went to voicemail."
When he arrived at his parents' home in Santa Clarita, he also noticed two missed calls from a Washington, D.C., area code.
"I thought: I just got two phone calls from the same number, and I'm pretty sure that's Washington, and I got these calls in short succession before the archbishop's call. So I was thinking: 'Uh, what's going on?' "
While still parked in the driveway, he listened to two voicemails: one from Archbishop Gomez, the other from a man identifying himself as the nuncio. He called Archbishop Gomez, who told him to call the nuncio immediately.
"I can't think of anything good that would come from the nuncio," he told the archbishop. "Well, you need to call him first!" Archbishop Gomez shot back.
When he gathered up the courage to call the 202 area code number back, Archbishop Pierre informed him of the pope's decision.
"You're kind of in shock, and I'm thinking, 'I don't even know what just happened,' "the bishop-elect explained.
"It certainly made Holy Week a different experience," he shared later.
But those closest to "Father Marc" weren't as astonished.
Twin brother Mike described his initial reaction to the news as "not totally shocked and surprised. But you still have to sit down and take a deep breath and think about what he's about to go through," he added.
"We always figured something like this would happen," Paul told Angelus. "He always went at things full-bore, so it doesn't surprise me."
"I think they made a real good choice, because he never gives up," he added.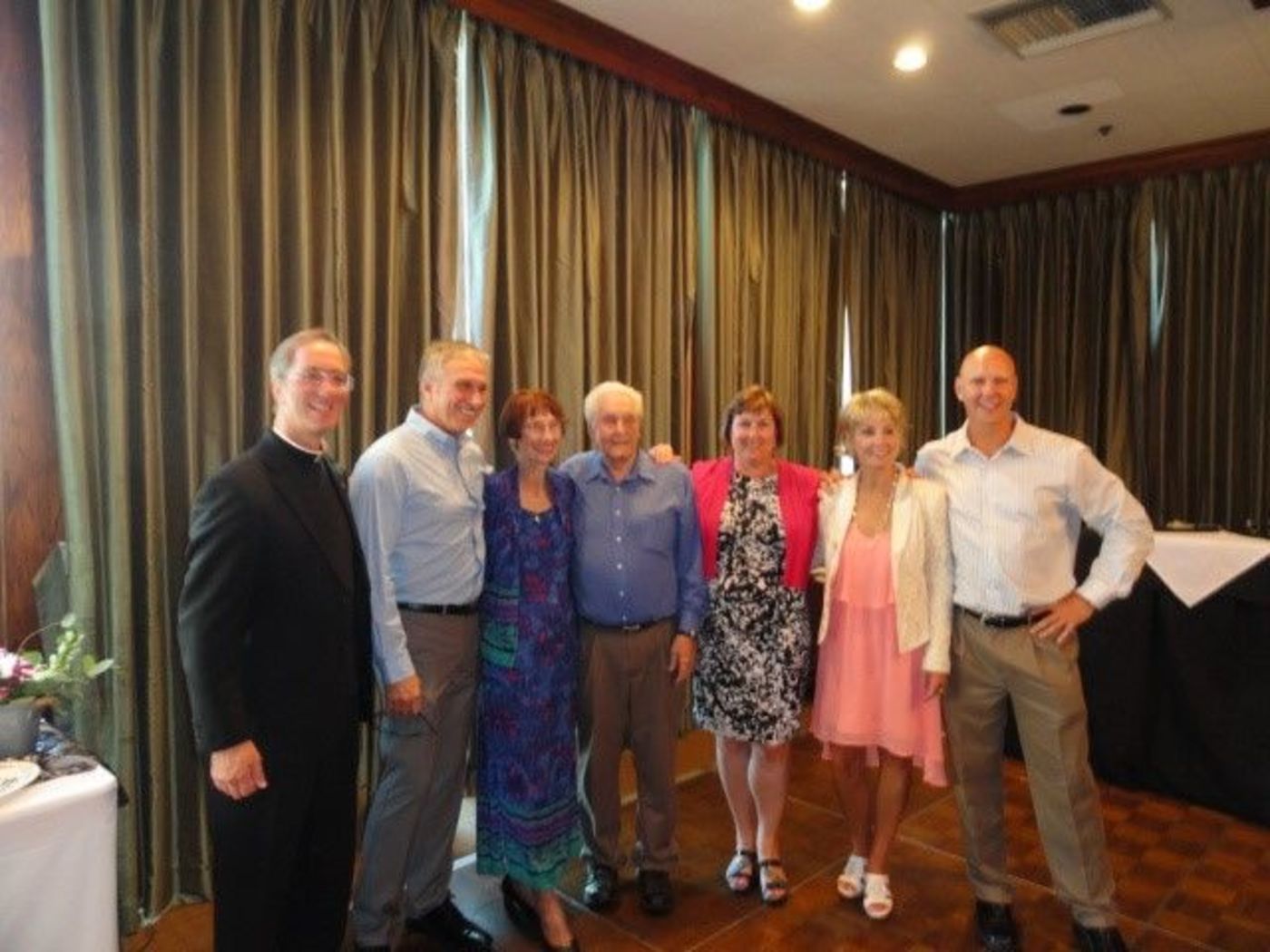 For Archbishop Gomez, the appointment means the promotion of a trusted collaborator after San Pedro regional auxiliary Bishop Oscar Solis was appointed to lead the Diocese of Salt Lake City in 2017.
"When I heard it was Msgr. Marc, I was very happy, because I know him very well and I've seen him working in the parishes and at the seminary," Archbishop Gomez told Angelus. "It was an Easter gift for me."
•  •  •
"As a priest, our bishop-elect has always had a heart for his people," Archbishop Gomez said as he introduced his newest auxiliary bishop for the first time. "He is close to them in their joys and sorrows and in the challenges they face in their everyday lives."
Until being named a bishop, then-Msgr. Trudeau had tried to offset the demands of his "day job" at the seminary by returning to St. James Church and neighboring Holy Redeemer Church in Montrose to help with Masses on the weekends.
Four days after the Vatican's announcement, he was set to accompany parishioners from those two parishes, as well as from St. Luke Church in Temple City, on a pilgrimage to the Holy Land.
As a bishop, he hopes to walk in the pastoral footsteps of Pope Francis, who in 2013 famously urged priests to "be shepherds, with the 'smell of the sheep': make it real, as shepherds among your flock, fishers of men."
"That image that Pope Francis has drawn on so much, taking on the smell of the sheep: I think that really speaks to our generation," he said. "It certainly speaks to me as a priest."
Specifically, the image embodies his hope of "seeking the lost sheep" through evangelization, which he says must be at the center of the Church's mission.
"We need to meet people where they are," he stressed. "You can't sit back and ask or expect people to come to you. That might've worked 100 years ago — it doesn't work today."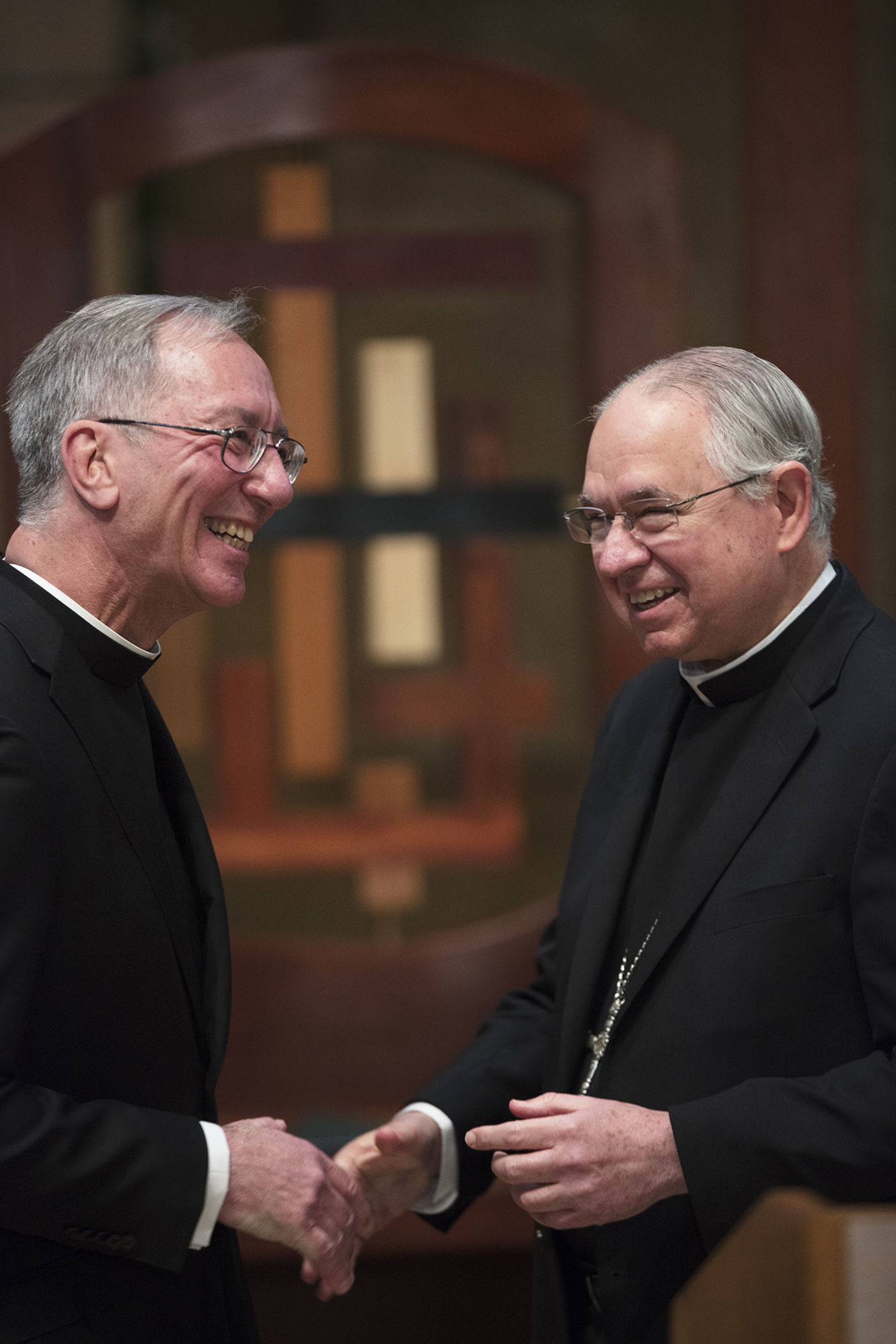 In a world beset by so many problems, Msgr. Trudeau believes the Church has a better alternative to offer when it meets those people where they are, especially youths and others disillusioned with the Church.
"They have a sense of wanting a life that is more meaningful," he said, referring to young people.
"What is more meaningful than a life in Christ? So, as we can give them that gift, the gift of the Church, their lives are going to be better, and they're going to make the world better — this world that can be anti-Gospel and antivirtue," he added.
"Secularism doesn't promise us anything," he replied when asked about the challenges posed to the Church today. "It kind of drags everybody down into saying we're equal to animals, whereas the promise of Jesus and the Incarnation tells us that God so loves us that he lifts us up out of that."
On its surface, that might seem like an unusual message coming from someone born in Hollywood, the heart of secular media culture. But it's a message Los Angeles' newest bishop seems eager to proclaim.