Young ladies from two Los Angeles Catholic schools were recently recognized in a major way, combining their interest in sports with their love of the sciences, technology, engineering, arts, and math (STEAM).
Also known as STEAM education, this school curriculum encourages young people to pursue careers in the rapidly growing science and technology fields.
Together with the USA Science and Engineering Festival, the Los Angeles Clippers hosted the inaugural Clippers SciFest SoCal, an interactive STEAM fair at the LA Convention Center March 22-23.
It was the first time the festival, typically held in Washington, D.C., came to Los Angeles, and the first time its brand of '"edutainment" had partnered with an NBA sports team.
More than 150 Southern California elementary and middle schools attended and participated in hands-on activities, exhibitions, science, and technology demonstrations geared toward increasing overall youth interest in STEAM.
Similar to the Clippers' longstanding Read to Achieve program, students also had the opportunity to test their STEAM knowledge and apply skills learned in the classroom in a fun competition setting.
At least 75 teams from both the Los Angeles Unified School District (LAUSD) and Catholic schools competed in the STEAM Clippers Challenge on Friday, March 22, including St. Michael School and St. Odilia School in South Los Angeles and St. Euphrasia School in Granada Hills.
This year, all three Catholic middle schools were finalists, while St. Odilia took home first place in the middle-school competition.
This year's challenge was for the teams to apply their STEAM knowledge to the science of basketball. Students were to create a successful project that demonstrated a basketball function or skill (running, dribbling, bouncing a ball, scoring a basket).
The grand prizes for this year's STEAM Challenge included scholarships from the LA Clippers Foundation to support STEAM curriculum, and continue programming in their schools.
As a thank you to all the participating schools, the LA Clippers also offered free STAPLES Center tickets for the March 30 game against the Cleveland Cavaliers. Both finalists and winning teams were recognized for their hard work during the pre-game.
A big win
St. Odilia School, whose girls robotics team was launched in 2017 to promote more female interest in the science and engineering fields, showcased their basket-shooting robots. With teamwork, technology and problem-solving skills, this year's four-member team programmed their bots to go through a challenging obstacle course and shoot baskets.
"It was really exciting and nerve-racking to watch," said Diamond Gutierrez, a St. Odilia student and team member. "We were so excited to find out we won."
St. Odilia has been a STEM Outreach School with USC'S Viterbi School of Engineering for two years. The partnership provides intensive STEM education, mentorship as well as material support to more than 60 schools in Los Angeles County, and is geared toward "educationally disadvantaged and historically underrepresented" students in the region.
Dr. Darin Gray, director of STEM Outreach at USC, said that building STEM education and interest starts with providing access, especially for women of color, who are statistically dominated by men in the workforce. (Gray also pointed out that 45 percent of the students in USC's School of Engineering 2017-18 class were women.)
"We can make the world a better place by simply empowering all students to use their creativity and imagination to come up with new solutions," Gray said.
"Kids come up with the most interesting ways of solving problems. How empowering it is to be able to help the world, with a sense of pride and efficacy … because a diverse workforce makes better decisions and better money."
The challenge, Gray said, is to empower Los Angeles schools to integrate STEM learning into their mission and identity, in the same way some schools are known for robust sports or theater programs.
Tyler LaBonte, a USC sophomore and STEM Outreach volunteer, has mentored and worked with the girls' robotics team for more than a year. He said his coaching approach is to present the students with a problem or task, and then "let them loose," stepping in only to keep discussion moving and ensure safety.
"St. Odilia already had the [technology and resources] set up; they just needed a mentor to get things started. I whipped up a quick curriculum based on my prior competitive VEX [Robotics Design System] experience, and we jumped right in," said LaBonte, who helped the team build VEX robots for the Clippers' challenge.
"A big part of my engineering philosophy is letting the students figure it out for themselves without any hand-holding. It's often underestimated just how smart middle-schoolers are, and the team proved me right."
LaBonte said working every day after school for weeks on the robots greatly increased the team's sense of ownership over the project, and helped motivate them to pursue STEM. He wanted the girls to experience the real-life C programming language to code their robots, which were tasked with picking up cones and speedily going through obstacles.
Through its partnership with USC, St. Odilia has spent the last couple of years beefing up its own STEM curriculum into student life. For example, students as young as first grade learn coding basics and gain hands-on robotics experience.
A C3 Initiative grant from the archdiocese has also helped St. Odilia keep its technology up to date, said Richard Monteilh, the school's assistant principal.
St. Odilia's team — and its free-throw-shooting robot — were also in the top 10 as finalists in last year's Clippers STEAM challenge.
The girls on this year's robotics team all expressed their interest in pursuing futures in science, and possibly joining robotics teams in high school and college. One young student said she wanted to work for NASA.
Monteilh said the team will use its $2,000 prize money to support continuing "STREAM (R = Religion)" programs, and build another robot. Each of them also took home personal laptops as part of the grand prize.
"Students have to be ready for the digital world they're going to walk into, and many have already, so they're going to need all the tools possible in their tool belt," added Monteilh.
"Thankfully there is no shortage of STEM resources, but there is a need to keep our program sustainable as the years go on. This is the kind of support we need in the archdiocese, to nurture the future, not overlook minorities or women. We can't overlook our greatest resource: our young people."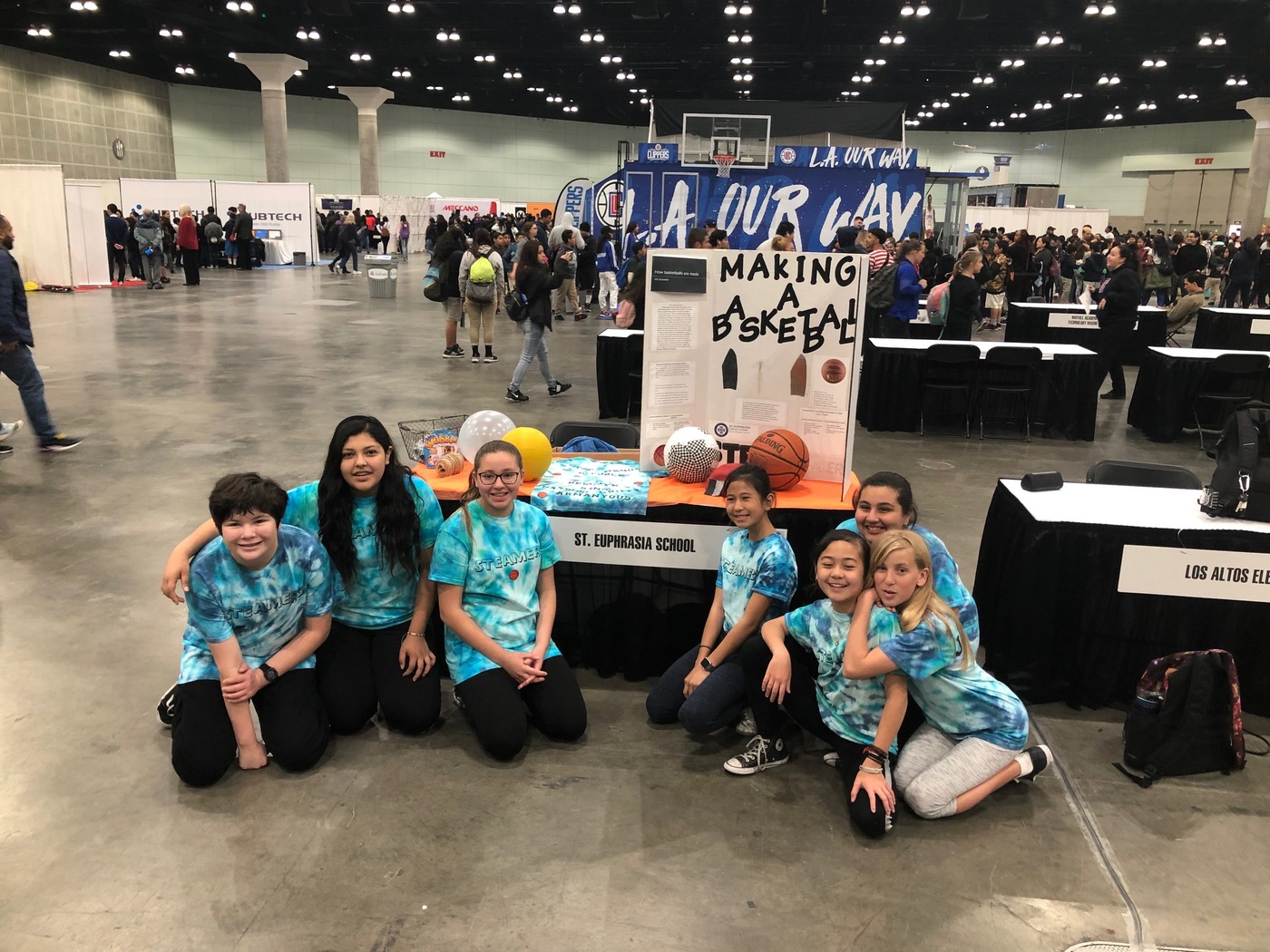 Strong finish
More than 100 students of St. Euphrasia's in Granada Hills also showed support for its team at Clippers SciFest, which made it to the STEAM Challenge finals for their "homemade basketball."
At this year's competition, the seven-member all-girls team showcased a basketball made out of everyday items, including rubber, duct tape, and a wubble ball. Their project demonstrated what makes a basketball bounce.
"It's challenging working in a team, because everyone brings all these different things to the table, which is also important because you have a variety of knowledge," shared eighth-grader Grace Nagel, a leader on the team. "But it's a great bonding experience. We were really excited to show our project to the judges. We were even interviewed by the [Univision] news!"
Nagel shared that she finds "the way science goes hand-in-hand with math" most interesting about the field, and hopes to be a neurologist.
"I think STEM can change the world," she told Angelus News.
St. Euphrasia School has enjoyed several strong noteworthy achievements, finishing second place in the Clippers' Read to Achieve Minutes Challenge, and Brenda Zaragoza, athletics director, was presented with the Teacher Certificate of Achievement Award.
"I am so proud of our creative, hardworking kids, to see them shine," said Zaragoza. "We're a small school, a hidden jewel, and it's great to see our students get some accolades. It puts our school on the map, and our kids can excel. Adding STEM programs to St. Euphrasia's is something kids think is cool, and parents want to see more of. And it's taken off like a rocket."
Since integrating STEM into its curriculum, St. Euphrasia has competed in several local leagues and tournaments. Supporters of the school's robotics team and STEM programming — including summer workshops, and the successful "Tiny Bots" mentoring program for elementary students — include Boeing, which has provided them with many of the tools to grow and succeed.
Angelica Gonzales-Escobedo, the STEM robotics coach at St. Euphrasia, agreed that the support and success would not be possible without the parishioners and overall community. After coaching the robotics team for the last four years, she said the best part is seeing the students overcome difficulties, that "they can and they will."
"The beautiful thing is that with STEM you can combine your faith and science together — they absolutely mix. STEM is where young people discover why God created science, how God created all of the matter that makes us," Gonzales-Escobedo shared.
"As a team, we break bread together, we pray together, we go to Mass together. When I talk to the parents, I tell them robotics is one thing, but our faith is number one."
SPECIAL OFFER! 44 issues of Angelus for just $9.95! Get the finest in Catholic journalism with first-rate analysis of the events and trends shaping the Church and the world, plus practical advice from the world's best spiritual writers on prayer and Catholic living, along with great features about Catholic life in Los Angeles. Subscribe now!