In a recent study, British clinical psychologist Linda Blair claims that being exposed to the constant barrage of Christmas tunes played too early in the season may negatively impact a person's mental health by triggering feelings of stress that often stem from the flurry of buying presents, catering parties, organizing travel and many other chores typically associated with the impending Christmas holiday.
One must suppose the Christmas ditties Blair refers to are of the "Frosty-Santa-Rudolph" variety played incessantly in department stores. Two months of overexposure of such music could cause almost anyone to seek refuge.
In Catholic schools, students learn about a much less saccharine and far more spiritual variety of Advent and Christmas music. Liturgically, the music of Advent expectation prepares us for the anniversary of the nativity of Christ. This is celebrated for another two weeks with joyous caroling and ethereal hymns.
Catholic schools have a long history of teaching the fundamentals of music appreciation since music has been a part of the Catholic experience going back to the exuberant song of the angels, "Glory to God in the highest!" — the original Christmas anthem.
I had the good fortune learning music and song during 12 years of Catholic schooling at Blessed Sacrament, Immaculate Heart and Christ the King elementary schools. I sang in the St. John Vianney High School glee club and LACC choir led by Dr. David Glissman.
We also learned about the corporal works of mercy in Catholic school. Across the nation, high school and college students have a long tradition of sharing the Advent gift of song in hospitals and retirement homes. Especially in the weeks before Christmas, students often bring the compliments of the season to bedridden patients and elderly retirees through what may be called a ministry of caroling.
This early instruction equipped me for a 15-year stint in one of the best choirs in the Los Angeles Archdiocese at Our Mother of Good Counsel in Hollywood during the 1980s and '90s. It all began with musical training in Catholic schools.
In fact, the Church has helped convey joy through music by fostering the talents of Palestrina, Mozart, Hayden, Dvorak, Elgar and Faurè, as well as Dave Brubeck, Bing Crosby, Frank Sinatra, Perry Como, Dean Martin, Rosemary Clooney, Ann Blyth, Irene Dunne and Audrey Assad, among many others.
This Advent, I would like to suggest unique ways of embracing the giving spirit of the season — starting with the option of supporting Catholic schools keeping alive the tradition of awakening a love of music in the hearts of students.
My old high school friends Bob Reed, a parishioner at Sts. Felicitas and Perpetua Church in San Marino, and Jelil Romano, a professor of music for Cal State University Los Angeles and Pasadena City College, and organist and musical director at Mary Star of the Sea Church in San Pedro, have done exactly that.
Visiting his old alma mater Precious Blood Elementary School in the Westlake area of Los Angeles, Bob learned of the school's intention to organize a band. Many students were enthusiastic, but few could afford to buy instruments.
"Looking around Precious Blood School, [Bob] found need all around," said his wife Maureen. "He jumped right in and created an alumni registry to tap into for funds, [and organized] one fundraising project after another."
"This sounded like such a worthwhile project I started asking musicians I know for help," recalled Jelil. "A number of them responded, donating several instruments doing nothing at home but collecting dust. I even approached a foundation to donate several new ones, which they did."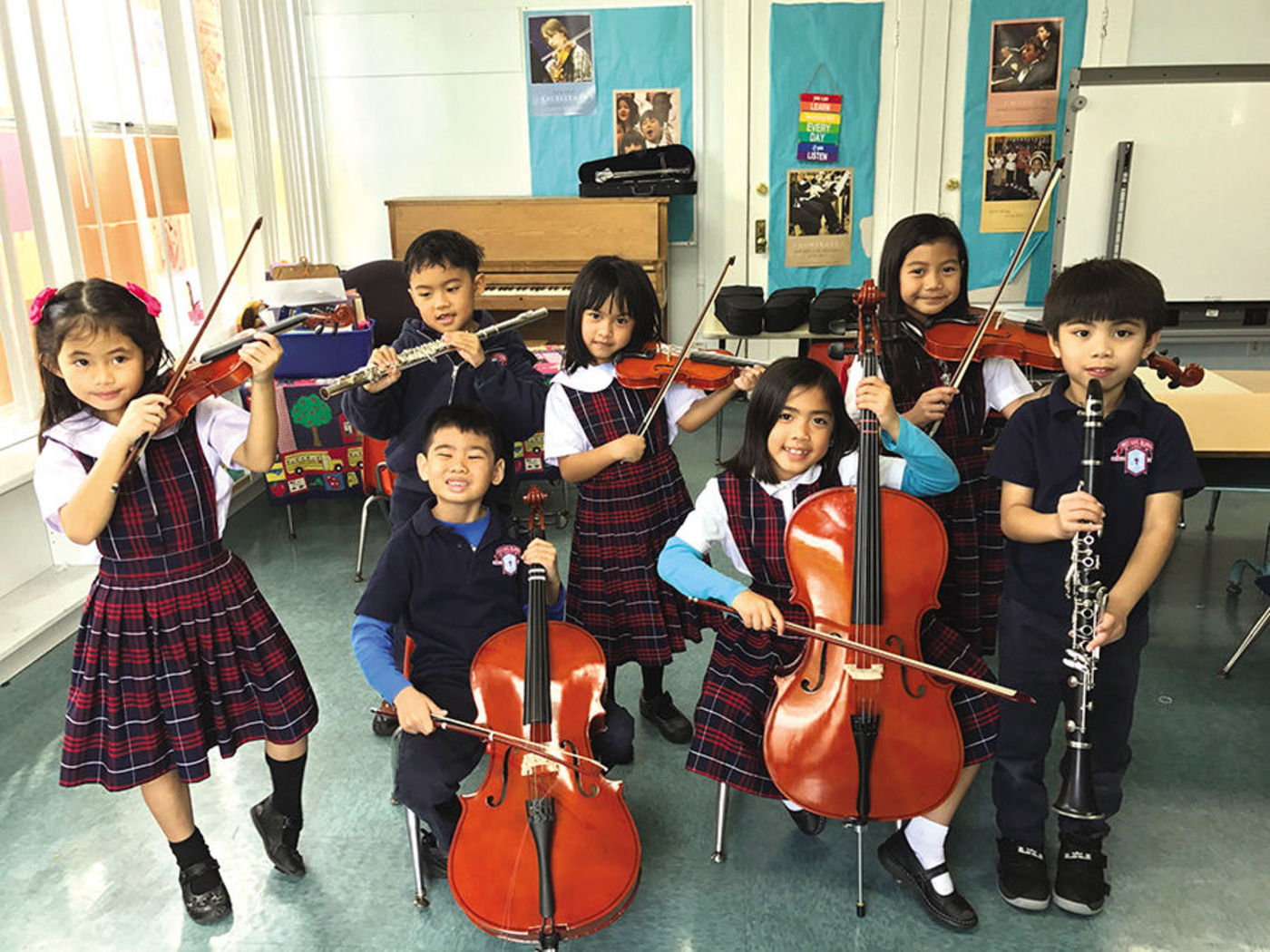 And their successful endeavor continues.
"A few weeks ago Bob went to speak at all the Masses at Precious Blood. The congregation was unaware of the school's financial difficulties," said Maureen. "Donations are coming in. … As they say, every little bit helps."
"I am sure that people could donate books to school libraries and computers to students, and many other things not being used," added Jelil. "It's the season of giving and, with a little thought, we can be creative about what we give."
In other words: make an Advent gift of yourself — your time and your unique talents or particular interests. Thanks to Bob and Jelil, children who might never have realized the potential of their talents can now learn how to make music.
And perhaps some of them will someday gift us with better, and less stressful, Advent or Christmas musical compositions for this joyous season.
Advent is a perfect time to embrace the joys of giving back in new or added ways, to complement our usual charitable giving. Other hands-on ideas include:
> Donate time at your favorite non-profit charity or reach out to one that you've always been interested in learning more about — e.g., a food bank/soup kitchen, a shelter for women or the homeless — and ask about in-person volunteer opportunities. One gratifying seasonal outing may turn into a lifetime of giving.
> Visit with sick or elderly friends or relatives who may be lonely, or contact a local hospital or convalescent home to participate in a volunteer visiting program.
> Create an "Advent Giving Tree" with friends, family members or in your parish. Write the name of needy individuals or families you know, or people identified by your parish school or a reputable local charity, and place them on the tree. Each participating person or family can provide the requested gifts.
> If you're an animal lover, contact your local animal shelter or animal welfare organizations about on-site volunteering or temporary pet fostering.
> Help protect and beautify the environment by volunteering for group park or beach cleanup outings in your own neighborhood or in nearby communities. ÓÉä
Sean M. Wright is a member of the RCIA team at Our Lady of Perpetual Help Church in Santa Clarita. He presents workshops and enrichment courses on Catholic topics at parishes throughout the archdiocese.