In 2020, the Catholic Community Foundation of Los Angeles (CCF-LA) is celebrating five years of providing financial and educational charitable-giving services to Catholic individuals and organizations across Southern California. Here, the foundation's Director of Client Development reflects on this important milestone. 
When José H. Gomez came to Los Angeles in 2010 to become archbishop of the largest archdiocese in the country, with more than 11 million residents and every socioeconomic group from the wealthiest to the most in need, he wanted to create a foundation to encourage and teach philanthropy. Now, five years after CCF-LA welcomed its first clients, Archbishop Gomez is both pleased and amazed by what we have accomplished in such a short amount of time.
"For me, the Catholic Community Foundation of Los Angeles is the fulfillment of a vision that began upon my arrival in Los Angeles," Archbishop Gomez said. "They provide individuals and organizations a way to invest in the long-term mission of the Church and those closely aligned with our mission."
Growth and impact
Over the last five years, CCF-LA has been entrusted with more than $646 million in charitable assets, and today the foundation holds more than $383 million under management. Through donor-advised, endowment, scholarship, and other funds, we have made grants totaling more than $212 million. Our board of directors stands at 13, our staff is 10 full-time and two part-time employees — a testament to our mantra of the "power of one is the power of many."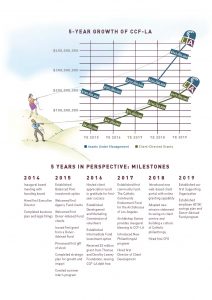 "We have always been a lean machine," said Kathleen H. Anderson, our founding executive director and president. "And we've never slowed down in our efforts to realize the vision set out by the archbishop." In March, as the country went into lockdown, CCF-LA started remote operations and we immediately began to urge grants from our donors.
This year, the outpouring includes over $34 million in grants to more than 147 beneficiaries, many of whom are working on the front lines in education, health care, social services, and more.
"The fact that we have made grants during this crisis — urged our clients to make grants — is exactly what we are about," said Anderson.
Our mission: Creating a culture of giving
When CCF-LA opened its doors in 2015, there was no way to predict the swell of support from individuals and organizations alike. With a momentum that continues despite the challenges of 2020, today CCF-LA is one of the largest Catholic community foundations in the country. With an average $40 million in annual granting, CCF-LA's clients have found the resources needed to build and sustain giving to church ministries and other charities.
"It was a daunting challenge to start this foundation from nothing," said William M. Wardlaw, partner and chief compliance officer at Freeman Spogli & Co. Wardlaw has served as our board chair since inception and has been a strong advocate for our mission to teach philanthropy. "We were guided by our mission statement: 'to empower individuals and organizations across cultures and generations through professional philanthropy management solutions that allow clients to develop and sustain their philanthropy in support of Catholic values.' "
The foundation has developed a variety of services for this purpose, including donor-advised funds, endowment and designated funds, and scholarship programs, and we have the ability to create custom funds to help meet each client's individual charitable goals.
An important development came in 2017 when we established the New Philanthropist Donor-Advised Fund program. Requiring a more modest gift than the Donor-Advised Fund program, it particularly enables those who are just embarking on their charitable-giving journey.
"Part of our mission has always been to teach philanthropy to the younger generations, a wonderful way to pass along charitable values through family philanthropy," said Anderson. "Today, we have 44 New Philanthropists learning the great joy of giving."
A foundation for the future
CCF-LA, like so many others, was forced to cancel an in-person celebration, scheduled for the spring of 2020, which would have formally marked our fifth anniversary with gratitude to all those who have contributed to our success. Part of the planned celebration included issuing the inaugural grant from our Catholic Community Endowment. We continued with that initiative by spreading the word via an anniversary card, a special eNewsletter, and a dedicated landing page on our website.
The Catholic Community Endowment was established in 2017 with $500,000 from a larger grant from the Thomas and Dorothy Leavey Foundation. Thanks to additional donors and market growth, the fund is now valued at nearly $1 million.
Kathleen McCarthy Kostlan, daughter of the Leaveys and chair of the Leavey Foundation, is thrilled that we are carrying on her parents' compassion and commitment to community through this fund. We asked Kostlan to recommend a worthy beneficiary, and she chose St. Vincent Meals on Wheels for its work to serve vulnerable populations during the coronavirus (COVID-19) pandemic.
Chairman of St. Vincent Meals on Wheels, Sister Joyce Weller, DC, said, "Our unceasing work to feed the vulnerable during the COVID-19 pandemic clearly lives out the mission of our Catholic Church. Through this grant, we will honor the legacy of Thomas and Dorothy Leavey and our founder, Sister Alice Marie Quinn, who dedicated over 41 years to this outreach."
"The people who work at the Leavey Foundation and at St. Vincent Meals on Wheels are modern-day saints who walk among us. We are so grateful to you for supporting the Catholic faith and the efforts of the foundation," said Archbishop Gomez. "This endowment will continue to create a structure for Catholics to support the archdiocese in long-term and meaningful ways."
With ambitious goals, a dedicated staff, a visionary board, and unlimited potential, CCF-LA has the momentum for even more success in the philanthropy management services business. Most important is the impact we have already had and will continue to have for our clients and beneficiaries and generations to come.