On a bright Saturday morning in late November, about 25 Native Americans from the Gabrielino/Tongva San Gabriel Band of Mission Indians gathered to bless a piece of land where many of their ancestors will finally, after many years, get a proper burial.
While Andy Morales, the son of Chief Anthony Morales, prepared the earth by leading chants, burning sage, and spreading a bit of tobacco on the green grass, two Catholic bishops and a chaplain observed and respectfully prayed along with the indigenous people.
"This day symbolizes the coming together of the Native American and the Catholic religions," said Andy Morales, as he started leading the ceremony and chanting. "That shows strength and unity and it's also a day of healing for our families and our ancestors."
The land in question, located in the Queen of Heaven Catholic Cemetery in Rowland Heights, will now become the permanent site for the reburial of the tribal ancestors thanks to a series of protocols signed earlier this year by the tribe and the Archdiocese of Los Angeles.
A similar ceremony had occurred a week before at the Good Shepherd Cemetery in Lancaster for the Fernandeño Tataviam Band of Mission Indians. Both were presided by Auxiliary Bishop Edward Clark, episcopal vicar for the Our Lady of the Angels Pastoral Region.
It was an issue of justice and it was a long time coming, said Clark.
"Both tribes appealed to the archdiocese because they had no place to rebury their ancestors that get unearthed because of construction or when federal law required museums and universities to return remains to the tribes," said Clark. "They made an appeal to Archbishop José Gomez and he promised that he would find them a place."
Members of both tribes were part of the original peoples of Southern California: The Tongvas occupied much of the LA Basin and the Channel Islands, and the Tataviam lived in northern LA County, including near what is now the area of Santa Clarita. During the Spanish period they were, by many accounts, enslaved to build the San Gabriel and San Fernando missions.
After that, there came a long time of "being invisible," said Julia Bogany, the cultural affairs officer for the Tongvas.
"People were buried at their villages, but when the land was gone, nobody undug people because we would not do that," Bogany said. "I always say that, as a Tongva woman, I feel invisible because we never left our land, but we were here."
Over the years, thousands of remains belonging to tribal members have been unearthed during construction and development in the Los Angeles area.
The protocols of the Tataviam and Gabrieleño call for reburial as close to the original places as possible. That is not always possible, as developers are often not responsive and there's no solution to the issue. Many are interred at the missions, but space there was limited and it was filled a long time ago.
Fernandeño Tataviam Tribal President Rudy Ortega Jr. said the new land given to his tribe at the Good Shepherd Cemetery in Lancaster will provide some "security and placement."
"The tribe doesn't have any cemetery lands or property," Ortega said. "We don't have federal recognition. Next, we have to plan the reburial of about 20 remains that we know of that range from the 1880s all the way to 1980. And as long as people continue building and digging, they will continue finding remains."
Chief Anthony Morales of the Gabrielinos said that more than 6,000 Tongva ancestors are buried at San Gabriel Mission, but that it has been 247 years since they had access to bury anyone in that land.
"What's so sad is that a lot of our people are still boxed in museums and in warehouses and universities," added Sylvia Mendivil Salazar, coordinator for Native American Concerns Ministry of the Archdioceses of Los Angeles.
"I can't speak for all but most of us have high honor for our ancestors, we believe their spirit lives and we respect the dead as the Catholic Church does."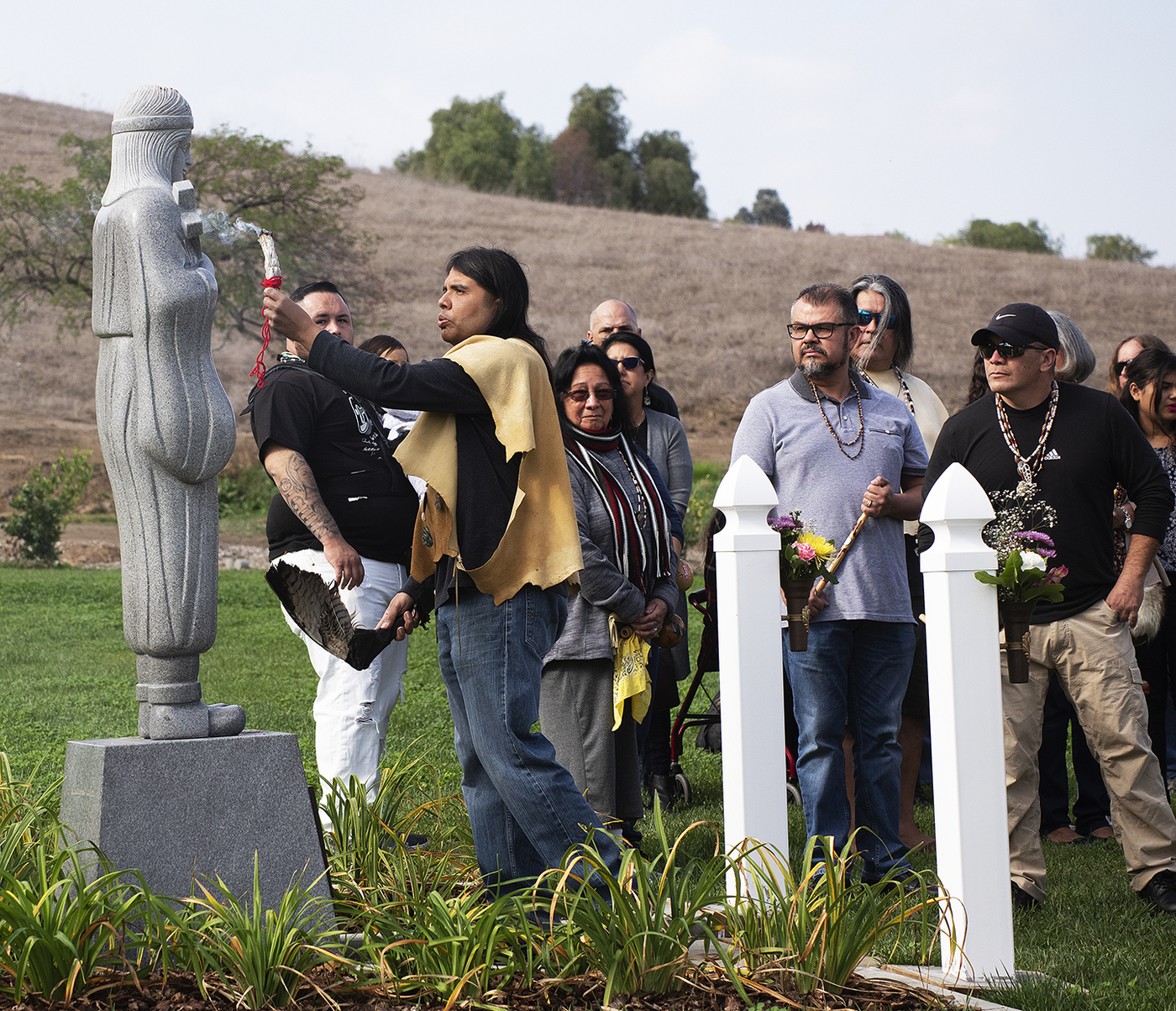 Several women members of the Valenzuela family ("the largest Tongva family in existence," as one of them explained) observed the ceremony while participating in the chants and prayers.
One of them, June Lucero, from La Puente, said it's very important to their people to be able to visit their buried ancestors.
"It's quite an honor to be proud to come and visit your ancestors and say, hello, hello. And to remember them," she said. "It's a good feeling in your heart to know you are taking care of your ancestors because development companies would destroy them, we have seen what they are capable of doing, and we are just grateful that we now have this land again."
After chanting, praying, and dancing, Morales declared that "we have sent the message to our ancestors." Then he posed for pictures with members of the band and all the Catholic dignitaries present.
For Lucero, the "Valenzuela," one Tongva word describes how it feels to now have a place for the remains.
"Ewachem," she said. "That means, 'We are still here.' "
Pilar Marrero is a journalist and author of the book "Killing the American Dream." She worked as a political and immigration writer for La Opinion and as a consultant for KCET's "Immigration 101" series.
SPECIAL OFFER! 44 issues of Angelus for just $9.95! Get the finest in Catholic journalism with first-rate analysis of the events and trends shaping the Church and the world, plus the practical advice from the world's best spiritual writers on prayer and Catholic living, along with great features about Catholic life in Los Angeles. Subscribe now!