For the past 35 years, the South Bay Catholic Adult Co-Ed Softball League has come to represent a ministry that allows its participants to cover a lot of bases.
In creating more than just a league of their own, the hundreds of participants over the years have realized a community among competition, ownership of its history, and now, they want to plant more seeds for their successes to continue.
As the logo says on its official website, www.sbcasl.com, it's a show of commitment to fellowship through softball. The crucifix is embedded in the letter "O." The focus is on stewardship, character, faith, the Holy Trinity, and integrity.
"This was all started with networking parishes that had young adult bible study groups, and it's amazing that we have got to this point," said Fred Lawler, one of the league founders, its first commissioner and a player for one of two teams from St. James Church of Redondo Beach. "It's a blessing to continue to have this. It's very uplifting."
"We have a very good set of standards and tradition to carry on," added Jaymer Suarez, the league commissioner the last five years, a player in the league for more than 10 years and manager of one of the two teams from American Martyrs Church in Manhattan Beach.
In the early 1980s, when Lawler moved to Southern California from Virginia as an aerospace electrical engineer, he became involved in various Catholic ministries in the area. In learning about other young adult groups at nearby churches, Lawler's pitch became finding a way to unite as many of them as possible in an athletic-based activity he enjoyed.
"Softball could be a spiritual link," said Lawler.
It took a couple years of meetings and networking to figure out league fees and fundraisers, as well as developing rules that could make it enjoyable for all who wanted to play.
When more than a dozen teams signed up, including a group of high school seniors from Bishop Montgomery High in Torrance, Lawler saw this diamond in the rough as something that could immediately have an impact on several hundred people — including those who might not have been regularly attending Mass.
"Maybe this was kind of like a reflection of the early Church coming together," said Lawler, who continues religious education work for various churches near his current home in Torrance. "Between Confirmation and Bingo, it seemed to me there was something lacking. This softball league definitely serves a niche."
As Lawler found many male players had already been participating in local softball leagues, the focus became to bring more women onto the rosters. The rules call for four of the 10 players on the field to be females.
As can happen with co-ed recreational leagues, more permanent relationships form. Cindy Resong Burkhardt, one of the original members of the St. James team, met her eventual husband through the league. She continues playing with her sister as well as her oldest daughter and has taken over duties of league treasurer and schedules games.
"With our Catholic culture, it's nice to see these traditions passed down," said Suarez.
Lawler's intent was also to not just recruit parishioners who were "expecting this to be just a picnic league. We want all to be competitive. But like in life, sometimes a Catholic softball league is a two-edged sword.
Some want to play a very serious game and win a trophy. Others are there just to have a good time. You have to make sure everyone is on the same page. Maybe it forces some guys to ratchet their game back a little bit and remember there is fun involved."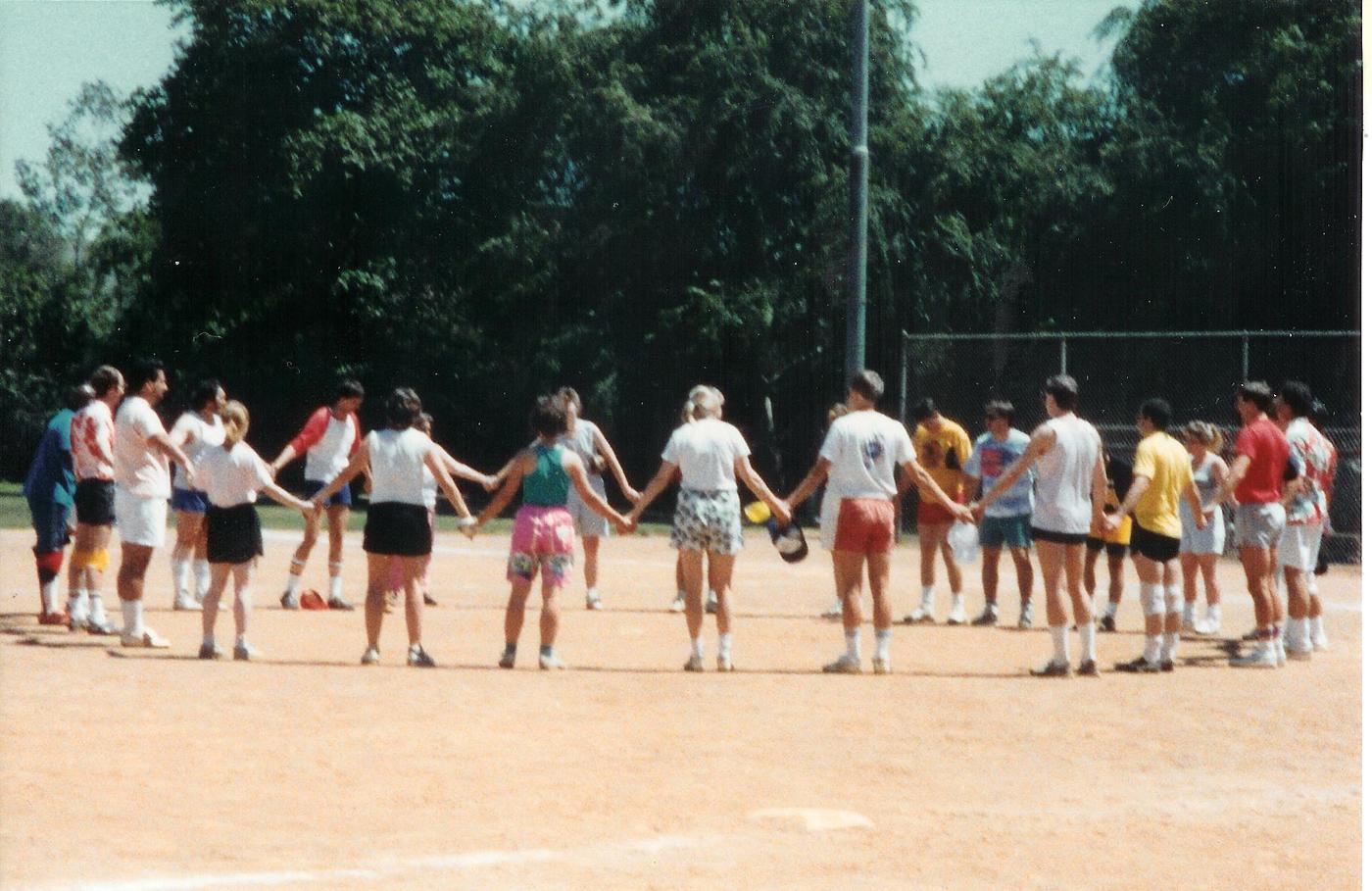 With that also comes a time for prayer. Every game begins with a prayer circle of thanks and appreciation for the opportunity to be there.
"I have found our prayer circle to be very powerful," said Suarez. "I can feel the Holy Spirit flowing among us as if I'm doing similar work from ministries."
Bulletin notices have already gone out to more than 60 parishes to gauge interest in the 2019 season, which begins Feb. 24. The league will have meet-and-greet practice games on the second and third Sundays of February before the schedule starts.
It concludes in June with playoffs and a championship game. Fundraisers and social gatherings include an annual Dodgers Night trip that are part of the fellowship.
Each Sunday during the spring, the league holds four games between 11 a.m. and 4 p.m. Holidays are excluded. McMaster Park in Torrance is considered the league's traditional home field, but Wilson Park in Torrance has also hosted games.
St. Anthony of Padua Church in Gardena returns as a five-time defending champion. In addition to the teams at American Martyrs and St. James, it is anticipated there will be teams for Our Lady of Guadalupe Church in Hermosa Beach, Mary Star of the Sea Church in San Pedro and Torrance's St. Catherine Laboure Church and Church of the Nativity.
Suarez stresses that the goal of the league continues to be inclusive, not exclusive, and may expand to add teams from all walks of faith. He remembers a time when his team was playing a game, and someone sitting in the stands who happened to be in the park stopped by to watch.
"He said, 'I want to play with you guys. I like the energy you have'," said Suarez. "I think he could see the respect we had for each other, how we got along. So we signed him right up. Nothing speaks better than to see us playing together."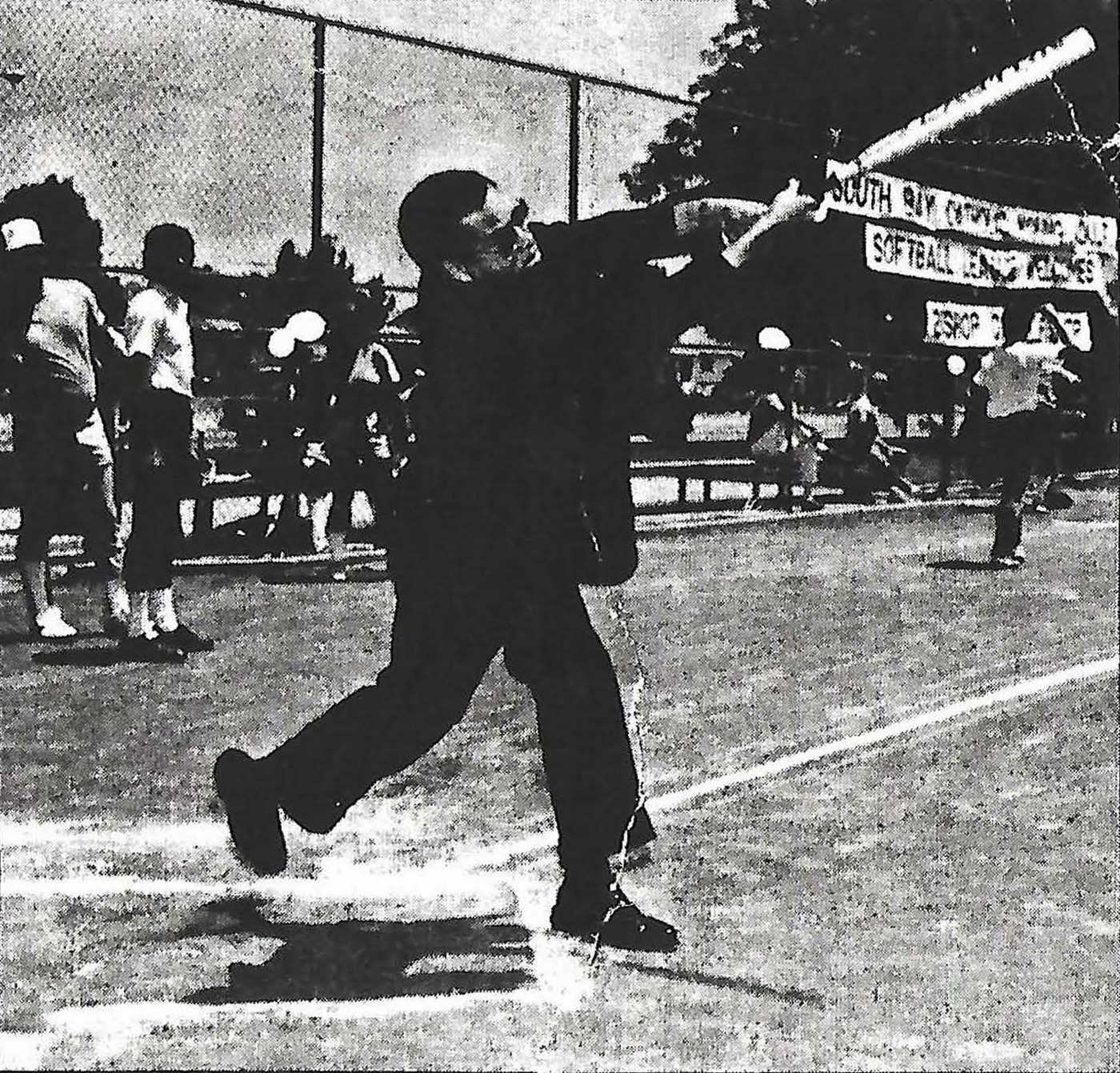 For more information on playing in the league, call Jaymer Suarez at 310-925-2908 or email [email protected], or call Fred Lawler at 714-369-9516 or email [email protected].
Tom Hoffarth is an award-winning journalist based in Los Angeles.
SPECIAL OFFER! 44 issues of Angelus for just $9.95! Get the finest in Catholic journalism with first-rate analysis of the events and trends shaping the Church and the world, plus the practical advice from the world's best spiritual writers on prayer and Catholic living, along with great features about Catholic life in Los Angeles. Subscribe now!