In the few moments she spent up-close and personal with the incorrupt heart of Saint John Vianney during its visit to St. Elisabeth of Hungary Church in Van Nuys Feb. 22 , Milagros "Lally" Guiao only asked the legendary saint for one thing.
"Give us holy priests."
There were plenty of other things Guiao could have asked the French saint's intercession for during the relic's only stop in the San Fernando Valley during its Feb. 20-26 tour through several parishes of the Archdiocese of Los Angeles.
But as the reawakening clergy abuse crisis continues to afflict the Church, Guiao and her husband, Rey, a deacon at Our Lady of Peace Church in North Hills, believe the relic's visit could not have come at a better time.
"Becoming a priest at this time in our Church is not easy; there are a lot of challenges and difficulties," said Deacon Guiao, who noted that Vianney himself suffered and faced persecution during his life.
"We want our priests to remain faithful to their vocations, to continue to encourage and strengthen the parish and the flock that they were given," added the deacon.
The Los Angeles visit was part of a six-month tour by the "Heart of a Priest" throughout the U.S. sponsored by the Knights of Columbus, whose members stand guard over the relic in shifts at all hours during its public exposition.
The relic arrived at St. Elisabeth as it has at dozens of parishes, seminaries, and even conferences around the country in the past few months: encased in a shiny reliquary with a pair of kneelers that allow the faithful to take turns venerating it from inches away.
The incorrupt heart is perhaps the most visual — and enduring — piece of evidence pointing to Vianney's holiness and sainthood.
In 1909, 50 years after Vianney's death, his body was exhumed and inexplicably found not to have decayed. Soon after, his heart was placed in a separate container and has been venerated with his body in Ars, France, the town where Vianney ministered as a parish priest for 40 years until his death in 1859.
It seemed that wherever the relic went, the trying times in the Catholic Church were on everyone's minds — and in their prayers.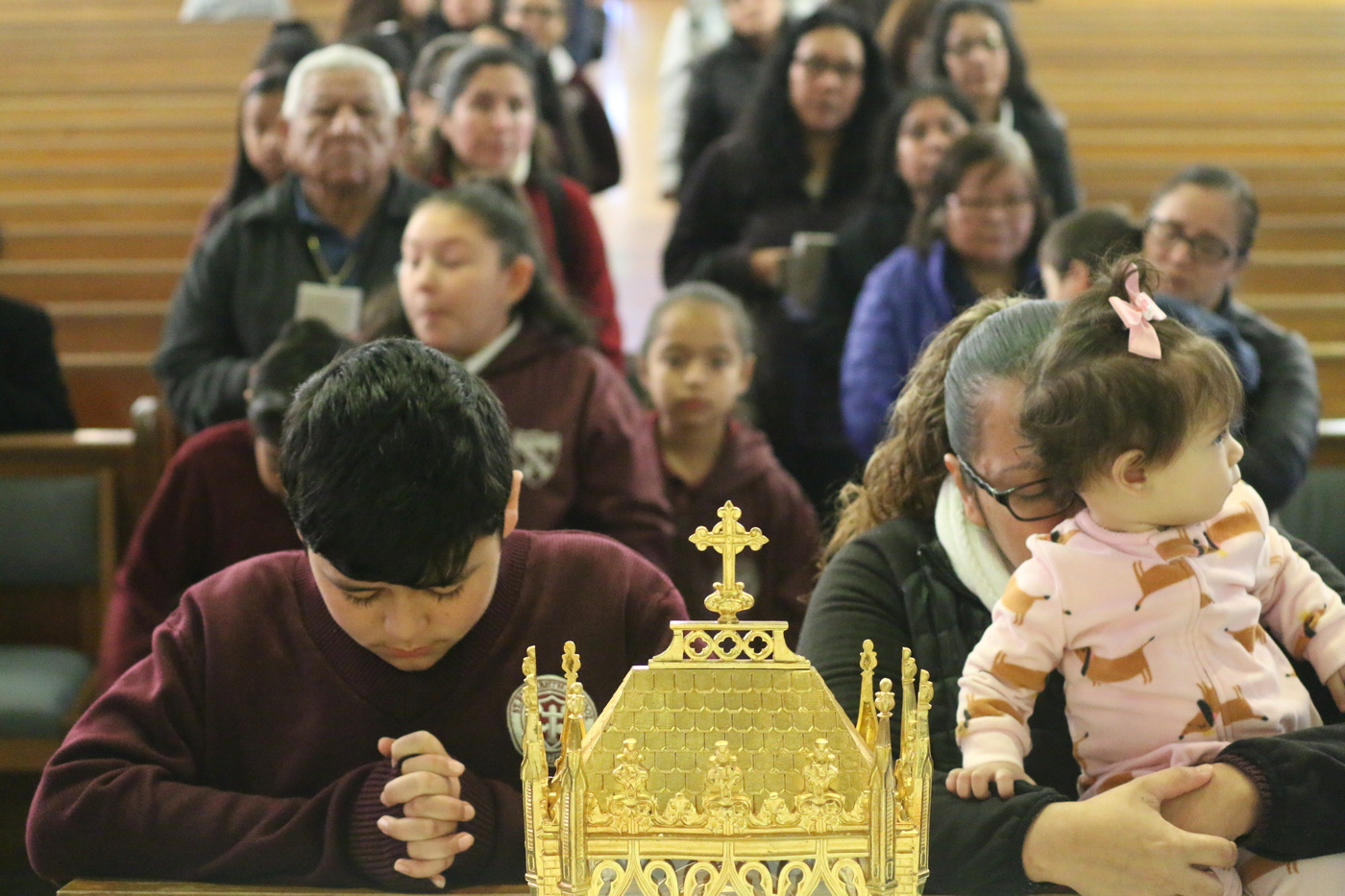 A day before the relic's visit to St. Elisabeth, it spent a day at St. John Chrysostom Church in Inglewood, where veneration kicked off with an 8 a.m. Mass attended by students from the parish school.
In his homily, associate pastor Father Anthony Garcias explained to the children the significance of the golden reliquary's contents, while connecting the day's first reading (about the covenant made by God to Noah after the flood) to the need for renewal in the Church.
"God wants renewal not by wiping out things, but by renewing us, by changing us from within," said Garcias in an interview with Angelus News afterward.
Calling the relic's visit to his parish "a great privilege," Garcias said that as a young priest, he was especially inspired by Vianney's example of patience while hearing confessions for hours on end, which he believes will also be needed for renewal in the Church in the face of confusion and scandal.
"Reform in the Church is going to be necessarily a slow process, and we'll need a lot of patience for that, to not try to rush things according to our desires and our timetable, but according to God's time and his desires," Garcias said.
As a longtime devotee to Vianney, Barbara Sterbentz said she could not afford to miss the relic's visit to St. John Chrysostom, the stop closest to her home in Orange County. So she and two friends woke up early to brave the rush-hour traffic from Huntington Beach together.
"I love how he loved his parish, and he sacrificed so much, and converted so many souls," said Sterbentz after the Mass.
The relic also visited the Cathedral of Our Lady of the Angels, where Archbishop José H. Gomez celebrated Sunday Mass Feb. 24 in its presence.
"In the presence of the heart of this holy priest, St. John Vianney, let us pray that God will keep renewing his Church and grant us more holy priests and more holy bishops," said Archbishop Gomez in his homily.
The next day, the relic got its biggest reception of the LA tour at its namesake parish, St. John Vianney Church in Hacienda Heights. Thousands participated in a candlelight vigil and procession, followed by a Taize prayer service and time for quiet veneration.
The person who has perhaps spent the most time with the relic in recent months is Evan Holguin, a native of Santa Clarita who works for the Knights of Columbus at their Connecticut headquarters.
As the relic's custodian during some of the tour's most recent legs, Holguin has traveled between states across the country — Maryland, Michigan, Ohio, to name a few — sometimes taking the relic with him as carry-on luggage on planes, other times as his passenger during drives between veneration sites.
"It's not something everyone can say that they've been able to do," remarked Holguin, who is also a contributing writer to Angelus.
For Holguin, his job has meant sitting in church pews for sometimes up to 14 hours in a day while faithful participate in liturgies or quiet devotion.
"Learning how to spend that time well, and prayerfully, is difficult," admitted Holguin, who made sure the LA visit included a stop at his home parish of St. Kateri Tekakwitha Church in Santa Clarita Feb. 20. "But I'm certain that St. John Vianney is praying that I get better at it by the end of this pilgrimage."
Pablo Kay is the editor of Angelus.
SPECIAL OFFER! 44 issues of Angelus for just $9.95! Get the finest in Catholic journalism with first-rate analysis of the events and trends shaping the Church and the world, plus the practical advice from the world's best spiritual writers on prayer and Catholic living, along with great features about Catholic life in Los Angeles. Subscribe now!