During his 76 years as a priest of the Archdiocese of Los Angeles, Msgr. Richard H. Murray resided at only three parishes.
First was All Souls Church in Alhambra, where he was assigned after his ordination on April 24, 1943, at St. Vibiana's Cathedral — age 27, in the middle of World War II.
Then came St. Paul Church in Mid-City Los Angeles, where Msgr. Thomas Blackwell kept him as a trusted administrator pro tem and associate pastor until Blackwell's health worsened and he died in 1959.
Three years later, Murray was asked to help establish St. Bernardine of Siena Church in Woodland Hills, on an empty lot of sagebrush.
At the time of Murray's death on April 29 at the age of 103, he remained pastor emeritus of St. Bernadine of Siena. He was not only still living in the rectory, but while confined to a wheelchair he had a caregiver find him a special spot in the church so he could concelebrate the 7 a.m. Mass each Sunday in full vestments.
"He remained the heart and soul of that community he dearly loved," said Msgr. Austin Doran, the pastor at St. Anthony Catholic Church in San Gabriel. "He was very devoted to celebrating the holy Eucharist and the Litany of the Hours in daily prayer."
Doran was assigned to St. Bernardine of Siena in December 1978, six months after his own ordination. In four-plus years as the associate pastor, Doran said the lesson he learned from Murray that he still uses as a foundation today was "how to have a positive attitude about life and people."
"Life was a gift to be celebrated and valued. He was also a great minister to the sick and always found a way to encourage and support couples in living out their vows."
Doran admitted that "some priests today have three assignments in one year," but Murray began at a time when terms were not yet assigned.
"His assignments were more than just luck," said Doran. "Every pastor he served realized they had someone special and wanted to keep him as long as they could."
Murray was born Sept. 11, 1915, in Alexandria, Louisiana, moving to LA in 1923 and attending Los Angeles College, a high school junior seminary, before going to St. John's Seminary in Camarillo.
In a Tidings article that celebrated his 100th birthday in October 2015, Murray recalled that when he was assigned to establish St. Bernadine of Siena in 1962, "there was nothing on the hillside but cactus and coyotes" at Valley Circle Boulevard, and Masses were first held at Chaminade High School or at the Canoga Park High School auditorium.
The growing community of engineers and professionals fed into this new parish, and Murray invited them to be more active as volunteers at a time when the Second Vatican Council resulted in liturgical changes to the Mass and more emphasis on the laity.
The Latin Mass was in transition to being celebrated in English, but that was not an issue for Murray. He loved studying languages and was proficient in Latin, Greek, and Spanish from his time at St. John's Seminary.
Elevated to monsignor in 1983, Murray was known for driving around in his Mustang visiting shut-ins and the sick, even long after he officially retired as full-time pastor in 1989.
"I love to be among the people during both their sorrows and their joys," he said. "Christ loved to be among people even when they were sick or dying. And that's how I tried to model my priesthood: to be among the people in all their stages."
A 2008 article in the Los Angeles Daily News marking the 65th anniversary of Murray's ordination noted he was a bit disappointed that he recently had to give up driving his car. He was 92 at the time.
"He has been retired from administrative work [for 20 years] but there's no retirement from shepherding the flock," said Msg. Robert J. McNamara, then the pastor at St. Bernardine of Siena, now a pastor emeritus.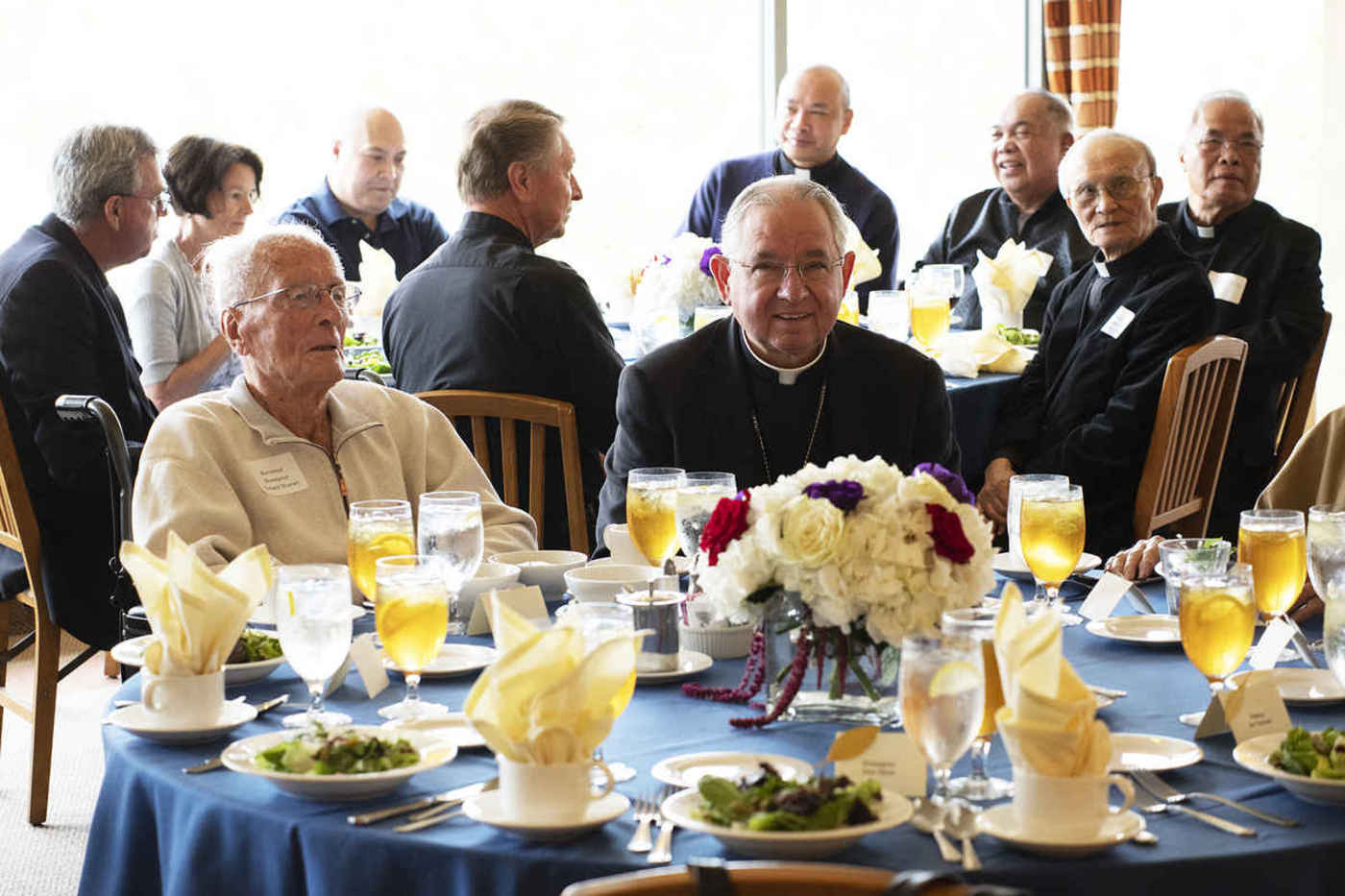 In May 2018, Murray was one of 60 who attended an archdiocesan priest retirement luncheon at the Cathedral of Our Lady of the Angels. Murray sat next to Archbishop José H. Gomez.
"He so enjoyed that day," said Doran, assigned as Murray's trustee and power of attorney. "That was challenging for him — not because of his health. He was very sharp and mentally clear. It's just that so many of his generation have already passed, including his own brothers and sisters. Some very close friends.
"He lost a whole generation of priests. It was difficult for him to be 'the last one standing.' But he venerated life as a gift from God."
A vigil will be held for Msgr. Richard Murray at St. Bernardine of Siena on Thursday, May 9, at 7 p.m., with a Funeral Mass on Friday, May 10, at 11 a.m. Burial will follow at San Fernando Mission Catholic Cemetery.
Condolences may be sent to his niece, Sue Cannon, 2717 Ptarmigan Drive, Apt. 2, Walnut Creek, CA 94595.
Tom Hoffarth is an award-winning journalist based in Los Angeles.
SPECIAL OFFER! 44 issues of Angelus for just $9.95! Get the finest in Catholic journalism with first-rate analysis of the events and trends shaping the Church and the world, plus practical advice from the world's best spiritual writers on prayer and Catholic living, along with great features about Catholic life in Los Angeles. Subscribe now!