A Portuguese proverb has it that God writes straight with crooked lines. The story of Sister Mary Ignatia Gavin, CSA, seems to illustrate that maxim.
She was born in Ireland and baptized Mary Della Gavin. She immigrated to America with her family when she was seven. The family was poor and made the journey as "two-boaters," as the Irish immigrants on the East Coast called them.
Their first boat was to Newfoundland, and the little girl won the contest of being the first to sight land on the fourteen-day voyage to Canada. From there passage to the United States was cheaper.
The family settled in Cleveland, Ohio. Her father worked as a laborer and supplemented his income with a part-time job as a watchman. Mary was given music lessons and became very proficient at the piano, eventually becoming a private music teacher.
When she began to think of a religious vocation, her mother resisted the idea, hoping to keep her at home. Nevertheless, at 25 years old, she joined the Sisters of St. Augustine, a community that worked with orphans and the sick.
The community took advantage of her musical ability and she worked especially with the orphans teaching music. She was a perfectionist and struggled with some of her duties, especially since she had as an assistant a sister who seemed to have had mental problems.
Sister Mary Ignatia eventually developed her own problems. Bleeding ulcers and what she called a "nervous breakdown" ended her career as a music teacher. The doctor told her, "You can either be a live nun or a dead musician. Which will it be?" After a long recovery in one of the community's hospitals, she was assigned to work as a registrar in St. Thomas Hospital in Akron.
The work as registrar was supposed to be easier for her, but God had other plans. Sister Ignatia met Dr. Bob Smith, the co-founder of Alcoholics Anonymous (AA), and their instant rapport led her to begin admitting alcoholic patients in the throes of addiction, sometimes under disguised diagnoses.
Together with Dr. Bob, she created the first medical treatment program for alcoholics in a Catholic hospital. Sister Ignatia saw that the alcoholic was sick in body, mind, and spirit, and tailored a program with AA participation that was both original in concept and very successful in practice.
The first admitting of an alcoholic as such at St. Thomas Hospital was Aug. 16, 1939, a date that has entered the annals of AA history. The medical treatment coincided with an explosion of AA membership. Eventually, St. Thomas Hospital was recognized as a pioneer in the field of treating addiction.
Dr. Bob and his wife, Ann, died and Ignatia continued the work. Then she was transferred away from St. Thomas. Although it is unclear why exactly she was moved, it did not help that she had many conflicts about administration and finances and that she was receiving more attention than some of her community appreciated.
It was a second setback to Ignatia. She wrote to Bill Wilson that she did not know whether she would be able to help alcoholics at her new mission in St. Vincent Charity Hospital in Cleveland.
She prayed and was obedient and eventually talked her superiors into opening a special ward for recovering alcoholics she named Rosary Hall Solarium. The words had the extra meaning for her of being the initials of her old friend Dr. Robert H. Smith. Again God had written straight with crooked lines — what had seemed a detour was only God's course correction.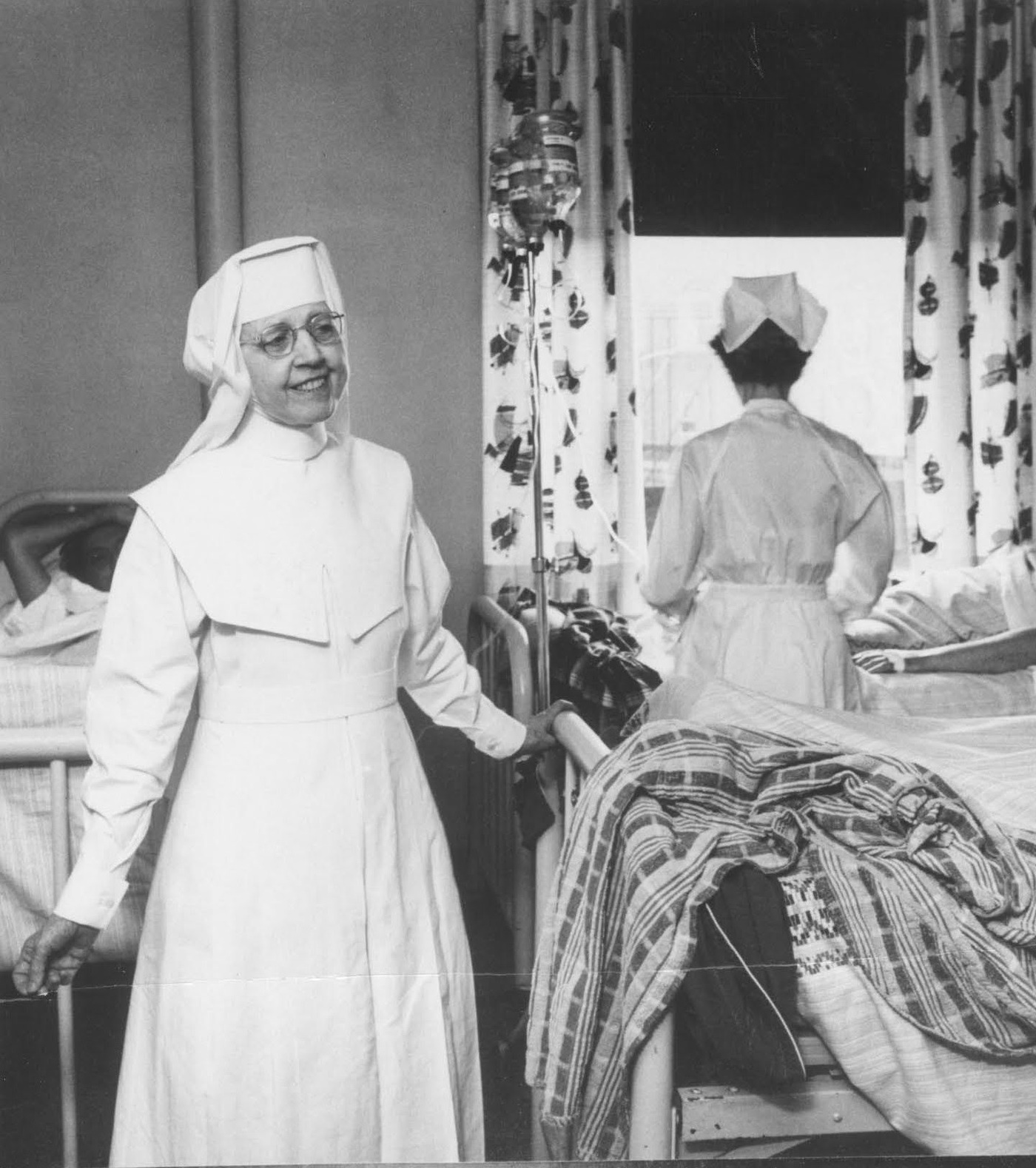 Although she shunned publicity, Ignatia was celebrated by her grateful friends. Wilson wrote at the time of her golden jubilee as a religious: "We of Alcoholics Anonymous look upon you as the finest friend and the greatest spirit we have ever known."
She corresponded with President Kennedy, refused the actress Loretta Young's interest in presenting her life on television, and was known nationally and even internationally for her work with alcoholics, whom she compared with the orphans she had thought to work with in her mission as a religious.
Stories about her feistiness and her spirituality abound. A man told her he was drinking because he had lost his job and couldn't support his family. "That makes sense," she said, "Because drinking is going to help them a lot."
Even in her latter days, when she was in a wheelchair, she could tame men whose sickness and anger made them unmanageable to themselves and others. Her five-day program and initiation in the AA saw thousands of men and women, including alcoholic priests and nuns, to a better life.
Almost all of the alcoholics (and their wives and children) whom Sister Ignatia helped considered her a living saint. A Cleveland priest in his 90s tells a story about a milkman who knocked on a rectory door one day in a desperate state. The man wanted a phone to call Ignatia. He had been in an accident with the milk wagon and had decided to go back to drinking.
Sister had given him a Sacred Heart badge as he left Rosary Hall and had told him, "Before you drink again, I want you to call me." The priest was able to help the man with another plan, called his employer and saved the day. He never forgot the way the man's loyalty — confused as it was — to Ignatia. The badge had been a life preserver.
There were contradictory elements in her saintly life. She was obedient to her bishop who prohibited her from speaking to a National Clergy Conference, but refused treatment to another bishop who wanted to stay at Rosary Hall without complying with its program.
Ignatia retired to the motherhouse in May of 1965. Her successors at Rosary Hall kept in touch with her and were afraid to upset her by talking about changes to be made in treatment, changes later mostly regretted. Her health gradually declined and on April 1, 1966 she went home to God.
Cleveland's AA community has not forgotten her and celebrates a Mass each year in her memory. Many members have a keen interest in her cause for canonization, as does her religious community. After hearing about her, an AA member who had lived in LA and just moved to Cleveland said, "Maybe why I am here is like what was said in the homily about God making turn-arounds in our lives, writing straight with crooked lines." We could use another saint for that.