When they first came to Los Angeles in 1987, the Daughters of St. Paul were known nationally as "blue-collar sisters." 
The Daughters would stand at a register all day in one of their bookstores, taking orders and fulfilling the duties of the service industry. At their printing plant in Boston, sisters would work the press producing books that other sisters would sell at their Catholic bookstore on Sepulveda Boulevard in Culver City, one of many such stores across the country.
"We are women religious who are in business," said Pauline Sister Danielle Victoria Lussier, who previously worked at a center in Manhattan before relocating to the Daughters' publishing house in Boston. "We're called to consecrate this work in a different way."
But how do you complete that mission when a pandemic closes your doors? As cities like Los Angeles implemented their stay-at-home orders last March, the Daughters faced challenges to their traditional ministries while some apostolates received an opportunity to reach further.
"We turned our whole media literacy course — usually held every summer in Los Angeles — online," explained Sister Nancy Usselmann, national director of the Culver City-based Pauline Center for Media Studies. The center, which celebrates its 25th anniversary Dec. 29, offers an Advanced Certificate in Media Literacy certified by the Archdiocese of Los Angeles, as part of its work to evangelize the culture through media.
The success of the virtual media literacy course showed an active audience — including attendees from Vietnam and Canada — interested in the content but unable to travel to Los Angeles to complete it. In light of the success, Sister Usselmann confirmed that the certificate would continue to be offered online, even when the in-person program resumes.
But virtual events couldn't undo the damage that shuttered bookstores and a limping economy has inflicted on book sales. These effects of the COVID-19 pandemic meant that the Daughters had to cut back their usual new additions to the catalogue to just four new titles.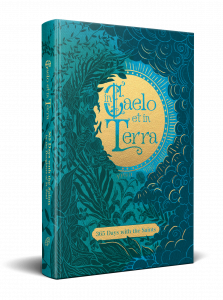 One of those titles, a project called "In Caelo et in Terra: 365 Days with the Saints," had been 10 years in the making and the fruit of multiple sisters' labor. The loss of funds would also mean a scaled-back production quality, far from what they had hoped for.
"Immediately after having to close brick-and-mortar due to the pandemic, people were asking how they could support us," said Pauline Sister Maria Kim-Ngan Bui, director of Marketing and Sales for Pauline Books and Media.
Even Sister Bui's little brother Joe, with a family and little disposable income, was asking how he could help.
"We thought, 'Why not invite people to help us produce this book?' " said Sister Lussier, who is the artist behind "In Caelo et in Terra."
The Daughters turned to Kickstarter to raise the $17,400 needed to produce a book according to their standards. By the end of their crowd-funding campaign, the Daughters had raised more than $70,000 — enough for two print runs, and gilded edges on the second printing.
"The generosity of good people, that was the driver," said Sister Bui about their success. "A combination of people's goodwill, their desire to be in solidarity, and God inspiring people to support us."
For Catholic author Tommy Tighe, a longtime supporter of the Daughters and postulant in the Holy Family Institute, a lay association in the Pauline Family, the reason to support the Daughters was clear.
"The things I'm blown away with is the beauty of the projects they've been pulling together," Tighe said. "The book "In Caelo et in Terra" has become a book that my family uses on a daily basis, and it is one of the most beautiful books we own, which I think is a great way to open people up to what's inside."
Backers of the "In Caelo" Kickstarter campaign were the first to receive a copy of the book in response to their support, giving them a second opportunity to support the project. As books started arriving in the mail, supporters took to social media, posting video reviews and showing off the delicate wrapping that adorned each book sent to a supporter.
Sister Usselmann reported that copies of "In Caelo" have "been selling nonstop" at the Culver City bookstore.
"Most of the time they say 'I saw this online,' or saw it on 'Coffee Break with the Media Nuns.' "
Though the "In Caelo" project was the first foray of the Daughters into digital crowdfunding, it is not their last. The launch of the book also saw the launch of a new media project, The Daughters' Project.
Part podcast, part fundraiser and part plan for the future, The Daughters' Project relies on supporters via the online membership platform, Patreon. On Patreon, supporters of The Daughters' Project can sign up to give monthly donations at one of six levels, each with a higher dollar amount.
"Mainly The Daughters' Project is to fund the apostolate into more digital media," explained Sister Bui. "Camera, sound equipment, new computers. The project is driving new ways to interact with collaborators."
Currently, The Daughters' Project has launched a podcast of the same name featuring Pauline sisters, but with additional support and time they hope to expand into more types of media.
"The Holy Spirit is asking us to invest in a really profound way," said Sister Lussier. "We know we can't do this without the help of others."
In thanks for their support, patrons — the official name of Patreon supporters — are given some thank you gifts depending on their donation level, like early access to the project's podcast, free titles from Pauline Books & Media, or even a handmade rosary. But the goal, the sisters insist, isn't merely to provide a transaction, but to build a relationship.
"We wanted to offer people a chance to participate in the mission, no matter what they are able to give," explained Sister Bui. "Crowdfunding is the same — we're going to say, 'This is what we're doing, join us!' "
Even with these new ventures expanding digital interaction, the Daughters say they want their mission to remain based in their centers.
"People are online, but they also appreciate a physical presence and an encounter," said Sister Usselmann. "We're here to support you and help you. Come on by and contact us!"
The Pauline Book and Media Center is located at 3908 Sepulveda Blvd. in Culver City and is open Monday through Saturday from 10 a.m. until 6 p.m. For more information, visit Pauline.org or call 310-397-8676.