Rembrandt van Rijn's "Self-Portrait at the Age of 34," on loan from the National Gallery in London, is on view at the Norton Simon Museum in Pasadena through March 5. The appearance marks the painting's U.S. debut.
A little background: Rembrandt (1606-1669), Dutch painter, printmaker and draughtsman, was born in Leiden to prosperous parents. His mother was Catholic and his father a member of the Dutch Reformed Church. Though as an adult he seemed to have practiced no religion himself, this Christian influence of his childhood clearly marked and helped form him.
In 1932 he moved to Amsterdam, and in 1934 he married Saskia van Uylenburgh, the cousin of his art dealer.
Prodigiously talented, and prolific in a wide range of styles and subjects, his oeuvre includes landscapes, mythological and religious works, and portraits.
Though now widely considered one of the greatest artists the world has known, and certainly the most important in Dutch art history, Rembrandt's later years were marked by personal tragedy and financial catastrophe.
You can not only "feel" Rembrandt's paintings; you can smell them.
In his 702-page opus, "Rembrandt's Eyes," art historian Simon Schama observes: "From the beginning, he was powerfully drawn to ruin; the poetry of imperfection. … The piebald, the scrofulous, the stained, and the encrusted were matters for close and loving inspection; irregularities to run through his fingering gaze."
"For Rembrandt as for Shakespeare," Schama continues, "all the world was indeed a stage, and he knew in exhaustive detail the tactics of its performance; the strutting and mincing; the wardrobe and the face paint; the full repertoire of gesture and grimace; the flutter of the hands and the roll of the eyes; the belly-laugh and the half-stifled sob."
Rembrandt painted more than 80 self-portraits, in which he often adopted disguises, over the course of his career. In the one on view at the Norton Simon, he appropriated the attire and demeanor of one of the European Old Masters whose work he so admired.
Schama describes "Self-Portrait at the Age of 34" like this:
"Costumed in the grand manner of the 16th century, with a slashed sleeve and a fur-edged tabard, a gold chain fastened about his chest and another decorating his hat, Rembrandt is the embodiment of noble self-possession, the uncontested Apelles of Amsterdam."
For my own part, I was more focused on what the painting revealed about Rembrandt's inner life. At 34, he looks self-possessed and prosperous, yes, but neither vain nor arrogant. The gaze is introspective, inward.
The museum avers: "Created in 1640, this imaginative, ambitious and exquisitely painted image corresponds to a high point in the artist's personal and professional life."
Perhaps. But by 1640, Rembrandt and Saskia had already lost two children. A third would die that year. Only their son Titus, born in 1641, would survive into adulthood. Saskia herself died in 1642.
In fact, I couldn't help thinking of the Rembrandt "Head of Christ" at the Philadelphia Museum of Art, a painting I once made a special pilgrimage to see in person. One of as many as a dozen such studies, possibly produced by Rembrandt's workshop rather than the master himself, the portrait, a small reproduction of which sits on my desk, has become for me the face of Christ, the one I hope to meet one day ("Rabboni!").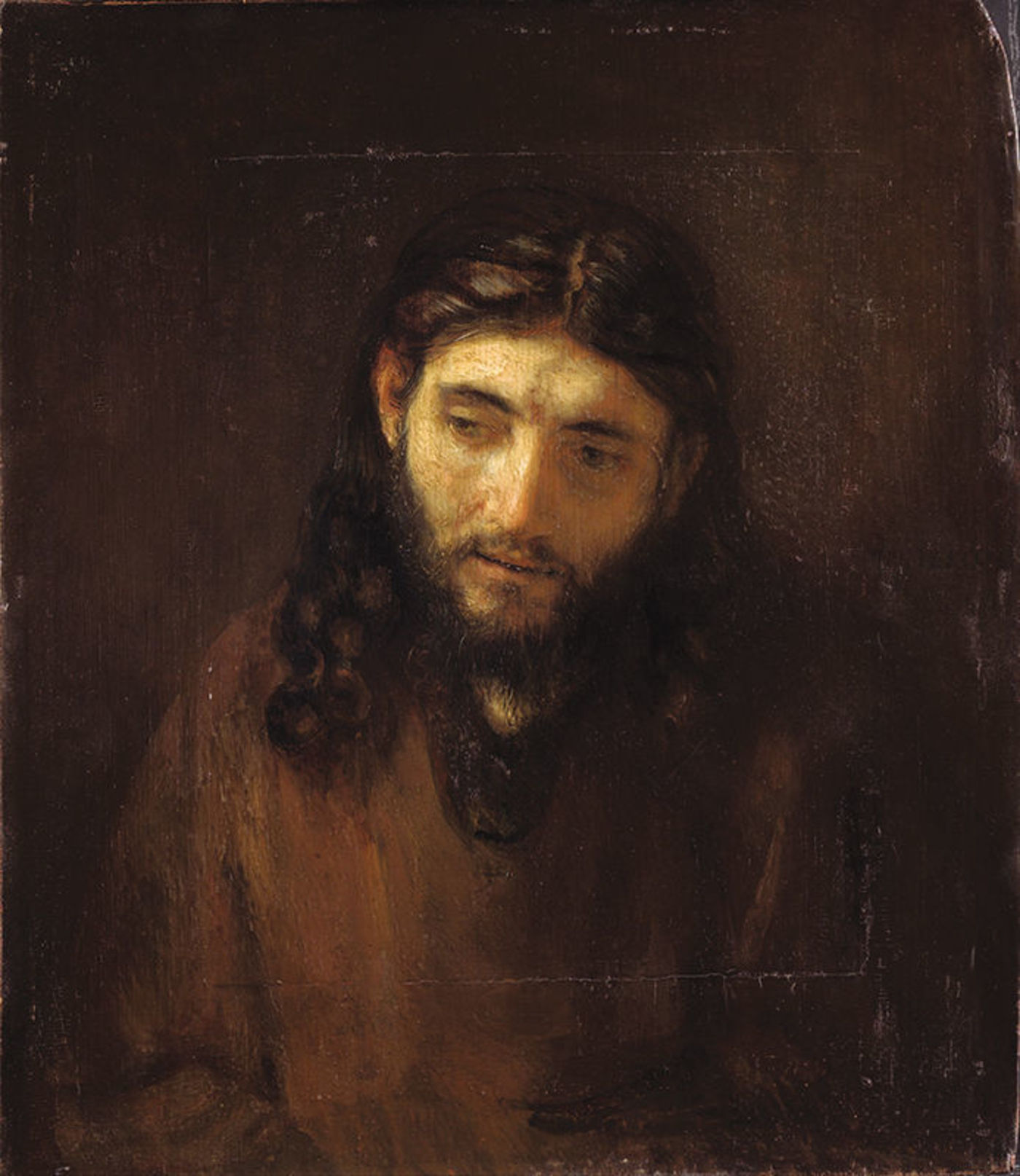 In my imagination, Rembrandt portrays the moment when, face-to-face with the Father, Christ has just been told what awaits him at Calvary. A lesser man would have crumpled, cried out with hot tears, reacted with anger, disbelief, protestations or curses. Christ seems to feel all that but to keep his emotions, just barely, and only out of infinite obedience and love, in check.
"Oh Father — this?" he might be thinking. "Must it be?" But even now, as if foreshadowing his "hour" in the Garden at Gethsemane, his being seems to say, "If it be Thy will, let this chalice pass from me — but Thy will be done."
There is something of that same look, to my mind, in the "Self-portrait at the Age of 34." Even at the height of his powers perhaps Rembrandt, like Christ, had an inkling of suffering that lay ahead.
While Saskia was on her deathbed, Rembrandt would start an affair with her nurse, who he later tried to have committed to an insane asylum. He then took up with a maid 20 years his junior. Though he amassed a valuable collection of Old Masters, by the time he died himself, he had squandered his whole fortune, and was buried in the Amsterdam equivalent of Potter's Field.
But that very year, 1669, he would also paint "The Return of the Prodigal Son," an image, beloved by humankind, that today graces bedroom walls, shrines and the pages of breviaries the world over.
And his very last painting was "Simeon with the Christ Child in the Temple." Here, the old man, tenderly devout, leans over the swaddled baby, and the Blessed Virgin stands protective watch over them both.
It's as if this lion of an artist and a man had come full circle and found his own way home. He, too, could finally depart saying: "Lord, now you let your servant go in peace."
Interested in more? Subscribe to Angelus News to get daily articles sent to your inbox.
Heather King is a blogger, speaker and the author of several books.