"Help us. Help us to help children. Help us to help young people. Help us to help others. Help our families! Help us to feel the suffering that the children have and help us to respond to that suffering."
Los Angeles Auxiliary Bishop David O'Connell found himself on his knees in front of a statue of Our Lady of Fátima at the end of the centenary year of the apparitions at St. Andrew Church in Pasadena this October. The aforementioned plea came spontaneously, he said, as he found himself weeping as he was preaching.
"I can't even remember exactly what I said, but somebody told me afterwards that everybody was crying. Everybody was moved."
The Mass was celebrated just days after Bishop O'Connell returned from a pilgrimage with penitents largely from the Archdiocese of Los Angeles, sponsored by the archdiocese's newsweekly, Angelus.
I was with Bishop O'Connell and the other pilgrims and noticed how moved he was along the way — very clearly at Fátima, our first stop, and overwhelmingly at the shrine in Lourdes.
I daresay it's impossible not to be. Especially knowing the tremendous healing each one of us needs from the effects of sin — our own and those that inundate us in this valley of tears, as we often pray about this world.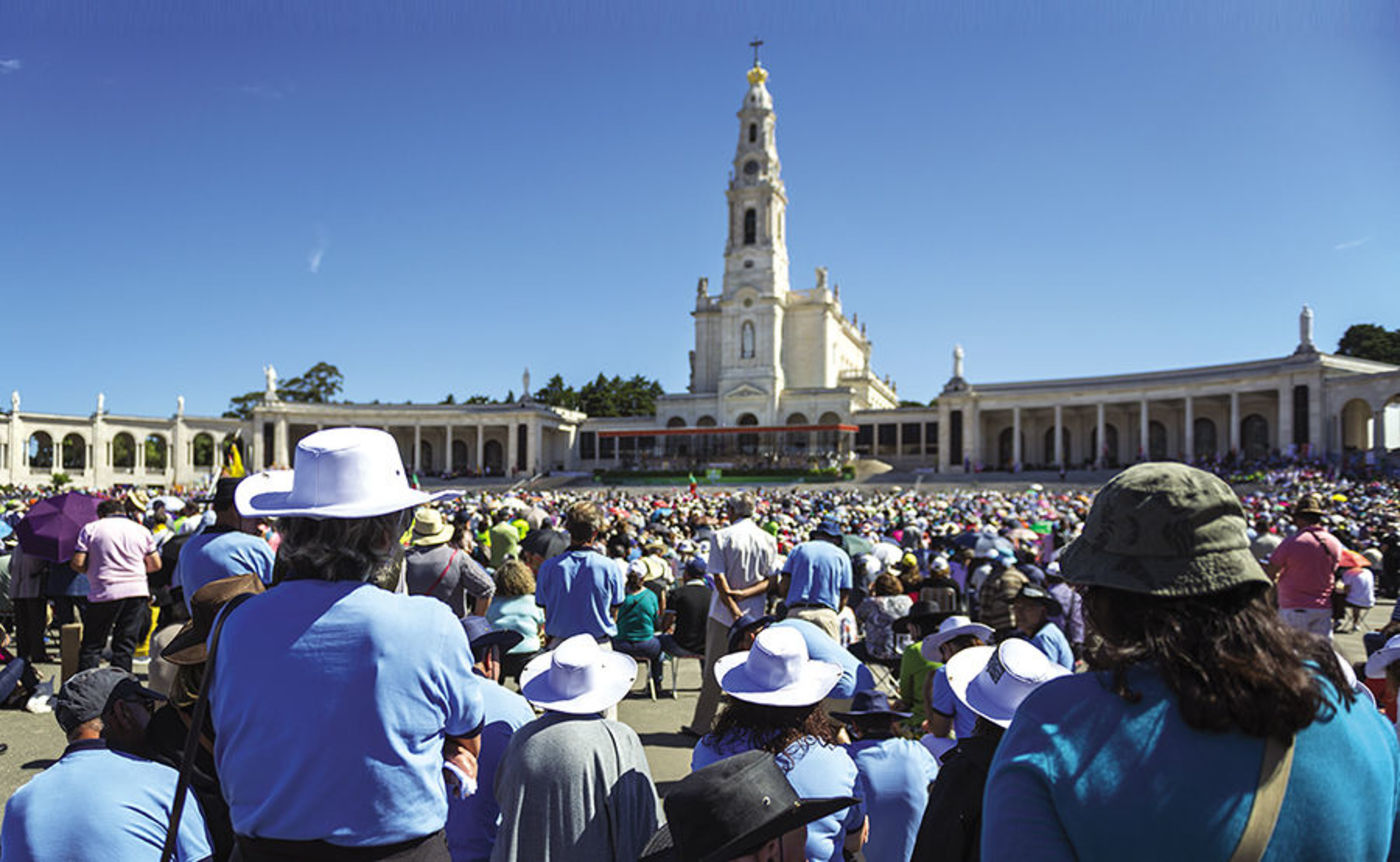 When I heard about what happened at the anniversary Mass, I wanted to find out more from "Bishop Dave," as he is commonly known.
We happened to both be in Baltimore for the November meeting of the United States Conference of Catholic Bishops and I took the opportunity to ask him a few questions about what was going on that night at St. Andrew's and what's going on in the Church today, what God is calling us to — as it is clear he is seeing the Lord's will with fresh eyes post-pilgrimage.
Kathryn Jean Lopez: What is it that was so powerful for you that night, and certainly during our time at Fátima and Lourdes.
Bishop David O'Connell: I think the Blessed Mother is doing something among us; I think what she's doing most of all is trying to turn our hearts back to focus on the children and young people and their suffering as the most important work of any civilization, of any church, of any organization. We need to be concerned about the suffering of children. … That's where she's calling us.
Remember that in Fátima and Lourdes, the Blessed Mother reached out to children in those two places. They were poor children; think of Bernadette, who was so poverty stricken, and had difficulty in school — learning.
These children were on peripheries, not only because of poverty, but also because, at that time, children … were not to be seen or heard. They did not have childhoods for the most part. Children like these little ones were already working — shepherds, herding the flock.
Mary didn't come to the bishops, the monsignors or the priests, the mayors of the cities. She went to children.
And while we usually focus on the message that she gave them, what we need to do is focus on the fact that she made a personal outreach to them, she entered into a very loving relationship with them.
So many children suffer so much. I've seen over the years how deeply they suffer as their families are breaking down. They feel abandoned when their dad is gone, or they feel betrayed when their dad has another family. Even the sociologists and the psychotherapists tell us there's a huge phenomenon of children feeling alone and isolated and that there's no adult they can talk to.
In the secular world, they're realizing this. But what we have to realize as Christians is how much more we have to offer the suffering children. As I often tell teachers in Catholic schools, the first step is … access to the compassion and love and consolation offered to them by Mary, offered to them by Jesus. We need to help the children be in that relationship with Mary or Jesus — by talking to Jesus, by talking to Mary, by imagining themselves in the arms of Mary, by imagining themselves walking with Jesus in their lives. Then we're not just teaching the children; we're helping them to be able to enter into that relationship with the Blessed Mother and with Jesus.
We can help them do this by letting them know they can simply talk to Jesus. Introduce them to the rosary. We need to help them bring healing and peace into their hearts by saying his name in their hearts. This is the greatest gift of all we can give to the children.
And we pray that they can bring this gift into their families and bring their families to turn to prayer and have a relationship with Jesus. We have to help them, because they're suffering so much.
Lopez: We were talking earlier about those crucial first years of life for a child. What if they didn't have a strong loving bond with their mother? Can that be made up for?
Bishop O'Connell: Yes, children are suffering so much because they can't develop an ability to calm themselves. There are so many tough situations, including where the moms are so stressed and overburdened with intense hardships. These children still have the Blessed Mother, they still can know her as mother and have a relationship with Jesus. If we introduce children to the Blessed Mother, she can bring them spiritual consolation, which brings emotional consolation, which brings them to a new calm.
What we need to do is teach our people how to be mystics. We have to teach our children how to be mystics. Mystics are ones who are entering into a deep, deep loving relationship with Jesus, and it's a real relationship. It's a healing, life-changing relationship. It's a great gift we can give them.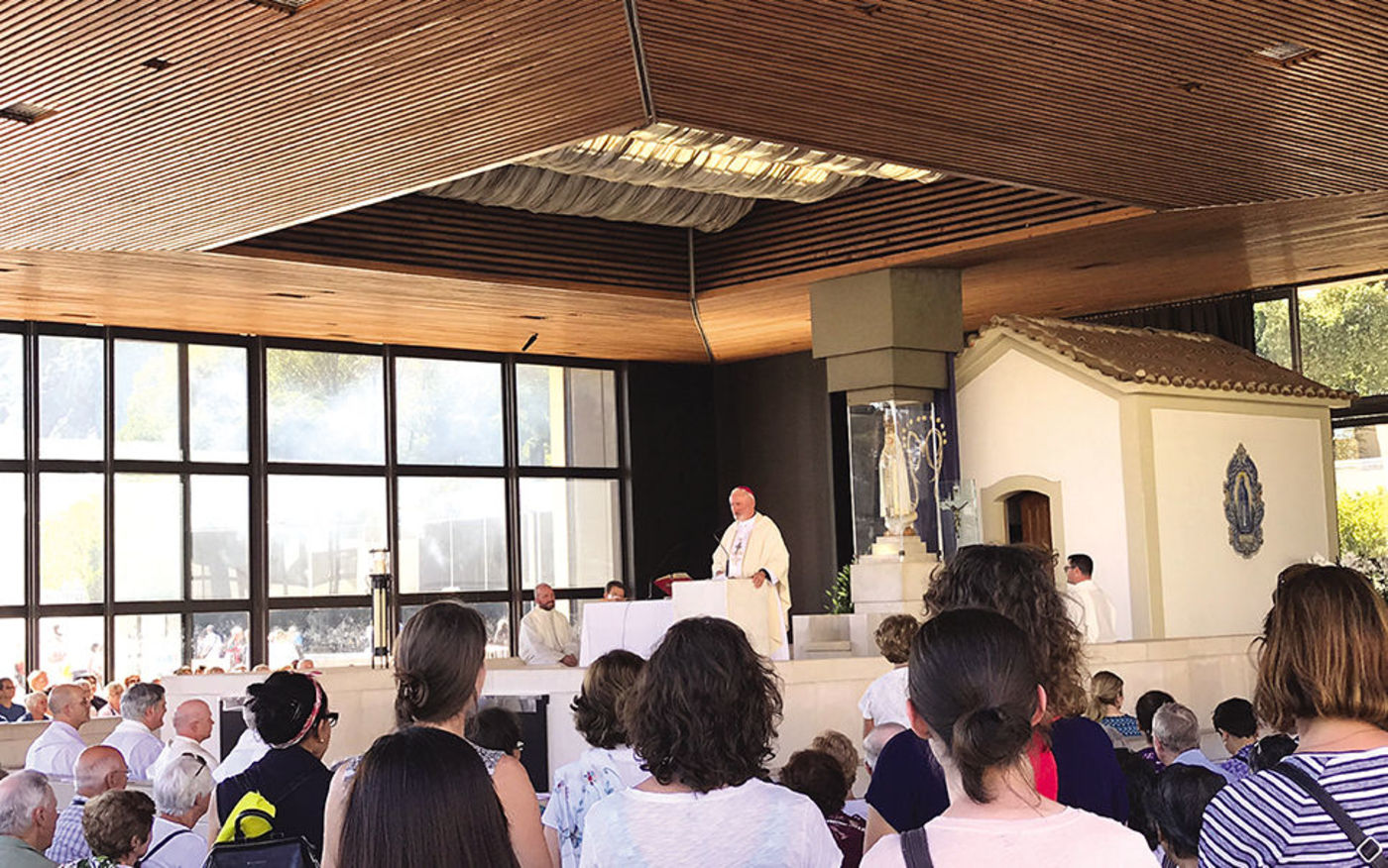 Lopez: So many adults don't have a relationship with the Blessed Mother or Jesus. If that's the case, how could we ever show children how?
Bishop O'Connell: The first step to having a transformed life — I tell this to everybody — is to just talk to Jesus and talk to the Blessed Mother, at this very moment. The Church gives us the best way to talk to the Blessed Mother: the rosary. Find an image of Our Lady that you like — Our Lady of Fátima, Our Lady of Lourdes, Our Lady of Guadalupe — and stand before the image and pray to her. Look at her face and pray the rosary to her.
This is what I do. I say the words as sincerely as I can, as the way to talk to our Blessed Mother. And I feel it. I feel her consolation and help coming into my heart. Sometimes it's a moment of real joy, real deep consolation.
Definitely pray to her, whatever image you've chosen, whatever culture or background you come from. When you talk, look at her beautiful face and say the prayers of the rosary. This is the formula. This is like the code we are given to access to the healing power of our Blessed Virgin Mary. It's the rosary. It's revealed to everybody at this very moment. She'll teach you how to love Jesus.
Lopez: Is that what it means to be a mystic — to talk to Jesus and Mary and enter into a relationship?
Bishop O'Connell: It's probably the culmination of it. And the beautiful thing is that you can get there right away. You don't need to go through all these other steps.
The great thing about a beautiful Catholic faith is that you can break through the transcendent just by talking to Mary, talking to Jesus, even talking to one of the saints — Joseph!
We have this great gift. … So many in the world — philosophers and spiritual guides — are trying to break through to the unconsciousness, to the unseen force, to the loving, blissful presence of the divine in nature and the world. But for us, it's all embodied, especially with Jesus, and incarnate in the Blessed Mother. That's available to us. That's the mystery of the Incarnation.
Think about Fátima again: It's a huge thing that the Lord sent an angel to teach them how to talk to Jesus. That moved me very deeply when the angel taught them to say: "Jesus I love you, Jesus I trust in you. I worship you. I believe in you. I ask pardon for those who don't believe in you or trust in you and worship you."
This is what we should do with the children and the young people in the gangs … just teach them how to talk to Jesus. Jesus, I love you. The angel in Fátima taught the children how to enter into that relationship with Jesus. The angel also gave them the Eucharist — the most powerful way of all that we have in the Catholic faith of entering into that loving relationship with Jesus.
We need to be in front of our eucharistic Lord more and more. Eucharistic adoration is so powerful. I've seen it with the young. I've seen it with people who thought they could not change — alcoholics, men filled with rage. Being present in front of the Blessed Sacrament can change things.
I've seen it in retreats where we would give them a chance to touch the monstrance and they would break down in tears; they'd be touched and moved. God changed their lives. With young people, just recently, after our Youth Education Congress, we invited young adults to come for an evening of adoration; it was beautiful.
I think we need to promote eucharistic adoration more and more at parishes — for people to just come and talk to Jesus, and be close to them. Let them be as close as they can to the monstrance. Let them talk, because he will really touch their hearts. There's a heart that beats in the Blessed Sacrament that is filled with love for them.
We keep talking about the Eucharist being the source of our salvation, of all love, of all healing, of all consolation. … And I think, especially, we want to encourage families to come to the Blessed Sacrament, and it will heal them.
I tell families, "Talk to Jesus with your families. Each one of you, say something to Jesus. Just two of you uniting a voice to talk to Jesus, you're bringing the living presence of Jesus into your home. And you feel it. But what's more so is when you let the Eucharist touch your heart. And just love Jesus in the Eucharist."
Lopez: When we were at Lourdes, did it have an impact on you? What have you been thinking about?
Bishop O'Connell: Lourdes has a special place in my heart and I loved it. I was there maybe 35 years ago with my mother. And shame on me for not being back more often.
This time, in the around the grotto, I found myself touched very deeply. I was brought to tears. I felt like I was being received home. It reminded me of the days when I would come home from Los Angeles after being away for a year, and looking forward to going home and my mother welcoming me home, so happy to see me. It was that same feeling when we went to the Grotto in Lourdes.
I have a deeper love for the Blessed Mother now than I did then, when I was there all those years ago. My mother has been gone for a while now, 20 years.
Especially since I've become a bishop, I've very much felt that the Blessed Mother has loved me and helped me and protected me and guided me. I'm trusting in her more to be the one to help me, because this job is big in so many ways, and I'm so small.
I just have to tell her, "You just guide me. Teach me what to do next. Where to go, what to say." And I think she does. So, going to Lourdes was very beautiful for me. On those days, I wanted to just spend as much time as I could be walking around the grotto, praying the rosary, spending some time just being there. It was beautiful there. I was determined that I would go back there and spend more time there more often.
So that's what Lourdes meant to me this time. And it was beautiful to be there with the people with such faith, too. That was very inspiring. Their faith in the Blessed Mother was so sincere.
Interested in more? Subscribe to Angelus News to get daily articles sent to your inbox.
Kathryn Jean Lopez is senior fellow at the National Review Institute, editor-at-large of National Review and a contributor to Angelus.