The announcement came at noon, Rome time, on Feb. 13. And within hours American social media were alive with celebratory memes, ranging in tone from the inspirational to the absurd.
Pope Francis had authorized a decree confirming a miracle given through the intercession of Blessed John Henry Newman. This cleared the way for Newman to be canonized a saint.
Since his name is Newman, he was inevitably paired, on social media, with the character of the same name from the 1990s sitcom "Seinfeld."
In a way, the association was silly. John Henry Newman was a shy and cerebral man known for his formal courtesy. His life was rich in meaning to the degree that "Seinfeld" was intentionally meaningless.
In another way, however, it was entirely appropriate, for Newman was, in his own day, a media celebrity — a superstar pundit.
Born in London, England, in 1801, he had a religiously indifferent childhood, but at 15 underwent a powerful experience of conversion. He adopted the Protestant Calvinism then typical of the evangelical wing of the Anglican Church.
He pursued studies at Oxford and entered Anglican ministry. He enjoyed reading the writings of the early Christians, who showed him a Church that was more hierarchical, sacramental, and dogmatic than any Protestant church he knew.
Eventually, his researches in early Christianity led him to question the legitimacy of contemporary Anglican practices. He was not alone in raising such questions. With other sympathetic clergy, he began to bring concerns before the reading public. These men became known, collectively, as the Oxford Movement.
They could not have chosen a better moment for their public critique.
Newsprint was the emerging social medium in Newman's day. Newspapers and magazines were flourishing in England, and literacy was on the rise. Religious publications were enjoying especially rapid growth, and many people were fiercely loyal to the periodicals they found most agreeable to their opinions.
Newman benefited from this, as he and his colleagues published their opinions in widely circulated tracts. They were so closely identified with their medium that they were popularly called "Tractarians."
But social media, then as now, have a tendency to consume their own. As the leader of a controversial movement, Newman was exposed constantly to public opposition, some of it reasonably argued, but much of it coarse. He would later complain about "the misrepresentations and slanders with which the father of lies floods the popular mind."
There was, he noted, a ready market for the most vicious content. "Alas! there is no calumny too gross for the credulity of our countrymen, no imputation on us so monstrous which they will not drink up greedily like water."
Newman was a man of powerful intellect and learning that was broad and deep. He was also a master of rhetoric and prose style. His arguments were effective, and so they infuriated the opponents whom they did not persuade. He was, for many decades, the recipient of insults and accusations in the papers and magazines.
In 1845 he became a Roman Catholic, and many of his colleagues and students soon followed him. This turned some of his old friends into opponents, and many of his old opponents into outright enemies.
At the time, Roman Catholics were a minority in England and had only recently been "emancipated." Until 1829 their rights were severely restricted. They were excluded from government positions, and they suffered from prejudice in the courts.
Even after the anti-Catholic laws were lifted, much bigotry remained. Catholics could be casually insulted in the media, and Newman, as a famous convert, often was.
In 1864 a prominent Anglican clergyman, Charles Kingsley, made a passing swipe at Newman, charging: "Father Newman informs us that truth for its own sake need not be, and on the whole ought not to be, a virtue of the Roman clergy."
Newman challenged him to show proof — any proof at all — to support such an accusation. Kingsley could not, but continued to mock Newman anyway, to the delight of his anti-Catholic readers. He was, Newman observed, capitalizing on the bigotry of the populace — "making a cheap reputation by smart hits at safe objects."
Every jab by Kingsley drew a rejoinder from Newman, some of them lengthy and published as tracts. These escalated until Newman wrote the book that many consider his masterpiece, his autobiographical "Apologia pro Vita Sua" ("A Defense of One's Life").
Kingsley had overplayed his hand. Dr. Ryan Marr, director of the National Institute for Newman Studies (NINS), told Angelus News: "The 'Apologia' is a classic of spiritual autobiography, like Thomas Merton's "Seven Storey Mountain." Most would place it just below St. Augustine's 'Confessions'."
Newman's book-length response proved to be a lasting and powerfully effective argument for conversion to Catholicism.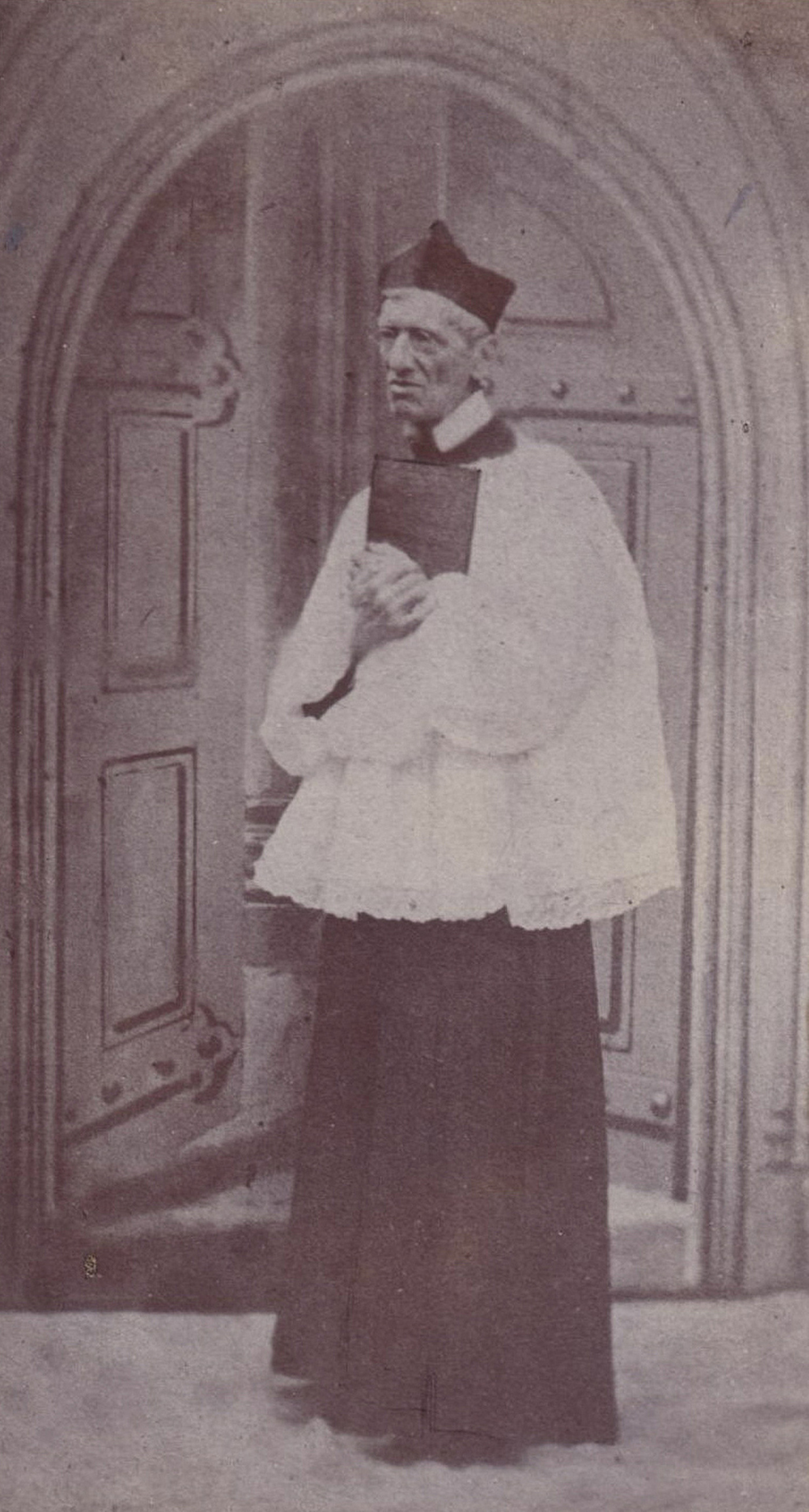 Newman was a private man, ordinarily averse to speaking about himself. But he was also a public intellectual, and he knew that his personal reputation affected the reputation of the Catholic Church in his country. It was his duty to respond, and his response was definitive.
Kingsley never responded, but he stopped trolling Newman.
On yet another occasion, Newman suffered when some of his private letters were leaked to the press. Passages were wrenched from the context of a long correspondence and misused by two groups who were arguing with each other over papal infallibility.
Newman endured the worst of what the media of his time could put him through. He didn't enjoy it, and he admitted that it rattled him.
In later life he confessed "a considerable temptation to despise and to be angry with various persons who are engaging in this matter — as very shallow, as not knowing the English language — as not looking at the drift and context of what I wrote, but as taking my isolated words to comment on."
Marr believes these qualities and experiences will make Newman an especially effective patron saint for our own day. "Those who have experienced unjust attacks on social media," he said, "can take encouragement from the fact that one of the great Catholic theologians of the 19th century — and a truly holy man — endured similar volleys against his reputation in the media contexts of his own day."
In addition to directing NINS, which is in Pittsburgh, Marr is an editor of the "Newman Studies Journal" and author of a book about Newman's theology of the Church, "To Be Perfect Is to Have Changed Often" (Rowman & Littlefield, 2018, $85). He also contributed to the magisterial "Oxford Handbook of John Henry Newman" (Oxford University Press, 2018, $150).
"As our society has become more secular," Marr observed, "it has paradoxically become more stringent in its policing of public speech and what counts as acceptable thought. The ghost of liberal Protestant social mores has not so much disappeared as migrated into the lives of America's upper-middle class.
Meanwhile, social media provide new and efficient ways of policing violations of the code of political correctness."
He noted that "lives can be quickly ruined" by "doxxing," the leaking of personal information about an individual "who — in the judgment of the doxxers — has transgressed the boundaries of permissible opinion."
Still, he added, God brings great good out of apparent ruin. Newman's masterpiece was written as a response to Kingsley's harassment. The same kind of good can come about in the lives of those who are abused on social media today.
Newman, Marr proposed, "might come to be held up as the patron saint of those who have been doxxed or otherwise ruined on social media."
Mike Aquilina is a contributing editor to Angelus News and the author of many books, including "Take Five: Meditations with John Henry Newman," co-authored with Father Juan Velez.
SPECIAL OFFER! 44 issues of Angelus for just $9.95! Get the finest in Catholic journalism with first-rate analysis of the events and trends shaping the Church and the world, plus the practical advice from the world's best spiritual writers on prayer and Catholic living, along with great features about Catholic life in Los Angeles. Subscribe now!