ROME — In the late St. Pope John Paul II years, one of Rome's favorite parlor games was to try to figure out who was behind a particular decision that came with the pope's signature, but which we all knew wasn't necessarily initiated by the ailing pope himself.
For the most part, the cast of characters in the inner circle was clear — figures such as then-Archbishop Stanislaw Dziwisz, John Paul's priest-secretary, and Cardinal Angelo Sodano, the Vatican's secretary of state.
The drama was created by the fact that these heavyweights didn't always see eye to eye, and so it was intriguing to measure whose influence weighed the most when the Vatican made a move.
The same dynamic applied to some extent under Pope Emeritus Benedict XVI, although the question of who had the most pull with the pontiff was a bit easier to answer — it was clearly German Archbishop Georg Gänswein, Benedict's priest-secretary, who now has become his conduit to the outside world.
That bit of Vatican background raises the question: Who today is Francis' Dziwisz, or his Gänswein? Who, in other words, shapes decisions, controls access, and in general has the heft to act in the pope's name?
We got another lesson in who doesn't play that role on New Year's Eve, when American journalist Greg Burke and Spanish journalist Paloma Garcia Ovejero resigned as the pope's spokespersons.
In theory, Burke and Garcia should have been insiders, sitting at the table when important decisions were made in order to help the pope and his team understand how they would be received, thereby avoiding potential misunderstandings and, from a PR point of view, defusing the bomb before it went off.
In reality, it never played out that way. Burke and Garcia did not have direct access to the boss, instead reporting to the Vatican's Secretariat of State. On many matters they were as stunned as everyone else when the pope said or did something controversial, caught off guard and scrambling to keep up.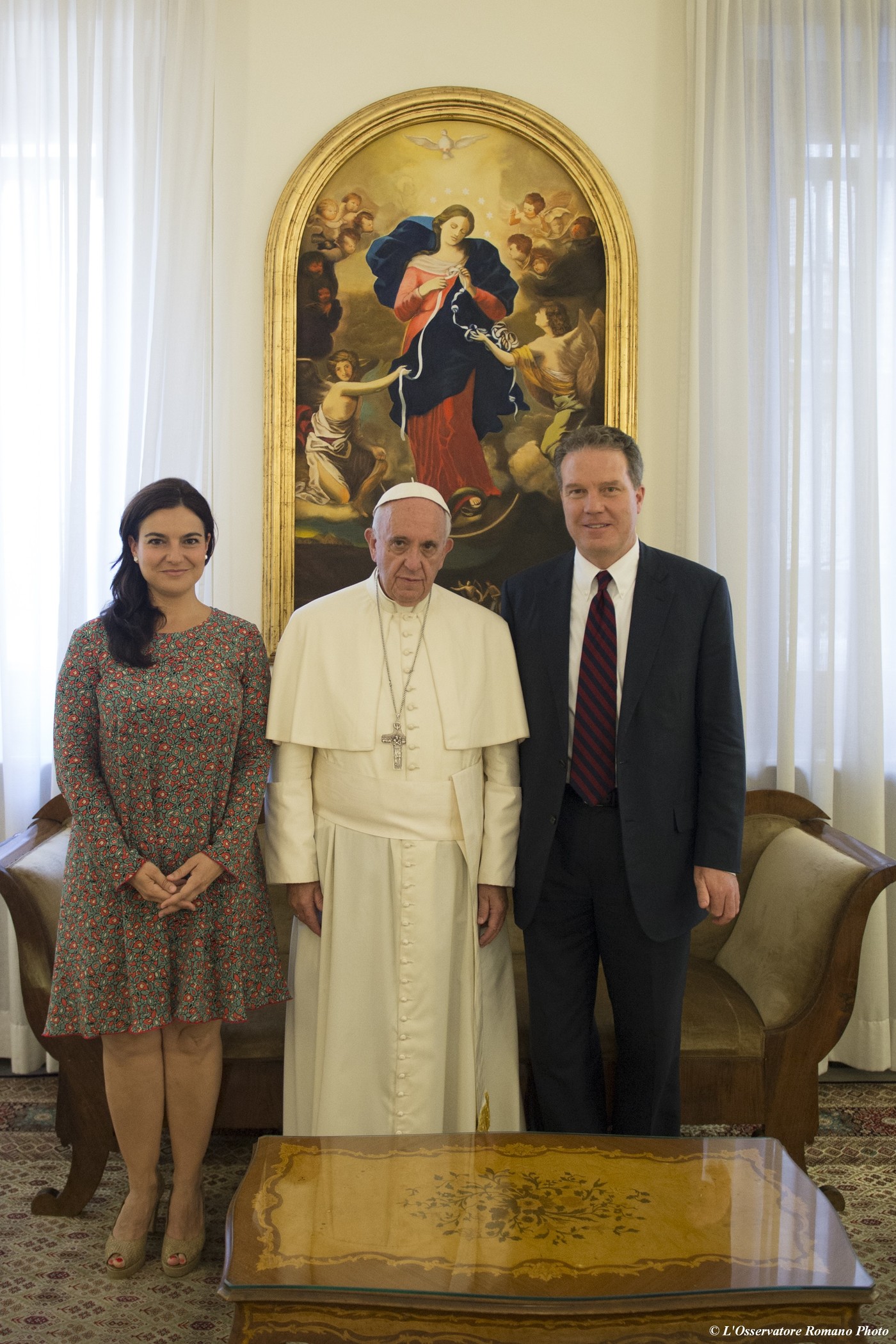 So if it's not the pope's mouthpieces, who does really have his ear?
One key to understanding Francis, actually, is that there simply is no "éminence grise" ("gray eminence") of this regime, no power behind the throne, in the manner to which Vatican-watchers grew accustomed over roughly the last 35 years.
Undoubtedly deliberately, Francis keeps his own counsel and has not become dependent on any one figure to help shape his entire papacy. Instead, there's a handful of key people he trusts on certain matters, but no one other than him is really steering the whole.
For instance, on personnel appointments (including key bishops around the world) and matters related to Vatican reform, Francis has sought the input of Cardinal Oscar Rodriguez Maradiaga of Honduras, a fellow Latin American and, like Francis, a prelate from the more moderate/pastoral wing of Latin American Catholicism.
It's well-known, for instance, that it was Rodriguez who brought then-Bishop Blase Cupich of Spokane to the attention of Francis when he was on the market for a new archbishop of Chicago. Until recently, Rodriguez was the coordinator of the pope's "C9" council of cardinal advisers, responsible for overseeing reform of the Roman Curia.
However, there's no indication Rodriguez Maradiaga had any particular influence with Francis in terms of his diplomatic activity, or his handling of the clerical abuse crisis, or any number of other important matters that come across a pope's desk.
In that sense, one could say Francis has "compartmentalized" the "consiglieri" ("councilors") — people who may advise him on the trees, but only he really tends to the forest.
Similarly, Italian journalist Andrea Tornielli is obviously someone who enjoys Francis' trust and favor, having been named recently to a new position of "editorial director." The pontiff clearly relies on Tornielli to help craft his public messaging, but there's little sense that Tornielli will also be at the pope's side when he makes key decisions on other matters.
Rodriguez's departure from the C9 illustrates another feature of Francis' leadership style, which is that people in his inner circle tend to come and go, with no one really being completely indispensable.
As an example, many Vatican-watchers were convinced from 2015 to mid-2018 that the single most powerful figure in this papacy other than Francis himself was probably Italian Archbishop Giovanni Becciu, who served as the "substitute" in the Secretariat of State, a role akin to the chief of staff for a U.S. President.
At his peak, Becciu appeared to be winning all the fights, including over the direction of the much-vaunted financial reform launched by Francis in 2013.
Yet in September, Francis made Becciu a cardinal and named him prefect of the Congregation for the Causes of Saints, a move widely read in Rome as a classic case of "promoveatur ut amoveatur," meaning promoting someone in order to get rid of them.
Speculation had it that Francis was concerned Becciu had accumulated too much influence and he wanted to clip his wings a bit, redistributing power to others. In any event, the practical reality is that a man once regarded as the closest thing to a "majordomo" (head steward) in the Francis era is now playing a significantly reduced role.
The bottom line on Francis is this: He's his own man, intentionally not beholden to anyone to an excessive degree. The logical implication is that when he succeeds, he gets the lion's share of the glory — and, of course, that when he fails, there's really no one else to blame.
SPECIAL OFFER! 44 issues of Angelus for just $9.95! Get the finest in Catholic journalism with first-rate analysis of the events and trends shaping the Church and the world, plus the practical advice from the world's best spiritual writers on prayer and Catholic living, along with great features about Catholic life in Los Angeles. Subscribe now!