All those holiday chestnuts — "The Nutcracker," "It's a Wonderful Life," "'Twas the Night Before Christmas" — have stood the test of time for a reason.
Still, I usually try to avoid writing about them. And while we're on the subject, for my money, you can hardly beat Dylan Thomas reading his own "A Child's Christmas in Wales," a work of art so unique that it defies labels: Short story? Memoir? Poetry?
Perhaps the king of them all, however, is Charles Dickens' "A Christmas Carol."
By the early 1840s, Dickens (1812-1870) was an established novelist and journalist. Notoriously appalled by the working conditions of men, women, and children in Victorian England, he began what would become "A Christmas Carol" in October 1843.
He finished the manuscript in a feverish six weeks, later saying that as he walked the streets of London, the characters were "ever tugging at his coat sleeve, as if impatient for him to get back to his desk and continue the story of their lives."
Why do we never tire of this story? Perhaps because Scrooge is an archetype and he lives in all of us. He is the older brother standing at a distance, lips pursed, while the father rejoices at the return of the Prodigal Son. He is that part of us that whispers, "I earned my money; why should I share it?"
He is that shadow, moldering in our subconscious, that begrudges others their happiness and their fun. Scrooge lives alone, "secret, and self-contained, and solitary as an oyster." His rooms are dank, cold, unlit. "Darkness is cheap, and Scrooge liked it."
Scrooge, in spite of his wealth, is all that is stingy, mean, crafty, conniving, and grasping. The Cratchits, in spite of their poverty, are all that is generous, hopeful, spontaneous, and merry. At Christmas — for once — we all know who wins.
The 28,000-word novella has inspired dozens of movies, musicals, TV specials, and theater productions. One of them, at Pasadena's A Noise Within Theater, opened on December 1 and runs through the 23rd.
For many of us, the 1951 movie with Alistair Sim as Scrooge is iconic. Once I got past that, however, the show was huge fun. Kids will love it. Marley, Scrooge's late business partner, enters down a shadowed aisle, emblazoned with spectral green lights and bent beneath clanking chains bedizened with rags, padlocks, and the safes in which he hoarded his money.
The Ghost of Christmas Past, a raven-haired lady in white, whisks Scrooge back to his youth, where he spurned the young woman who loved him in favor of the pursuit of wealth. The Ghost of Christmas Present, gotten up as a human cornucopia, allows Scrooge to sit in on the holiday merrymaking of his relatives, who shake their heads over his curmudgeonly greed. The Ghost of Christmas Yet to Come, a creepy phantom shrouded in black, shows Scrooge his future deathbed and grave. Mourned by no one, he is consigned to the darkness and loneliness with which he chose to live on earth.
The production, interspersed with excerpts from the book read by narrator Frederick Stuart, stays faithful to the text.
Scrooge's (Geoff Elliott, who also adapted for the stage) "Bah Humbugs" quaver in terror before the specter of a loveless eternity, and undergoes his transformation of heart wonderfully.
Rafael Goldstein gives an especially fine performance as Scrooge's nephew Fred. The sets, lighting, props, and staging are inventive and first-rate.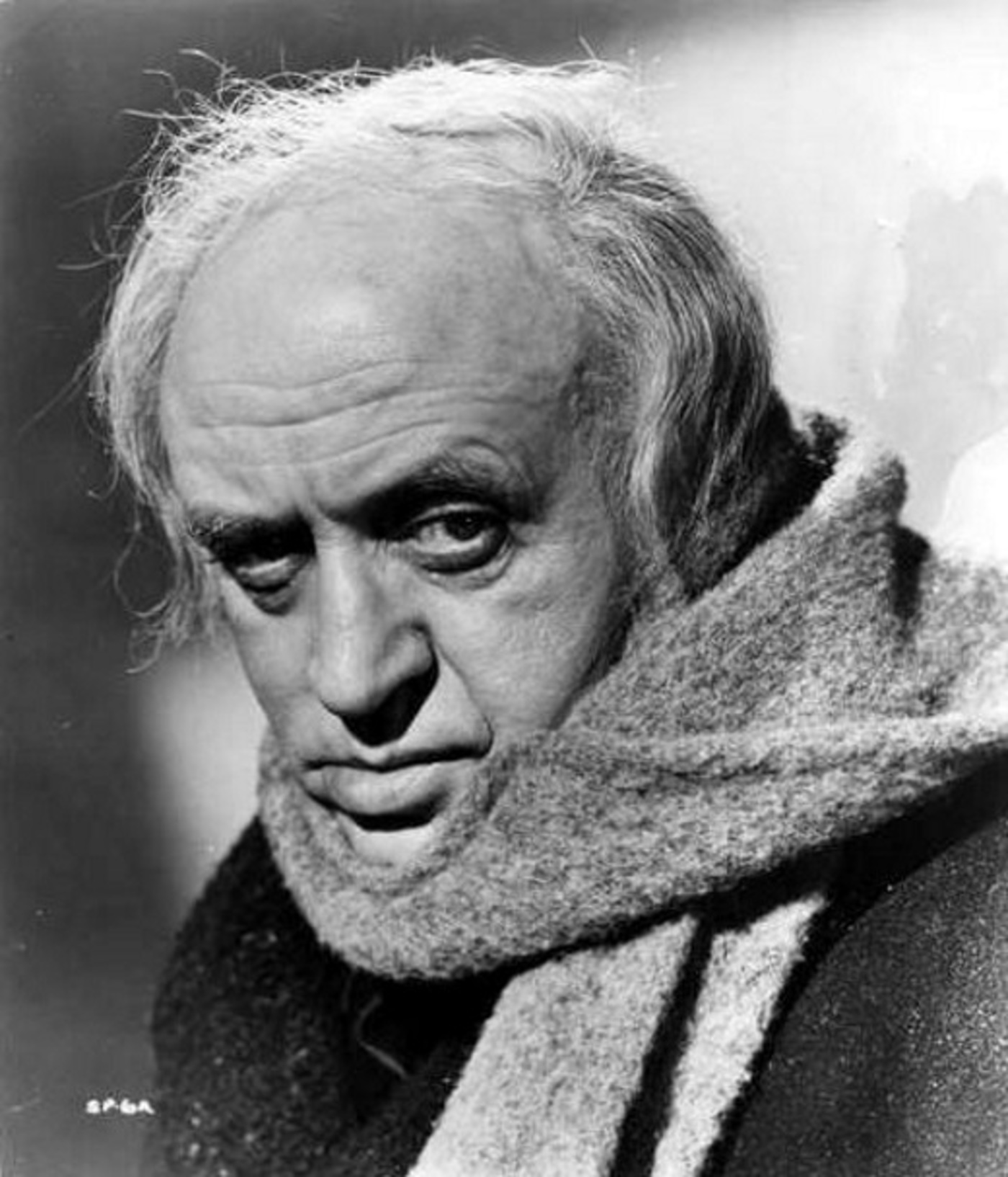 It's worth noting that "A Christmas Carol" would have landed with a thud had Scrooge simply signed over his fortune to the Cratchits and returned to his cheerless chambers.
Instead, on the day the world commemorates the birth of a child, he emerges from his isolation a new man. He sticks his head out the window, arranges to have a huge turkey delivered to the Cratchits, and tips everyone in sight.
In the book at least, also worth noting, he goes to church.
Then he takes up the invite issued on Christmas Eve by Fred, sits down at the table, and shares a meal with the family. He gives Bob Cratchit a raise the next day and promises to look after Tiny Tim.
With all that, he doesn't redeem the people around him with his money. Rather, they redeem him with their love.
Bob Cratchit and his suffering little son go to church on Christmas day, too. The passage describing their return home illuminates the book in much the same way the star over the manger in Bethlehem guided the shepherds to the infant Jesus:
" 'And how did little Tim behave?' asked Mrs. Cratchit when she had rallied Bob on his credulity, and Bob had hugged his daughter to his heart's content. 'As good as gold,' said Bob, 'and better. Somehow, he gets thoughtful, sitting by himself so much, and thinks the strangest things you ever heard. He told me, coming home, that he hoped the people saw him in the church, because he was a cripple, and it might be pleasant to them to remember upon Christmas Day who made lame beggars walk and blind men see.' "
All stories are true, as they say. Some of them actually happened.
Heather King is a blogger, speaker and the author of several books. For more, visit heather-king.com.

SPECIAL OFFER! 44 issues of Angelus for just $9.95! Get the finest in Catholic journalism with first-rate analysis of the events and trends shaping the Church and the world, plus the practical advice from the world's best spiritual writers on prayer and Catholic living, along with great features about Catholic life in Los Angeles. Subscribe now!