Sister Ann Stephen Stouffer died on Dec. 9 at Clinton Gardens In Clinton, IN. She was born on Feb. 26, 1939 in Wabash, Indiana, to Howard and Katherine Murnan Stouffer and was baptized Judy Marie.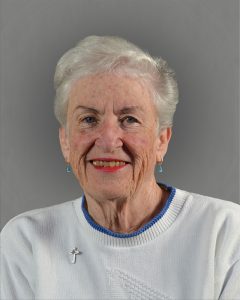 Sister Ann Stephen entered the Congregation of the Sisters of Providence on Feb. 2, 1960 and professed Final Vows on Aug. 15, 1967. She earned a bachelor's degree from St. Mary-of-the-Woods College and a master's degree from Indiana University. Of her 62 years as a Sister of Providence, she ministered in education for 44 years in Indiana, Illinois, and California. In California, she worked at St. Ambrose in Hollywood from 1987-88, and at St. Anthony School in Gardena from 1975-85, and as principal there from 1988-2007. In 2008, she returned to the Motherhouse to serve as Administrator of Providence Hall. As her health began to diminish, she gave service in a variety of ways and beginning in 2019, she committed herself totally to the ministry of prayer.
Sister Ann Stephen had a beautiful smile, sparkling blue eyes and great wit. She loved the out-of-doors, whether it was organizing camping trips or tending to the flowers and shurbs in Providence Hall Courtyard. She was a faithful friend to many, building relationships that endured wherever she ministered.
She is survived two brothers, Stephen Stouffer of Indianapolis and John Stouffer of McCarmick, SC. She is preceded in death by a brother, James Stouffer.