Monsignor Michael Joseph Slattery, 84, of Valencia, CA, peacefully passed away in his sleep February 15, 2023, at Mary Crest Manor in Culver City.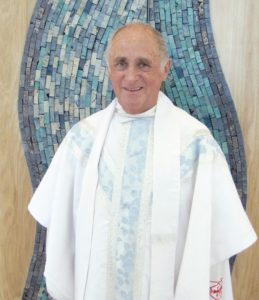 He was born in Fermoy, County Cork, Ireland, to John and Kathleen (McNamara) Slattery on December 22, 1938. He grew up in Tallow with his four sisters and two brothers, working on the family farm, frequently tending to sheep. This foreshadowed the next phase in his life — becoming a priest and shepherd of souls.
This vocation to serve God led him to attend St. John's Seminary in Waterford, Ireland, where he studied Latin, philosophy, and theology, studies that stayed with him his entire life. Even in his last days, he could recite a plethora of prayers from memory and loved singing, especially the Salve Regina. Shortly after being ordained on June 17, 1962, he arrived in Los Angeles (quite the culture shock) to begin his career at St. Rose of Lima in Simi Valley. He would go on to serve at six more parishes; Our Lady of Perpetual Help Church (Newhall, CA), St. Mary Church (Palmdale, CA), St. John Eudes Church (Chatsworth, CA), St. Euphrasia Church (Granada Hills, CA), St. John Baptist de la Salle Church (Chatsworth, CA) and finally, St. Kateri Tekakwitha Church (Saugus, CA).
Msgr. Mike was a prolific reader, enjoyed music, golf, watching the horse races, going on long walks and having lively conversations with friends or strangers.
After a devastating earthquake in 1994, Msgr. Slattery was faced with rebuilding St. John Baptiste de La Salle Church. Perhaps it was this experience that helped him build the very beautiful St. Kateri Tekakwitha Church from the ground up to become the second largest parish in the Archdiocese of Los Angeles.
He was a charismatic leader and had a gift for healing. Tens of thousands of people will tell you of their great affection for him. Thousands will fondly tell you about his wonderful sense of humor. Hundreds will attest to the miracles that happened through his anointings. Anyone who came to know Msgr. Mike was undoubtedly touched in some way. Some were inspired to become Catholics, some were inspired to become more involved with their faith communities and donate their time, talent and treasure, and some were just inspired to be better people.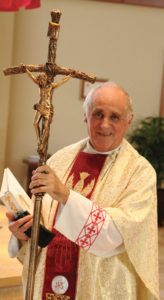 We will miss Msgr. Mike; his brilliance, the twinkle in his eyes, his humor, his compassionate and giving nature and so much more. We are grateful for our time with him on earth and can't wait to see him again one day.
He is survived by his sisters Angelique and Carmel, brother James, and many nieces and nephews, as well as dear friends.
Monsignor Slattery's funeral Mass, which will be held at St. Kateri Tekakwitha Church, is still pending. Visit the parish website, saintkateriparish.org, for updates.