Hermine A. Lees, former staff writer of The Tidings and editor of the archdiocesan Catholic Directory, died July 3 at her home in Cambria of natural causes.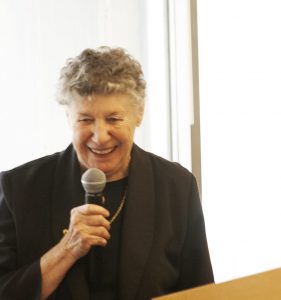 A lifelong Catholic, Mrs. Lees served nearly 29 years as a staff writer for The Tidings (predecessor publication of Angelus), from January 1986 to October 2014. She earned a Catholic Press Association first place award in 2003 for age-group reporting, and contributed to The Tidings' General Excellence awards in 2002 (second place), 2003 (first) and 2006 (second).
In 1994, Mrs. Lees became editor of the Los Angeles Archdiocese's Catholic Directory, a post she held for 15 years, introducing a number of innovations to make the directory more readable and user-friendly.
At The Tidings, Mrs. Lees reported on all facets of local church life, with a particular interest in ecumenical/interfaith affairs and local church history. From 2001 to 2014, she wrote historical sidebar pieces to accompany "The Faces of God" parish profiles by St. Joseph of Carondelet Sister Nancy Munro that appeared monthly.
Msgr. Francis Weber, archdiocesan archivist and interim editor of The Tidings in 1990, worked closely with Mrs. Lees on numerous projects over the years, including "A History of the Archdiocese of Los Angeles," published in 2006. Known and appreciated by her colleagues for her rigorous and devoted persistence in fact-checking, Mrs. Lees compiled appendices for the 432-page volume.
Born Hermine Anna Woerlein in Oak Park, Illinois, she came as a young girl with her family to Los Angeles and attended local Catholic schools in the downtown area. She graduated from Los Angeles Catholic Girls High School (now Bishop Conaty-Our Lady of Loretto High School) and Immaculate Heart College, and for a short time was an Immaculate Heart sister.
She left the religious life and married Walter Lees in 1957, but she remained a member of the Immaculate Heart Community throughout her life. She and her husband raised six children — Paul, Michael, Teresa, Peter, Mary and John — in All Souls Parish, Alhambra.
At All Souls, the Lees family became good friends with Father (later Msgr.) Royale Vadakin, an associate pastor in his first assignment. When Father Vadakin in the early 1970s began what became the Catholic-Jewish Women's Dialogue, Mrs. Lees was among the first laypeople to join the outreach that has worked for nearly 50 years to strengthen local interfaith relations.
A longtime parishioner of All Souls, Mrs. Lees also attended Holy Family Church in South Pasadena and Santa Rosa Church in Cambria. For a number of years, she managed the bookstore at La Casa de Maria Retreat Center in Santa Barbara, a ministry of the IHM community, and she contributed to many IHM newsletters and outreach efforts.
Predeceased by her husband, Walter, she is survived by her six children, 10 grandchildren, and four great-grandchildren. Funeral services are pending.
— Mike Nelson