Frank Ponnet died Wednesday, July 7, 2021. He was 67 years old.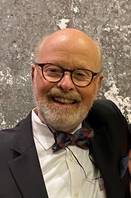 Frank A. Ponnet was the son of Frank Joseph Ponnet and Mary Louise Breen Ponnet. The Ponnet family was part of St. Luke's Temple City. Frank attended Our Lady Queen of Angels Minor Seminary and St. John Seminary (Class of 1975). During the summer Frank would support the ministry efforts at St. Luke's under the mentorship of Fr. John Birch. Upon graduation from college, Frank joined Maryknoll for one year.
In 1977 Frank began his career as an educator. He taught at Our Lady of Loretto, Mayfield Senior School, and a few long-time substitutions at local Catholic high schools.  
During the summer of 1979, at a workshop for youth ministers, Frank met Dawn Kopitcke. The two fell in love and were married in August 1980. For decades Frank and Dawn worked at Holy Family in South Pasadena. Over the years, Frank had many roles: youth minister, RCIA director, adult faith formation, and director of worship, just to name a few. He also supported the work of the archdiocese, namely, the Religious Education Congress, liturgical training, and sessions on bereavement.
Frank and Dawn loved their children Anastasia (Stacey) and Luke. Frank's children attended Holy Family Elementary, LaSalle, St. Francis, and Loyola Marymount. Luke and Stacey were recently married, and Frank was so happy to be able to attend both weddings. 
Frank and his family are grateful to the medical professionals that helped him over the last few years. He will be sorely missed by the Holy Family Community, and by his friends and family. 
In charity and kindness, please remember Frank in your Masses and prayers, along with his wife Dawn Ponnet, children Luke Ponnet and Stacey Kodani, twin sister Mary Boles, and siblings Elizabeth Castro, Jim Ponnet, and Fr Chris Ponnet, pastor at St. Camillus Church. 
Services are as follows: 
Vigil: Friday, July 16, 7 p.m., at Holy Family Church, 1501 Fremont Ave., South Pasadena, CA, 91030. Attendees are invited to share experiences with and stories about Frank.
Funeral Mass: Saturday, July 17, 10 a.m. at Holy Family Church.
Interment to be arranged at a later date and time.
Condolence cards may be sent to Dawn Ponnet at Holy Family. 1527 Fremont Ave., South Pasadena, CA, 91030.