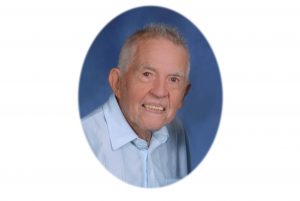 Edward (Ed) Louis Peffer was welcomed into the world on February 17, 1927 in Duluth, Minnesota by his mother Evelyn, father Robert, and older sister Charlene. The family added Yvonne (Bonnie), moved by train to St. Paul, and settled on Hamline Ave. He welcomed two more sisters, Marlyss and Roberta (Bobbie). They attended St Columba Elementary School a few blocks away, where Ed's artistic talent was recognized by his third grade teacher. 
In the summer of 1944, between his junior and senior year in high school, Ed contracted polio. He spent nearly a year in the hospital, including his 18th birthday. His mother committed that she would say a rosary every day for the rest of her life should her son be able to walk again. This had a profound influence on Ed's faith. 
Ed was able to attend the University of Minnesota on a disability scholarship. He often came home from campus with torn pants — evidence of frequent falls on icy sidewalks. He realized he couldn't make a living with art, so he majored in journalism. One of Ed's favorite Bible verses was: "You will know the truth and the truth will set you free (John 8:32)." Ed developed a lifelong passion for seeking the truth and standing up for what he believed in. 
After graduation, Ed moved to Little Falls, where he worked for the local newspaper. At the urging of his father, who worried about his balance in the Minnesota winters, Ed moved to sunny California in 1951. 
He landed a job with The Tidings (predecessor of Angelus), the Catholic publication of the Archdiocese of Los Angeles, where he worked creating ads, selling ads, and writing until his retirement in 1991. 
In 1960, Ed met Marjorie Bock at a Catholic Alumni club dance — Marge was invited by the instructor to help teach a dance. Their first date was watercoloring at Long Beach harbor. They were married on February 11, 1961, and celebrated over 61 years of marriage together, sharing a common faith and love of family, art, music, and nature. They were members of the St. Irenaeus choir for 15 years, his low bass complementing his wife's alto voice. 
Ed volunteered for Heifer International, an organization that sends animals to people in developing countries to help lift them out of hunger and poverty. He was a docent for the Shroud of Turin Center when it was in Huntington Beach. He was a staunch Republican, promoting Natural Family Planning, pro-life policies, bubble-up economics, and anti-communism. He was an avid gardener, growing tomatoes and keeping fruit trees. Ed was a kind, gentle, and quick-witted man, who kept his sense of congeniality and humor until the end. 
Ed passed away at home on June 14, 2022, at the age of 95 after a years-long battle with Alzheimers. His spirit has been released from his aging mind and body and restored to God. He leaves us with a reminder to speak the truth and stand up for what you believe in, eat good food, paint, laugh, sing, volunteer, and pray every day.
Ed Peffer is predeceased by his sister Charlene (Lamson) and Bonnie (Jared) and is survived by his wife Marjorie (nee Bock), daughters Mary Ann (David Dhuyvetter), Loretta (Tim Reust), Joanna (Neal Schirle), and Therese (Nils Kauffman), and son Ed A. Peffer; his grandchildren (Nick, Liz, and Sarah Dhuyvetter; Greg and Justin Reust; Evan, Erin, and Lauren Schirle; and Marcus and Dominic Kauffman); and his sisters Marlyss Petersen and Roberta (Bobbie) Franklin. 
Services will be held at St. Irenaeus Church Hall on July 30, 2022, at 10:30 a.m. In lieu of flowers, we invite you to make a donation to Heifer International, or plant, paint, or tell a pun in his memory.