Deacon Willard J. Hall, Sr., died Sunday, January 16, 2022.
Willard Judson Hall was born in 1932 in Natchez, Mississippi. In 1951, shortly after graduating high school, Willard married the love of his life, Emma Matthews. Their union would last for more than 70 years and bring forth five beautiful children. The following year, Willard and his new bride moved to Los Angeles, CA.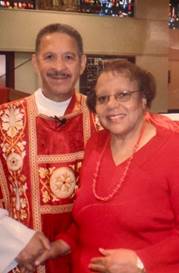 Willard had a long and successful career in business. He began building aircraft for Rockwell International, but felt called to a career in sales, where he could leverage his love for people. He went to work for Boys Market, beginning as a box-boy and working his way up to Store Manager, the first African-American to earn this distinction. He moved on again, this time as a sales representative for Lawry's, winning 'Salesman of the Year' in his first year. He stayed there until 1990, when he retired as executive sales manager and trainer.
Willard always felt the call to serve the Church and his local community, and in 1990 he was ordained a permanent deacon for the archdiocese. He was assigned to St. John the Evangelist Church in Los Angeles, where he served faithfully for many years. He was the first African-American deacon to serve as a Parish Life Director, where he led the community at St. Eugene's in Los Angeles for over a year until a priest minister could be found. He also served as chaplain for many years to the incarcerated men at the Century Regional Detention facility in Lynwood and Men's Central Jail in Los Angeles. But nothing brought him more joy than the work he did with the Knights of Peter Claver Council #99, where he rose to the rank of 4th degree knight and served as the council's Grand Knight. Willard was filled with the light of Christ, and he let that light shine forth in everything he did.
Willard is survived by Emma, his wife of 70 years; by his children Butch (Diane), Michael, Kenneth, Donna (Adrian) and Rochelle; grandchildren Derik (Sandra), Kahiir, Ashley (Calvin), Reiichi, Jordan, and Shaley; great-grandchildren Kyle, Reiichi Jr., and Kash; brother Marion Davis; and a host of nieces, nephews, family and friends.
Funeral Mass
Saturday, Jan. 29th at 11:00 A.M. (Viewing at 10AM), St. John the Evangelist Catholic Church, 6028 South Victoria Ave., Los Angeles, CA
Interment
Saturday, Jan. 29th at 2:00 P.M., Holy Cross Cemetery, 5835 W Slauson Ave., Culver City, CA.
Priests/Deacons wishing to attend the funeral Mass are invited to vest in alb and white stole.
Condolence cards may be sent to: Mrs. Emma Hall, 5136 West Blvd., Los Angeles, CA  90043