Deacon Shawn Vedro died Friday, October 14, 2022.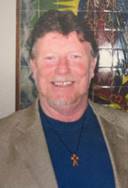 Shawn was born in 1957 in Eureka, CA, to Stanley and Leona (Catlin) Vedro. His family moved to Fresno, where Shawn grew up, and then entered the U.S. Air Force. On August 9, 1986, Shawn married his wife Helen Goveia at St. Vincent Church in Vallejo, CA. After living in Sacramento in the first few years of their marriage, they eventually moved to Santa Maria, becoming parishioners at St. Louis de Montfort Parish. Shawn worked in transportation for the majority of his working career.
Shawn had a love for catechetical ministry and welcoming children into the church.  His zeal for this ministry caught the attention of their senior priest, Fr. Campion Aspinall, who recommended that Shawn consider the diaconate. This recommendation confirmed Shawn's own quiet discernment of the permanent diaconate. Shawn eventually entered diaconate formation in 2003, and he was ordained on June 16, 2007, at the Santa Barbara City College. Deacon Shawn was assigned to St. Louis de Montfort Parish, where he continued to serve the parish in catechetical youth ministries.
Shawn is survived by his wife of 36 years, Helen Goveia, and his children, Sean, Brandi, and Sarah.
Services will be held at St. Louis de Montfort Church, 1190 E. Clark Ave., Santa Maria. Vigil service: Thursday, Oct. 27, 5:30 p.m., funeral Mass: Friday, Oct. 28, 10 a.m. Priests/deacons wishing to attend are invited to vest in an alb and white stole. Interment will take place at Santa Maria Cemetery.
Condolences may be sent to Helen Goveia, 1545 Solomon View Rd., Santa Maria, CA 93455.
In charity and kindness, please remember Helen and the Vedro family in your Masses and prayers.