Deacon Roland Abalos died Saturday, December 10, 2022.
Roland was born in the Philippines on Sept. 13, 1947. As a young man, he met the love of his life, Lila, whom he married in July 1965. Three years later, they emigrated to California, eventually settling in Burbank. Roland made a successful career for himself in the commercial insurance industry, while his family continued to grow. They were blessed with three children.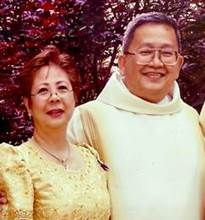 Always a man of deep faith, Roland and Lila made St. Finbar Church in Burbank their spiritual home, and they soon became involved in several parish ministries such as lector, eucharistic minister, and weekly bingo manager. Roland also served in the Filipino Marriage Encounter and Filipino Cursillos in Christianity, ministries which eventually led to his calling to become a deacon.
In 1999, he and Lila were accepted into the Diaconate Formation program, and in 2006, Roland was ordained a permanent deacon for the Archdiocese of Los Angeles, and assigned to St. Finbar Church. He loved presiding at weddings and baptisms, teaching baptism classes, assisting at Mass, training altar servers, and doing vigils and graveside services for the deceased. He served the church with his whole heart until he was no longer able to serve due to illness.
Roland is survived by Lila, his wife of 57 years; three children, Mariza (Lawrence Albers), Roland Jr., (Antonella Grandon), Yvonne (Steve Katsuyama); and four grandchildren, Nathaniel and Larisa (Curly) Albers, and Jessica and Natalie Katsuyama.
A vigil and viewing will be held on Wednesday, Dec. 28, at San Fernando Mission Cemetery, rooms B and C, 11160 Stranwood Ave., Los Angeles, 4 p.m.
Funeral Mass will be held Thursday, Dec. 29, at San Fernando Mission Cemetery Chapel, at 9 a.m. Interment will follow after Mass, with a reception afterwards. Priests and deacons wishing to attend Mass are invited to vest in alb and white stole.
Condolences can be sent to the Abalos family at 214 S. Brighton St., Burbank, CA 91506.
In charity and kindness, please remember Rolando and the Abalos family in your Masses and prayers.