Deacon Paul Lee died Wednesday, December 29, 2021.
Paul Duke Lee was born in 1936 in Inchon, South Korea. After graduating from college, Paul went to work for the U.S. government in Korea.  He later moved to an import/export company and completed his MBA. In 1974, he was transferred to Los Angeles as the company's U.S. regional manager and in 1976, his family emigrated to the U.S. Before retiring, Paul had worked for several companies and owned several successful small businesses.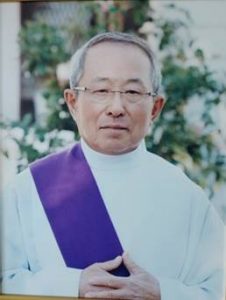 Paul and his family's deep devotion to the Catholic faith resulted from his surviving a severe illness as a baby after being given the Anointing of the Sick by Fr. Paul Im, the local Catholic priest. After recovering from the illness, Paul's family started attending the Catholic church where Fr. Im served as the pastor.  As he grew up, Paul fully immersed himself in the church, including serving as altar server, music director, and in many other activities.
In 1964, Paul married the love of his life, Sylvia. They were blessed with a daughter and two sons. Being a faithful Catholic was always at the center of Paul's life, and led to his call to serve the church as a deacon. In 1997, Paul was ordained a permanent deacon and was assigned to St. Agnes Korean Catholic Church, where he started the Legion of Mary, a ministry that always held a special place in his heart.  Paul enjoyed all aspects of parish ministry, and when he was not working for the Church, he enjoyed time with his family, especially his grandchildren.
Paul was preceded in death by his wife, Sylvia; parents, Choon-Shik and Myung-Keun; sisters, Bong-Soon, Nam-Soon; and, brother, Chin-Ro. He is survived by his children, Christina (Tom), Felix (Chrissy), and Ed (Theresa); grandchildren, Ryan, Rachel, Alex, Alysa, Marissa, and Jocelyn; sisters, Chung-Soon and Kyung-Ja; and brothers, Thomas, Sung-Ro, and Heung-Ro.