Deacon Jon McPheeters died Tuesday, April 20, 2021.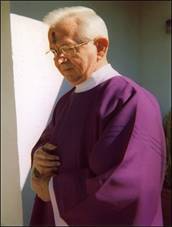 Jon was born in 1938 in Salt Lake City, Utah, to George and Margaret McPheeters. The family moved to Mountain View, California, where Jon met the love of his life, Benita Sandoval. They were married in 1958 at St. Joseph Church in Mountain View. Jon served in the US Air Force at Moffet Field, CA while attending Cal-Poly San Luis Obispo, where he earned degrees in Agriculture and Business Management. In addition, Jon later earned a Law Degree from La Salle University.
In 1965, Jon, Benita, and their daughters moved to Oxnard and joined St. Anthony Catholic Church, where Jon became a devoted usher for the 7:30 am Sunday Mass, and dedicated every Monday evening to the Legion of Mary. The call to give his life in service to Christ led Jon to the diaconate and in 1985 he was ordained as the first deacon for St. Anthony Church. Deacon Jon was deeply devoted to the parishioners of St. Anthony, and also served for many years as the chaplain at St. John's Regional Medical Center, as well as ministering to the homebound. He particularly loved to support St. Anthony parishioners during the funeral rosary and Mass.  He kept every memorial card and prayed for their holy souls every night. Those memorial cards will be buried with him in his final resting.
Jon is survived by Benita, his wife of 62 years, as well as his 6 daughters; Regina, Laura, Lisa, Mary, Jennifer and Amanda; numerous grandchildren and great grandchildren, and his beloved schnauzer, Beau. Deacon Jon's quiet, kind, and thoughtful presence will be missed by all who knew and loved him.