Deacon Jaime Guerrero died Sunday, January 17, 2021.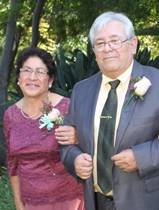 Jaime Guerrero was born in 1948 in Mexico City.  As a young man, he came to Los Angeles to build a life with his wife Dominga. He had a passion for woodworking and turned that passion into a business which specialized in handmade custom furniture. Even with running a company, and raising his nine children with his wife Dominga, Jaime found time to attend Mount St. Mary's College, where he graduated in Ministerial Theology.
That love for Christ led him to answer God's call to serve in ordained ministry. In 2005, Jaime was ordained a Permanent Deacon for the Archdiocese of Los Angeles and assigned to St. Louis of France (SLF) Church in La Puente. Deacon Jaime continued his studies after ordination, eventually earning a Master's degree in Theology from the Graduate Theological Foundation in Indiana. He put his gifts in service to Christ in many ways; he started the Christian Social Services outreach ministry at SLF for needy families, provided marriage counseling, taught pre-baptismal classes, and served for many years as a facilitator in the Deacon Formation program.
Jaime is survived by Dominga, his wife of 48 years; his brother, Rogelio Guerrero; nine children, Martha Olivia Rangel, Fernando Aguero, Nora Aguero, Gabriel Manriquez, Susana Guerrero, Adriana Guerrero, Viviana Eastman-Guerrero, Jaime Guerrero Jr., Andres Guerrero; 27 grandchildren and 11 great grandchildren.