Deacon Jack Ryan died Wednesday, Jan. 4, 2023.
Jack was born in Los Angeles on Dec. 24, 1930, to Edward N. Ryan and Agnes Marie Ryan (née Blithe). He quickly received his first sacrament by his Irish grandmother Mary Murphy Blithe, who couldn't wait for the priest to arrive, so she baptized him on their dining room table.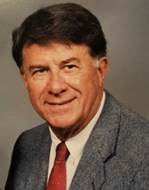 In the seventh grade Jack met his future bride, Rita Blecksmith, when they both attended St. John's Catholic School in Los Angeles. Jack attended Loyola High School, where he was a member of ROTC. He joined the U.S. Air Force after graduation from Loyola and served from 1950 to 1953, achieving the rank of Airman First Class. While in the Air Force, Jack married Rita on Nov. 22, 1952, and they celebrated their 70th wedding anniversary last year.
Jack attended Woodbury University and graduated with a B.A. in 1955. He also attended Mount Saint Mary's College and graduated with a M.A. in Spiritual Theology in 1990.
Jack was in the first Archdiocese of Los Angeles Diaconate Ordination Class of 1975, and was assigned to Our Lady of Assumption Church in Claremont. Jack and Rita eventually moved to Santa Barbara, and served at Mission Santa Barbara and at San Roque Parish. Jack also served as the Director of Archdiocesan Stewardship Program from 1988 to 1993.
Jack was preceded in death by his son Donny Ryan. He is survived by his wife Rita and children: Jim Ryan, Joan Harper (Jack), Terri Coleman (Mike), Kathy Irwin (Rex), Larry Ryan (Cheryl), Mimi Evers (Van), David Ryan (Jackie), Carol Ammar (Marwan); and grandchildren: Ryno Irwin (Danielle), Jaime Lehton (Jeff), Ryan Harper (Abby), Hailey Ryan, Greg Ryan, Alex Evers, Savannah Ryan, Nolan Evers, and Jack Ryan, along with great-grandchildren: Ellie Harper, Weston Harper, Sadie Harper, and Beatrice Lehton.
Jack's family held a private burial at Holy Cross Catholic Cemetery in Culver City on Friday, Jan. 13. A memorial Mass was held at San Roque Catholic Church in Santa Barbara on Wednesday, Jan. 18.
Condolences can be sent to Rita Ryan, c/o Carol Ammar, 3823 Perham Dr., Culver City, CA 90232.
In charity and kindness, please remember Deacon Jack Ryan and his family in your Masses and prayers.