Deacon Ike Edie died Sunday, December 5, 2021.
Isaac Keith Edie, Jr. was born in May of 1945, in Santa Maria, California. Soon after, the family moved to Ventura County, where Ike completed school and carried on the family business, Ike's Pump and Drilling, Inc.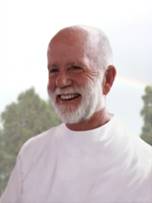 In 1967, Ike married Shari and together they had four daughters. Always a man of deep faith, he answered the call to serve God and was ordained a Deacon in 2010. He was assigned to Padre Serra Parish, where he served alongside his wife Shari for eleven years. Whether it was helping the homeless, baptizing children, or serving the parish community, he recognized God's hands in everything he did. Ike particularly enjoyed spending time out in God's creation; rock climbing in Yosemite, running a marathon in Big Sur, fishing and camping in the Sierras, surfing the Ventura County coast were among his favorite pastimes.  He continued to stay active in his later years swimming and playing golf.
Before all else however, Ike was a loving husband and father to his wife and four girls. A sweet and gentle man, Ike was known by all as 'Mr. Wonderful', a nickname he truly earned. Ike was preceded in death by Baby Shari Edie, Sue O'Quinn, Ike Edie, Sr., and Pauline Edie. He is survived by his wife Shari (aka 'Mrs. Wonderful'), Robyn (John), Sarah (James), Sooz (Masa), Loretta, Maggie, Quinn, Keith, Isabelle, Sadie, and many nieces and nephews. He will be missed by all.
Services are as follows:
Funeral Mass
Saturday, December 18, 2021 at 11:00 AM
St. Junipero Serra Catholic Church, 5205 Upland Road, Camarillo, CA, (805) 482-6417.
Priests/Deacons wishing to attend are invited to vest in alb and white stole.