Deacon Fred Rios died Thursday, April 7, 2022.
Fred Rios was born in 1929 in a small coal-mining town in southeast Colorado. When he was 12, his parents moved the family to Los Angeles. Fred learned the value of hard work at a young age, taking after school jobs to help at home. His family attended St. Joseph Church in downtown LA, where he became the president of the parish youth club. That role led him to his future wife, Sarah Lopez, whom he met at a parish dance. They married in 1956 and were blessed with five children.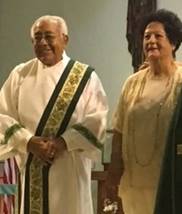 For 20 years, Fred worked as a Carnation milkman, rising at 4 a.m. every day to deliver milk and other food to local families. When that job ended, Fred went to work for the El Monte school district, rising from custodian to maintenance supervisor in charge of a dozen schools.
Fred always had a heart for others, and immersed himself in service to his parish community. That diaconal spirit was noticed by a nun, who encouraged him to become a deacon for the church. He humbly waved off the request, saying it was too much for him. Then one day, moved by God's grace and intervention at a difficult point in life, he made the decision to follow the call he felt inside and on June 11, 1994, was ordained a deacon for the Archdiocese of Los Angeles.
Fred was assigned to his home parish, Miraculous Medal Church in Montebello, where he served for 26 years.  His greatest joys were the first baptism he presided at for his granddaughter, Candace, and the last baptism that he presided at for his great-granddaughter, Lilyann.
Fred is survived by his loving wife, Sarah, their five children and their spouses; Bertha (Rufus), James (Lori-Ann), Lillie, David (Jackie), and Arthur (Debbie); his 11 grandchildren and their spouses; his 12 great-grandchildren and his sister, Dora Perea.  He was preceded in death by his siblings, Cosme Jr., Manuel and Mary.
Services to be held at Miraculous Medal Church, 820 North Garfield Ave., Montebello
Rosary: Tuesday, April 12, 7 p.m.
Funeral Mass: Wednesday, April 13, 10 a.m.
Interment following Mass at Resurrection Catholic Cemetery, 966 Potrero Grande Dr., Monterey Park
Condolences may be sent to Mrs. Sarah Rios, 2521 Via Acosta, Montebello, CA 90640.