Deacon Francisco Brenes died Saturday, October 9, 2021.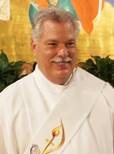 Francisco was born in Managua, Nicaragua on November 20, 1947 to Gilda Brenes Fibla and José Adolfo Brenes. He met the love of his life, Indiana, and they married in 1968. In 1978, Francisco emigrated to the United States to save his family from the Communist revolution taking place in Nicaragua. One year later, his family came to the U.S. to join him. Francisco worked in factory jobs until his English was strong enough to enable him to work as an accountant. In 1982, he founded his own company, CompuAccount.
From a very young age, Francisco heard the call to serve God. He eventually said yes, and in 2006, began deacon formation. In 2011, Francisco was ordained a deacon and assigned to St. Finbar Church in Burbank. He and Indiana served there for 10 years, bringing the Eucharist to the elderly and infirm, presiding at funerals and baptisms, and proclaiming the Gospel.
Francisco was the third of 10 children and is survived by his father, José Adolfo Brenes, his nine siblings, five children: Ella Moline, Milton, Francisco, Stephen, and Michelle Brenes Wehlen; and 14 grandchildren.