Deacon Donald Hamilton died Thursday, December 23, 2021.
Donald L. Hamilton was born January 27, 1935 in Natchez, Mississippi. Don joined the Navy and went on to become an electrical engineer, moving from California, to North Dakota and finally to Minnesota in 1980, where he worked as an engineer.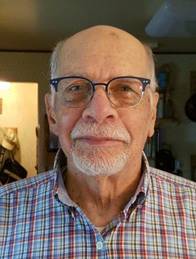 Don met and married his lifelong love Susan Barstis in 1967, and they were blessed with five children and eight grandchildren. Don and Sue loved the outdoors and spent many family summer vacations camping and exploring new places. Don loved volunteering, spending time in his garden, fixing what needed fixing, and enjoying time on the patio with Sue or his children when they would stop by for a chat.
Don had a strong spiritual calling and became a Benedictine Oblate in 1966 at St. Andrew's Abbey in Valyermo, California. Don's spiritual calling continued to grow and he entered diaconate formation. Don was ordained a permanent deacon for the Archdiocese of Los Angeles in 1975, part of the first group ever to do so. He was assigned to Our Lady of Perpetual Help Church in Newhall, but before long moved to North Dakota, where he worked with the first group of deacons ordained there in 1979. When the family moved to Minnesota, Don continued his ministry at several parishes there, in addition to serving as a chaplain with the Boy Scouts and pre-marriage counseling. Don retired in 2012, after 37 years of ministry, and continued to serve as a retired deacon, together with his wife Sue at the VA in Minneapolis.
Don was preceded in death by his parents, Edward and Lucille, and brothers, Edward (Lynn) and John (Madeline).  He is survived by his wife Susan; children Dennis (Denise), Laura (Brett), Ed (Jenni), Joe, and Mary; and grandchildren Jaelyn, Amelia, Sophie, Zander, Alivia, Riley, Henry and Ben, as well as four nephews and three nieces.