Deacon Bill Sangster died Thursday, September 2, 2021.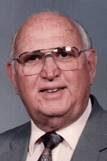 Bill was born in Santa Barbara on May 24, 1928 to William Burton Sangster Sr. and Bertha Elizabeth Dirig. After graduating from Santa Barbara High School, Bill served in the Navy for two years. He then worked for the Goleta Post Office, the U.S. Forest Service, and the U.S. Bureau of Reclamation, before becoming the superintendent of Calvary Cemetery, where he retired after 45 years of service.
In 1950, Bill married the love of his life, Dorothy Anne Puerling, at San Roque Church. Their marriage was blessed with 10 children and lasted almost 71 years, until Dorothy passed away earlier this year. Even with 10 children and a full-time job, Bill found time to pursue his true calling, to serve the Church as a permanent deacon. Bill was ordained in 1985, and was assigned to San Roque Church and later, Our Lady of Sorrows Church.
Bill is survived by his 10 children; John and Cindy (Vaughn) Sangster, Mary and William Gates, James and Debbie (Shaw) Sangster, Joseph Sangster, Anne and Terry Curtis, Clare and Chuck Theriot, William "Bill" Sangster, Suzanne and Tom Fletcher, Paul and Cynthia Sangster, and David Sangster; 18 grandchildren, 17 great-grandchildren, and his half-sister Donna Dito. He was preceded in death by his parents, his wife Dorothy, his sister Marjory, and brother George.