Deacon Antonio Huerta died Thursday, May 27, after an almost year long battle with cancer. He was 75 years old.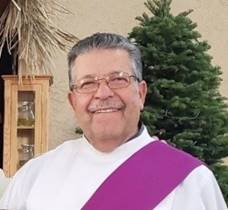 Deacon Antonio was born on All Souls Day 1945 in Jalisco, Mexico. He was one of 10 children. He married his wife Martha on September 27, 1974. They began raising their family in Lawndale, California, as parishioners of St. Anthony of Padua Parish in Gardena.
He was ordained a deacon by Cardinal Mahony in 2002. As a deacon for his parish, he performed baptisms almost every week and conducted most of the graveside ceremonies. He served as deacon at both Spanish Masses every Sunday and also other major parish Masses. He attended and participated in staff meetings.
He came down with cancer almost a year ago. The family was told he had three months to live but his strong spirit kept him with them for almost a year. His love, joy, faith, and inner peace are an inspiration to all who knew him.
Deacon Huerta is survived by his beloved wife, Martha; five daughters, Susan, Gabriela, Diane, Marisol, and Martha; one son, Sergio; and 13 grandchildren.