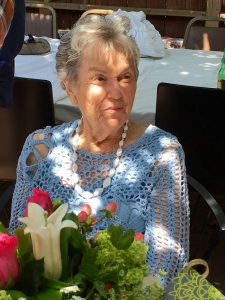 Angela Catherine McDonald Kay passed away on June 12, 2021, at the age of 92.
Angela was the head of a large and ever-growing family based in Los Angeles since the early 1900's – a proud mother of 12, grandmother of 30, and great grandmother of 8. She died surrounded by many of those family members serenading her with prayers and song up until the moment she took her last breath. Angela's zest for life did not come to an end with her death though – as her joyous spirit will continue to live on through the tremendous legacy that she has left behind.
Angela was born January 20, 1929 in Los Angeles. She completed her Bachelor's degree in Math at Mount Saint Mary's in 1951, where she met and married her husband of 62 years, Gay John Kay, in 1952. Together they had 12 children – all of whose names she could proudly recite in proper age order up until days before her passing: Timothy (Marianne), Vincent (Caliz), Regina (Bob), Bernadette, Damien (Melinda), Philip (Laurie), Thomas (Bobbi), Kenneth (Evelyn), Anthony, Teresa (Francesco), Stephanie and Brian (Danielle).
After raising 11 of her 12 children, Angela went back to school to complete her Master's degree in Education toting her youngest daughter along with her to night school where she taught adults English as a Second Language (ESL). While Angela's pride was in her immediate family circle, she shared her passion for teaching with every person she encountered, both children and adults. Math was her strength, but she was a self-appointed guardian of the English language, never missing a chance to correct a tense or offer a better word selection.  She loved the LA Times' crossword puzzles, complex algebra word problems and proved to be the best homework helper when sometimes things just didn't make sense.  Angela went on to teach both Math and English to middle schoolers in the LA Unified School District for 20 years, while always managing to be home and present for her own house full of children.
Angela was a devout Catholic and parishioner at St. John the Evangelist parish in Hyde Park, the same parish her parents were married in. She was an active member in the parish's first Neocatechumenal community established in 1978, the first in the West Coast. Angela and Gay walked "The Way" with their brothers and sisters in Christ and were blessed to renew their baptism in the River Jordan in the very same baptismal gown in which she is being buried.
Angela was a simple person with modest tastes; a reverent prayerful woman, who prayed countless decades of rosaries each and every day for her entire family or for anyone brought to her attention that needed divine intervention. Angela had an uncanny ability to find happiness in whatever came her way with tempered expectations of those around her. Her pleasant and engaging personality was contagious with everyone she encountered.  She loved flowers of every color and arrangement, and always had fresh cuts on display nearby. She was quite an accomplished seamstress in her younger days and created many personalized hand-knitted and crocheted heirlooms in her later years.
The simplest pleasures in life brought great joy to Angela – particularly with all things related to her Irish heritage. She never missed an opportunity to recount her first trip back to the motherland in 1950 with her older sister Teresa where they met so many of their Whyte family relatives. As the story goes, the day they walked into their grandmother's school house on Corkscrew Hill, the teacher asked for all the Whyte children to stand up, and the entire class stood at attention.
The McDonald clan from which Angela's Whyte tree branch grew was an equally impressive family. Angela was the 4th of 6 children to Winston and Josephine McDonald, and is survived by her youngest brother, Thomas Aloysius (Sue), along with a tribe of nieces and nephews on her maternal side.
Angela's door was always open to travel-weary itinerant missionaries from around the world whom she would welcome with familiar greetings of "Smile, God loves you" or better yet, "Don't worry, God will provide".  She was widely regarded as a patient woman who never complained, because who wanted to hear that anyways? This life-long trait was on full display in her final years as a resident at Nazareth House.  Every caregiver who had the pleasure of meeting Angela over the past 5 years marveled at how she never complained and was always lovely, smiling, and upbeat and was ever so grateful for the loving care shown to her.
Services are scheduled as follows:
Rosary at St. John the Evangelist Catholic Church on Friday night, 7/2, at 6 p.m.
Funeral Mass at St. John's on Saturday morning, 7/3, at 11 a.m.
Interment at Holy Cross Cemetery to follow funeral Mass