In the Tuscan countryside of western Italy, just 12 miles southwest of Michelangelo's "David," in Florence's Accademia Gallery, is another display of marble and stone, far less well-known than "David" but, in its own way, far more meaningful.
The Florence American Cemetery is where more than 5,800 U.S. soldiers who died in combat during the Italian Campaign of World War II are memorialized.
Most were killed in the 11 months between the liberation of Rome by Allied forces on June 5, 1944, and the end of the war in Europe on May 2, 1945.
Given what occurred on the beaches of France the day after June 5, the post-liberation portion of the Italian Campaign — which officially began 75 years ago, on July 10, 1943, with the invasion of Sicily — is sometimes called "the forgotten campaign" of World War II.
"It became a secondary campaign, a forgotten front after D-Day," said Fiorenzo Iacono, staff member of the Florence American Cemetery, one of 29 cemeteries around the world administered by the American Battle Monuments Commission (ABMC).
"The southern half of Italy had been liberated," noted Iacono, "so there was a great northern push by the U.S.-led forces to the west and the British-led forces to the east to drive the Nazis out of Italy.
But it was difficult fighting in the mountainous terrain, especially during the fall and winter, and it never stopped until the war ended."
Remembering the 218,000
The Florence American Cemetery was dedicated in 1960, 15 years after the war's end and four years after the dedication of the larger Sicily-Rome American Cemetery near Anzio, where nearly 11,000 U.S. service personnel are memorialized.
Collectively, more than 218,000 U.S. soldiers (including 172,000 killed in World War II) are remembered at these 29 cemeteries and 26 memorials and markers worldwide, which commemorate the service, achievements and sacrifice by American armed services personnel in World Wars I and II as well as the Korean and Vietnam conflicts.
Three of the sites are on American soil (in San Francisco, New York City and Honolulu). Most are in Europe (Italy, France, Belgium, Luxembourg, Netherlands, United Kingdom and Gibraltar); others are in Africa (Tunisia and Morocco), Asia and the South Pacific (Philippines, South Korea, Midway, Papua New Guinea and the Solomon and Northern Mariana Islands) and Latin America (Panama, Mexico and Cuba).
All are open for the public to visit and reflect on the actions of Americans who paid the ultimate price in the name of freedom.
'Ultimate sacrifice'
While Michelangelo's "David" draws thousands of visitors almost daily, it is rare for more than a few dozen people a week to visit the fallen at the Florence American Cemetery, a half-hour southwest of the Accademia in good traffic.
Those who do visit the 70-acre site, often as not, struggle to maintain their composure as they quietly stroll amid the 4,398 graves topped by Latin crosses or Jewish Stars of David, arrayed in symmetrical curved rows upon the hillside.
Most graves bear the name of the soldier, his/her rank, unit and state of residence, but some bear no name at all, only an inscription: "Here rests in honored glory a comrade in arms, known but to God."
Perched at the far end of the cemetery is a memorial comprised of a chapel decorated with marble and mosaic, large marble operations maps detailing the advance of the Allied armed forces.
And, most poignantly, the Tablets of the Missing, upon which are inscribed 1,409 names of those servicemen and women whose bodies were never found or identified.
"There are also six sets of brothers buried here," said Iacono. "In most cases, those memorialized here were in their early 20s or younger. Our visitors, in all likelihood, know nothing about them — except that they made the ultimate sacrifice so that others may enjoy freedom."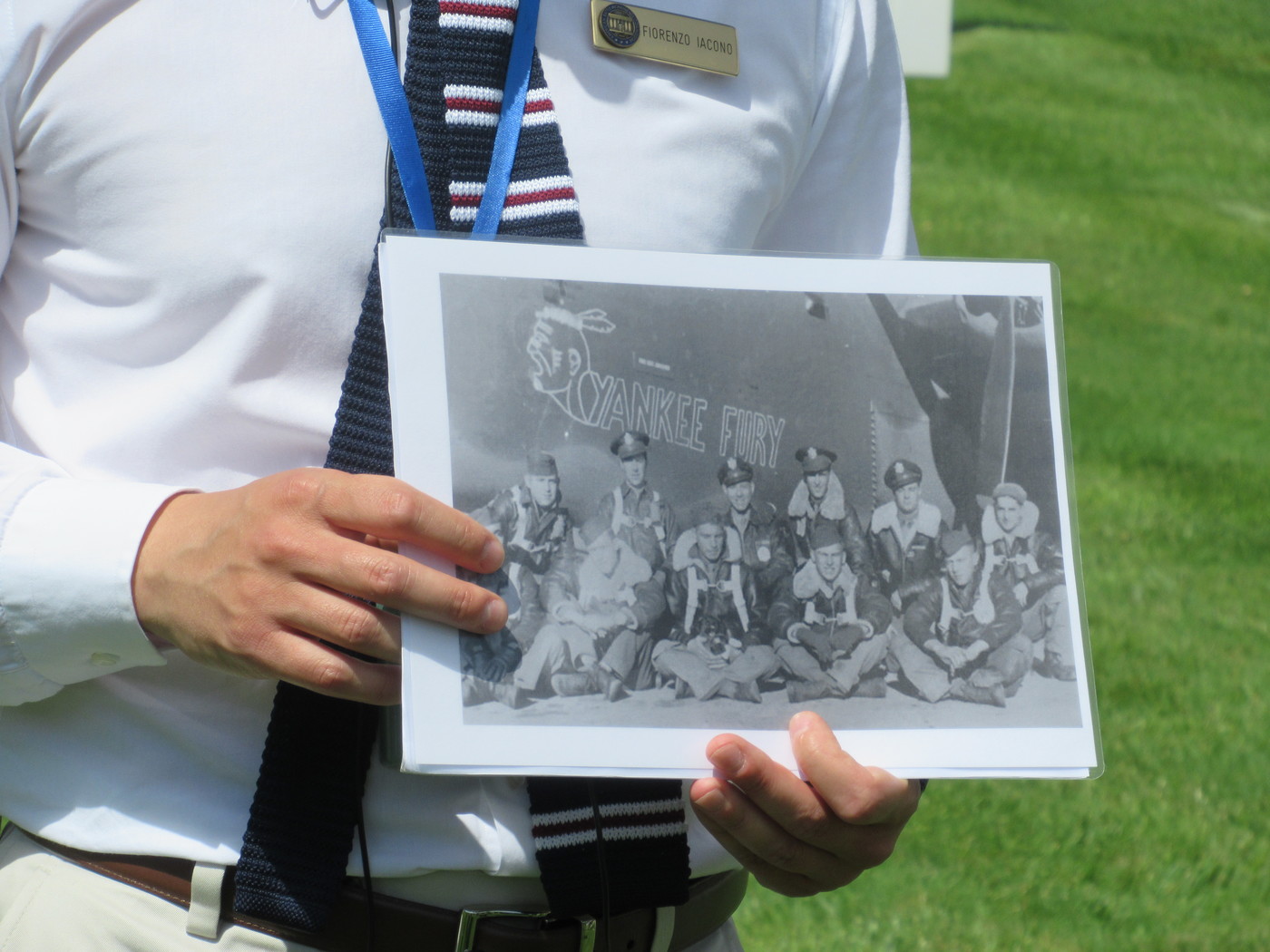 Staff Sgt. Byron Nelson comes home at last
In 1947, the U.S. government disinterred the remains of many who had been buried near Florence to be buried in U.S. military cemeteries.
"Families had the option to bring their loved ones' remains home," said Fiorenzo Iacono, staff member of the Florence American Cemetery. "Those who could not be identified, or were never found, are remembered on the Wall of the Missing."
One of the missing was Army Air Forces Staff Sgt. Byron H. Nelson of Iowa and the 721st Bomb Squadron, a nose gunner aboard a B-24G Liberator (dubbed "Yankee Fury") that was shot down in heavy fog by German fighter planes April 25, 1944.
Of 10 crew members, six escaped, two were captured and two were declared missing, including the 28-year-old Nelson.
Local residents found the remains of both missing men and buried them in a cemetery in Fognano, north of Florence. After the war, the Army disinterred the remains and tried to identify them, but failed, and — labeling them "Mirandola Unknown X-190" — moved them to the Florence American Cemetery in central Italy on May 26, 1949.
In 2015, the Defense Department's POW/MIA Accounting Agency reviewed the records of "X-190" and wartime Italian military police records, linking them to Nelson. His remains were disinterred and shipped to an agency lab at Offutt Air Force Base near Omaha, Nebraska, where dental and anthropological analysis, plus a DNA match with one of Nelson's grandnephews, allowed scientists to identify Nelson late in 2016.
Escorted by veteran motorcycle riders from the Patriot Guard, Nelson's remains were brought to Primghar, Iowa, where a memorial service with full military honors was held July 1, 2017, at Pleasant Hill Cemetery.
"After more than 70 years," Iacono said quietly, "Sgt. Nelson is home."
Mike Nelson is the former editor of The Tidings, 2001-2014 (predecessor of Angelus).
Interested in more? Subscribe to Angelus News to get daily articles sent to your inbox.